Review: Plantronics BackBeat Fit 305 Bluetooth Headphones
Article Comments
Nov 28, 2017, 10:37 AM by Eric M. Zeman
The Plantronics BackBeat Fit 305 Bluetooth headphones promise to keep you groovin' while you're movin' during sweaty workouts. These simple earbuds cover the basics and not much else — and sometimes that's all you need. Here's our review.
Advertisements article continues below...
Background
There's something to be said for the tried-and-true. Fully wireless earbuds, such as the Apple AirPods or Jabra Elite Sport, may be the hottest trend, but those pricey options have limitations. That's why Plantronics continues to update its BackBeat Fit series headphones, which have a short cord connecting the two buds. This style has been around for years and is trusted by music lovers and fitness enthusiasts.
Plantronics BackBeat Fit 305 headphones are a fine option for people on a budget. Here's why.
Hardware
The BackBeat Fit 305 are simple and straightforward. They consist of two in-ear buds connected by a single cord that drapes around the back of your neck. A control/power module is positioned on the cord close to the right bud.
Fit 305
Fit 305
Plantronics ditched the flat rubber cable that connected some of its older designs in favor of a threaded cable called "sport weave." Plantronics has night-time runners in mind; the weave includes reflective bands that will catch light in the dark. I like the cloth feel and appreciate its tangle-free design. The cord is long enough to accommodate most heads. A clip helps cinch the cord to find the most comfortable fit.
Colors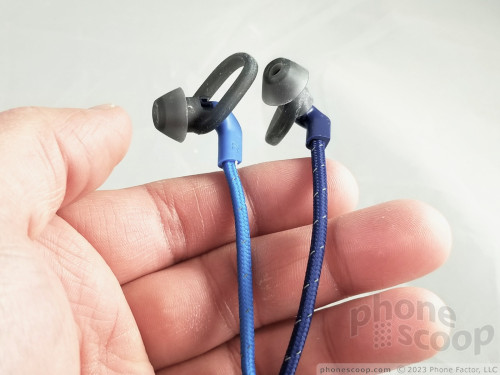 Colors
The earbuds are formed by plastic. The stalks form a right angle and help the buds reach into your ear canal. The BackBeat Fit 305 come with several eartips (small, medium, large), all of which include a wing. The wing, which you tuck in against the rear of your ear, is essential for maintaining a secure hold. I had no trouble finding the right set of tips/wings. The rubber tips are easy to pull off and replace. There are no buttons or controls on the earbuds themselves.
Bud with Tip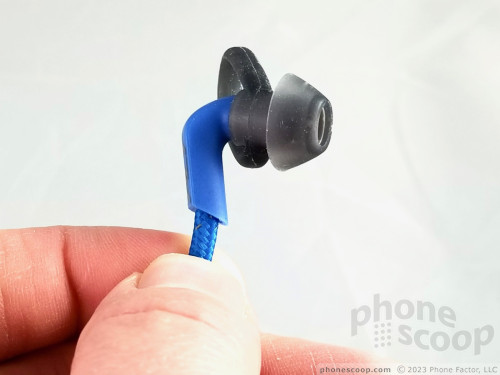 Bud with Tip
All the functions are managed by the battery/control module on the right side. The module is rather chunky. I noticed it bouncing around quite a bit when I wore the 305s during vigorous walks. It may bother some people.
Controller with Bud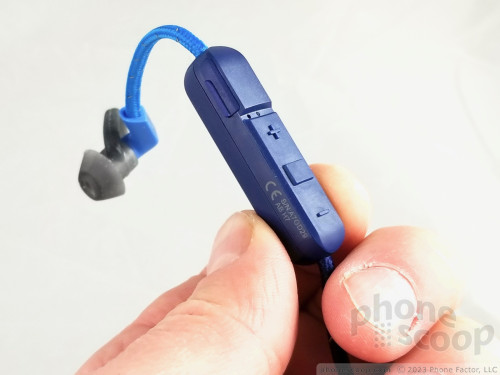 Controller with Bud
Thankfully the controls are fairly easy to find and use. A huge square button in the center turns the 305s on and manages Bluetooth pairing. Large "+" and "-" buttons flank the power key and let you adjust the volume as well as jump tracks. A quick press raises or lowers the sound, while longer presses will skip forward or backward. The raised shape of the buttons ensures they are easy to locate.
Controller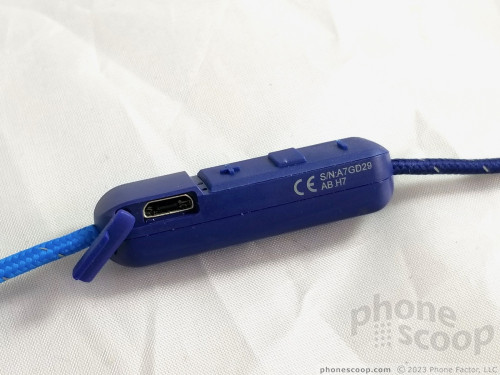 Controller
A really, really small hatch covers the microUSB port near the top of the control module. It's painless to open and close when needed for charging.
The headphones are rated IPX5 for protection against sweat and light rain. The internal components are covered with a nano-coating to prevent short circuits.
The earbuds are feather-light at just half an ounce (14 grams). I wore them for hours and barely noticed they were there.
Wing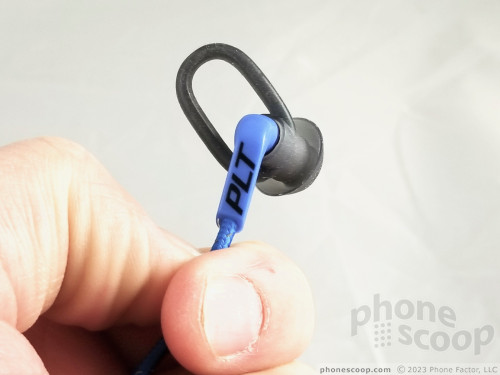 Wing
The 305s cover the basics: they're comfortable, well-made, and easy to use. Bonus: they include a simple carrying pouch.
Pouch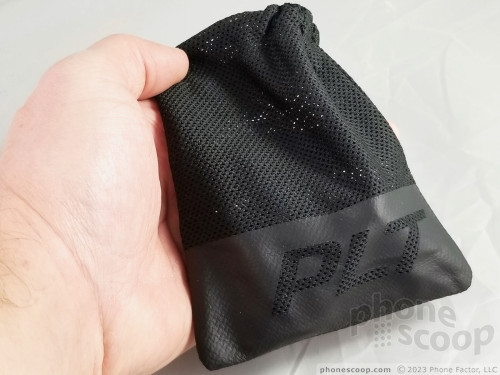 Pouch
Performance
A Bluetooth 4.1 radio sits inside the BackBeat Fit 305 control module. It pairs with up to two devices at a time and has a range of 33 feet (10m). It is simple enough to put the 305s into pairing mode and connect them to your favorite mobile device. Plantronics' mobile app can help, but it's not necessary. (There's no NFC aboard for touch-and-go pairing.)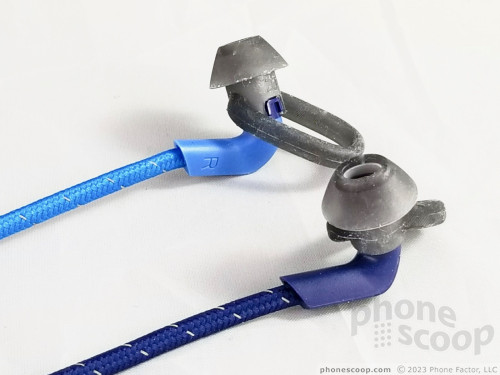 The Bluetooth radio performed well. The 305s remembered each device I paired them with and reconnected with ease. The headphones are strictly limited to the 33-foot range. The connection got choppy at about the 28-foot mark and dropped immediately once I stepped beyond 33 feet. It reconnected right away when I walked back into range. Music playback was generally free of interruptions, though I noticed a few blips here and there.
Music sounds good, but short of great. The shape of the earbuds and way you wear them in your ear canal means they provide passive sound isolation. They are able to block out much of the surrounding environment, but not all of it. The sound isolation means you can listen at lower volumes, which protects your hearing.
Bud Options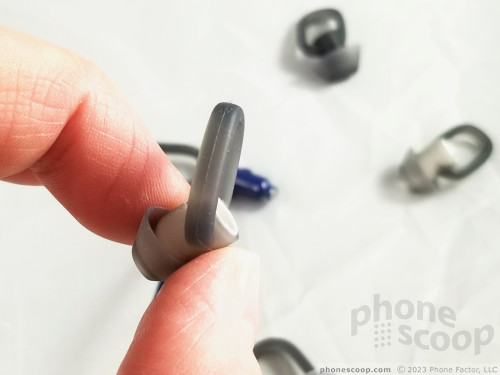 Bud Options
The 305s offer a typical frequency range of 20 Hz to 20,000 Hz. A set of 6mm drivers inside deliver clean mids and highs, but muddy lows. The metal kick drums and deep electronic beats of the music I prefer came across as fluby and loose rather than tight and punchy. Acoustic, orchestral, and jazz sounded good through the 305s, as did holiday tunes. Bass-heavy pop and R&B music strained the low end a bit. The 305s get the job done, but aren't the best I've heard.
Grille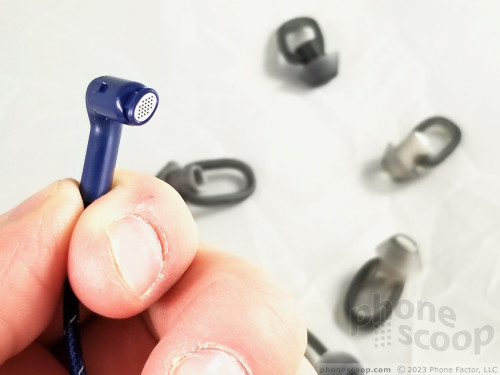 Grille
You can conduct voice calls through the 305s and those sounded nice and clear.
Battery life is about average for this class of headset. The internal power source (capacity unlisted) charges in less than two hours and delivers six hours of music playback, six hours of talk time, or 10 days of standby. Plantronics claims the 305s will automatically turn off after 90 minutes of inactivity and maintain their charge for a minimum of six months. During my tests, battery life ranged from 5 hours 45 minutes to 6 hours 20 minutes. That's enough to cover an entire marathon, let alone a quick workout at the gym.
Charging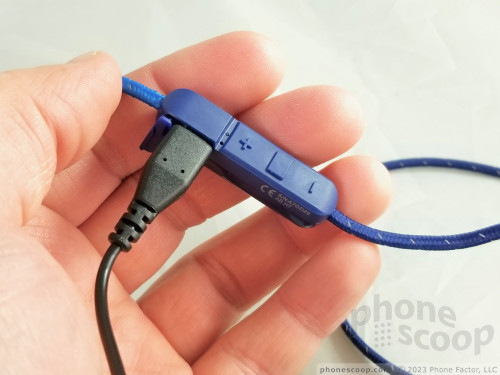 Charging
Discussion
The best feature of the Plantronics BackBeat Fit 305 may be its price. The headphones sell for just $80. That's a very good price for wireless earbuds as capable as these. You can get better sound quality from something like Jaybird Freedoms, but those will set you back more than $100. The BackBeat Fit 305 offer a winning combination of price, comfort, and ease-of-use, as well as Bluetooth, music, and battery performance. If you're out to get fit, the 'Beats got yer back.
In the Box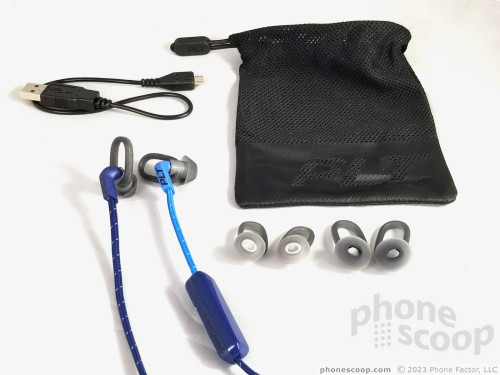 In the Box
No messages