Review: Huawei Mate 10 Pro
Hardware Software Wrap-Up Comments
Lock Screen
Huawei was sure to include today's most popular lock screen feature on the Mate 10 Pro: an ambient display.
Lock Screen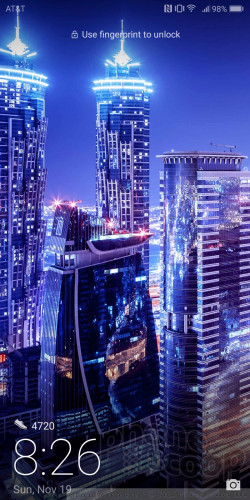 Lock Screen
The screen shows the time, date, battery level, and notifications when the screen is "off". I like that this cluster of data moves around on the screen a bit to help avoid burn-in. You can customize what's shown in the ambient display to a small degree, as well as set an on/off schedule for the ambient display. For example, I set it to switch off at midnight and back on again in the morning.
Oddly, the Pro 10 doesn't support tap-to-wake, or raise-to-wake gestures. You can flip the phone over to mute incoming calls, or raise the phone to your ear to answer calls. In order to wake the screen you have to press the screen lock button or tap the fingerprint reader. Once you activate the lock screen, you'll see your notifications in the middle of the screen with the clock and camera shortcut in the bottom left corner.
Huawei has its own lock screen dock that's somewhat useful. You can access some basic tools (voicemail, calculator, flashlight, and camera) by swiping up from the bottom of the screen in a manner similar to Apple's iOS. This can be handy, but I often forgot it was there.
The fingerprint reader is quick and reliable. It always unlocked the Mate 10 Pro on the first attempt. You can also use it to lock individual apps, folders, or files. You can also use the fingerprint reader as a trackpad for navigating through web pages, pulling down notifications, and even swiping through your photo library. The settings for all of this are extensive, but somewhat hidden.
Home Screens
The Mate 10 Pro is one of the first non-Google devices to ship with Android 8 Oreo. The phone runs Huawei's EMUI 8 on top that. EMUI 8 is a relatively heavy-duty set of software and interface skin. It's on par with the Samsung Galaxy Note8 in terms of complexity and raw power. The 10 Pro has an unending list of software-based features, but you really have to dig to find them all.
Home Screen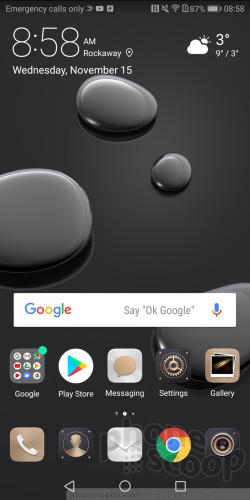 Home Screen
The core home screen experience is what you expect a modern smartphone. EMUI skips the app drawer by default, but you can turn it on if you wish. If you don't, all the phone's apps will be stuck on the home screen panels. They support the typical set of wallpapers, shortcuts, and widgets. I like that EMUI includes a handful of screen transitions to choose from.
The notification shade / Quick Settings drop-down works as expected. When you swipe down, the shade reveals five toggle controls, a brightness slider, and notifications. Since the phone is running Oreo, you have lots of options when it come to interacting with incoming notifications. The Quick Settings tool provides plenty of room for customization.
The full settings menu is kind of ridiculous. Every panel is lengthy and has multiple sub-panels that seemingly extend the settings menus forever. It's best to rely on the search tool.
Then there's the navigation dock, which is sort of a transparent, floating bubble designed to improve one-handed use. The idea is to put the navigation controls in a single, more convenient spot rather than leave them stranded at the bottom of the display. It has a pretty steep learning curve. Touch once to go back a screen. Touch, hold briefly, and then release to go back to the home screen. Hold and slide to the right to see the app switcher. Touch, hold, and drag to move the bubble around. I like the concept, but the execution is really bad. It's just too finicky and annoying to recommend.
There are themes, lots of them. I found the default theme to be terribly ugly. I changed it right away. Though there are a dozen pre-loaded, you can download more or create your own. Have fun!
I still don't like Huawei's default fonts and app icons. These are other settings I found myself changing as rapidly as I could.
The phone offers a one-handed mode that shrinks the interface into one corner of the screen. It's meant to help make the device usable when you only have one free hand, such as when careening between connections in an airport. You can adjust the entire UI to shrink down, or just the keyboard so it's closer to your thumb.
EMUI 8 includes the latest version of Huawei's voice control tool, too, which lets you wake the phone or initiate calls quickly using voice commands. It works, but has a really limited set of actions. (Honestly, Google Assistant does all of these much better.)
Huawei's custom Kirin 970 delivers all the juice the Mate 10 Pro needs. It's paired with a whopping 6 GB of RAM. The Mate 10 Pro absolutely blazes through tasks. It feels every bit as fast as a Qualcomm Snapdragon 835 when it comes to delivering a seamless, smooth performance on this smartphone. I don't think anyone can/will complain about the Mate 10 Pro's speed and raw power.
Huawei says the chip has artificial intelligence built in thanks to the Power Engine, Vision Engine, Experience Engine, Performance Engine, and Power Management Engine. A lot of these "engines" have parallels in competing chips such as the Apple A11 Bionic. Huawei says moving artificial intelligence calculating powers to the processor will eventually lead to real-time computer vision and low-lower augmented reality. These aren't available on the Mate 10 Pro in any meaningful or useful way, at least not at launch.
Camera
The quickest way to open the camera is to double-press the volume down key. This is a tool called "ultra snapshot" that you need to enable in the camera settings before it actually works. You can also set ultra snapshot to take a picture — even when the screen is off — with the double press action. That's neat, if not a bit sneaky. You may also open the camera from the lock screen or the home screen. Anyway you choose, the camera springs to life in an instant.
Camera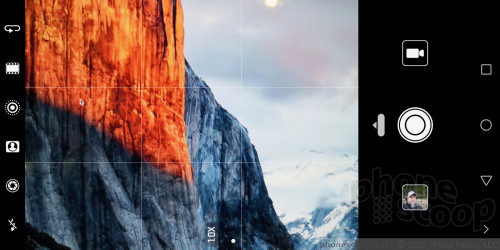 Camera
The basic layout is typical of most camera apps. On-screen controls let you quickly flip to the selfie camera, open the filter tool, turn on moving pictures, turn on portrait mode, or toggle through the flash controls. The majority of these tools work as you might expect. For example, moving pictures captures a few seconds of video before and after you take a photo, much like the iPhone's Live Photos.
The portrait mode puts both camera sensors to work to take photos with blurred backgrounds (a bokeh effect). This is ideal for taking artistic shots of friends and family. The "aperture" tool is somewhat confusing. It also creates bokeh effects, but requires a more hands-on approach. I find it is best left for stationary objects rather than people.
Portrait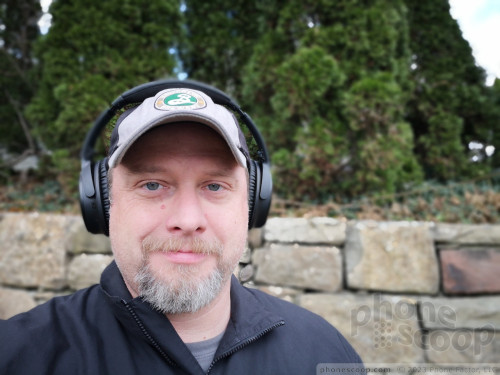 Portrait
Swipe right from the main viewfinder to access other shooting modes, which include auto, monochrome, video, HDR, pano, night, light painting, time lapse, slow-mo, watermark, and document scan.
The light painting mode is for capturing long exposures of headlights/taillights, flashlights, or other light sources. Audio note records several seconds of sound along with a still image. The document scan mode automatically finds and captures text, such as menus, though it isn't making the documents into editable text (OCR); it merely enhances the image to ensure text is easily legible. I didn't have any trouble using these modes on the Mate 10 Pro.
The "pro" photo and video modes, accessible by swiping the shutter button, allow you to manually adjust exposure, brightness, white balance, ISO, focus type, and shutter speed. This is great for those who know what they're doing. The sliding controls make sense and are easy enough to use. I'm happy that you can set exposures as long as 30 seconds, as this allows for great nighttime shots, including star fields on a clear evening.
It's worth noting that the selfie camera has a significant number of its own shooting modes. The basic selfie cam lets you apply a blurred-background effect, but you can also take selfie panoramas, selfie timelapses, selfie audio notes, selfie moving photos. and selfie watermarks. The tools may mirror those of the main camera, but stuff like the selfie pano lets you do fun things such as include wide vistas in the background.
A quick word about the Kirin 970's "neural processing unit" or NPU. Huawei says its flagship processor is putting artificial intelligence to use in the camera application. Boiled down to the most simple terms, the 970 is relying on image recognition to help control camera settings. For example, the camera is able to recognize a core set of 12 items, including blue sky, snow, action, food, nightscapes, plants, flowers, cats, dogs, text, and so on. The camera will recognize these objects and then adjust the camera software accordingly to get the best possible shot for that type of object. The Kirin 970 and Mate 10 Pro are able to do this because Huawei has scanned millions of objects and taught the chip how to do this. Huawei says the Mate 10 Pro will be able to recognize more and more objects over time as it adds them to its database. Does it deserve the loaded "artificial intelligence" marketing moniker? Well…
What's more important is that the NPU is able to make these calculations without chewing through battery life. It drastically reduces the power needs of the camera application, and that's something everyone can cheer about.
Photos/Video
There's a lot going on with the Mate 10 Pro's set of cameras. The main lens captures full-color images at 12 megapixels with an aperture of f/1.6 (very good), while the secondary lens captures monochrome images at 20 megapixels. The camera can tap into optical image stabilization, and relies on both PDAF and laser hardware for focusing.
Mustang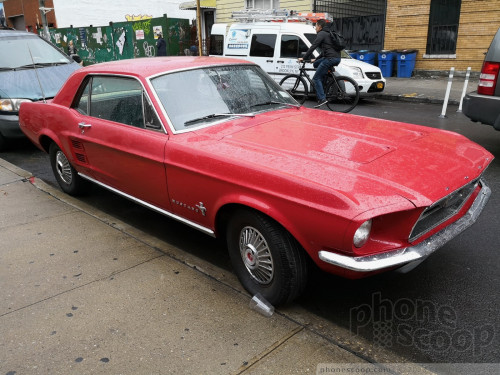 Mustang
The phone takes very good photos that fall just a bit short of being great. Shots that I took outdoors under sunlight looked simply stunning. (See the iron sculpture below, for example, which has incredibly sharp focus.) The Mate 10 Pro shines when it is able to scoop up as much light as possible. Some of the other daytime shots I took, such as the red Mustang, are fine samples that accurately reflect what I saw in real life. The Mate 10 Pro doesn't do quite as well as I hoped in darker environments. I know concert pictures are challenging, but the Mate 10 Pro introduced a lot of grain in the pictures I took during a recent show. Focus was much less likely to be sharp as well. On the plus side, exposure was nearly always very good whether indoors or out.
Having the option to shoot true monochrome pictures (with the dedicated monochrome sensor) should be a joy for creative photographers. You'll see good focus and nice contrast in your black-and-whites.
When it comes to the portrait mode, the Mate 10 Pro does about as well as most other modern smartphones, which is to say results vary from decent to really bad. For example, in one shot below you can see a weird patch of wall above my shoulder that's totally in focus even though the rest of the background is nicely blurred. It's a jarring imperfection that you can't unsee once you spot it. Moreover, the software ends up creating an odd halo around your head. In other words, close but no cigar. It's a fun took to fool around with, but results are often a mess.
The 8-megapixel selfie camera does a fine job. I think most people will be pleased with what they see, particularly if they put the selfie flash and beautification tools to work. Low light shots will be grainy, but the flash helps push some of that grain away if you remember to turn it on.
Beauty Mode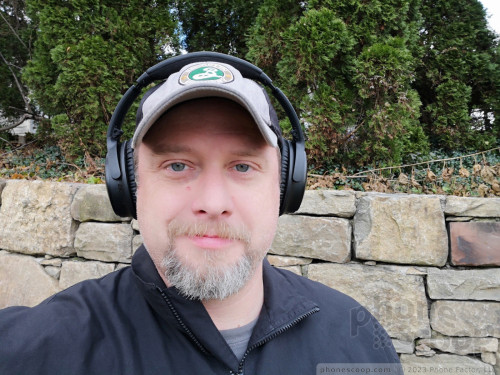 Beauty Mode
The 4K video results looked great. Even stuff captured in low-light was sharp and well-exposed. Color looks accurate, but, again, you'll see some grain.
In all, the Mate 10 Pro's camera is a notch or so below what's possible from phones such as the Note8, Pixel 2 XL, and similar flagships. Still, I think most people who buy this phone will be pleased overall and can get away with using for nearly all their photography.
Business-y Stuff
The Mate 10 Pro has a few other tricks up its sleeve. I've already mentioned how you can use your fingerprint to secure files, folders, and apps. Android 8 Oreo offers not only split-screen multitasking, but picture-in-picture support, too.
That's all well and good, but Projection Mode is the real power user tool aboard the Mate 10 Pro. Projection Mode has two use cases: screen mirroring, and PC-like interactions.
Projection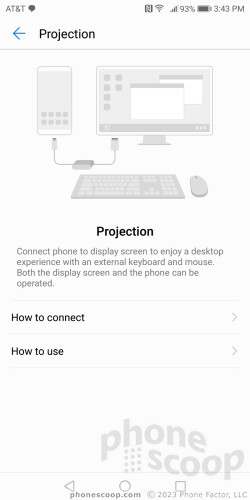 Projection
You'll need to find a USB-C-to-HDMI cable and plug the Mate 10 Pro into a monitor or TV. The default behavior is screen mirroring, meaning people see on the screen what you see on your phone. A few other high-end phones have this, but Huawei cooked in one nice extra feature: you can disable notifications while in mirroring mode. This means those people enduring your PowerPoint pitch won't know when the boss emails you, or when your significant other sends a text message. All that remains (thankfully) private.
Dock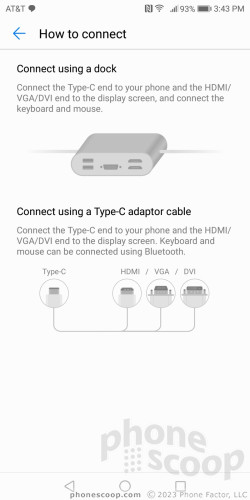 Dock
The other mode of operation is to turn the phone into a faux PC. The tool supports both dock and direct connections, meaning you can take advantage of wired mouse and keyboard accessories through a dock, or plug the phone directly into the TV and make use of Bluetooth accessories instead. This mode looks and acts much like a full PC. You have access to all your apps, which run in Android-tablet mode on the screen. You can run multiple apps at a time and multitask like a pro.
Accessories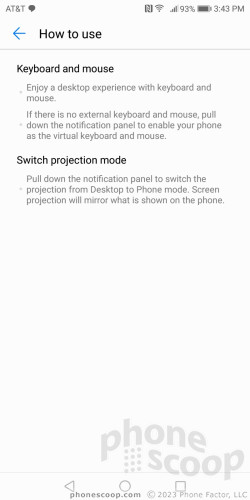 Accessories
The Galaxy Note8 offers similar features through its DeX accessory.
These were smart features for Huawei to include and ensure that the Mate 10 Pro is an attractive option for mobile professionals.