Hands On with the T-Mobile REVVL Plus
Article Comments
Nov 17, 2017, 8:30 AM by Rich Brome @rbrome
T-Mobile's relatively new REVVL brand is all about affordability and popular features, like large screens and fingerprint readers. The REVVL Plus is the second in the series, made by Coolpad. It has a massive six-inch, 16:9 display, a fingerprint reader, and dual cameras. Otherwise, it's a pretty standard affordable Android phone. What's it like in person? We checked it out.
Advertisements article continues below...
The original REVVL was made by Alcatel, and is a decidedly lower-end model. Its features are basic, with a fingerprint reader being the only really notable feature. The REVVL Plus steps up a the specs a bit with a larger battery, faster processor, and better cameras.
But the "Plus" also means plus-size. It's a very large phone thanks to its 6-inch screen. If that sounds not-that-big compared to 2017 flagship phones with 5.8-inch screens, it's crucial to note that the REVVL Plus screen is 16:9, not the newer, narrower 2:1 ratio used by this year's flagships. Because it's 16:9 and 6 full inches diagonally, it's very big by any standard.
The screen is full-HD resolution, which is good even at this large size. It's sharp and bright, an excellent screen for the price. The front has glass that's rounded at the edges, a feature that's now common, but appreciated.
Back to the size... It's too big for me. The body is far larger than the Samsung Galaxy Note8. You need to be someone who likes really big phones to be happy with this sucker. But it's thin, just curvy enough to be comfortable in your hand, and a good weight that feels solid but not too heavy.
The body is plastic, and feels it. The diagonal-ridge texture on the back seems to accentuate the cheapness of the material. The card tray on the side looks somewhat conspicuous and ill-fitting, another outward sign of non-premium materials and design. With that said, the phone overall feels solid and well-put-together. In that regard, it helps that everything is sealed inside, you can't access the battery.
The side keys don't protrude enough and don't have much travel. They work, unless you're wearing gloves. I also wouldn't recommend this phone for those with older hands, which is a shame because otherwise, the larger screen is great for aging eyes.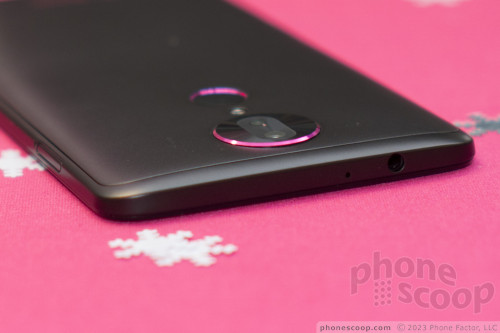 The phone has colored accents in T-Mobile Magenta. The side keys have such thin magenta chamfers that you barely notice them. The magenta accents around camera and fingerprint reader are much more noticeable, especially when they catch the light.
The processor is Snapdragon 625, which is really not bad on paper. The 3,380 mAh battery is similarly quite respectable and should power the phone well. There's a 3.5mm audio jack and a memory card slot.
I wish the main port were USB-C, but sadly it's the older and less-capable micro-USB. It's frustrating that manufacturers are still offering new phones with micro-USB as a cost-shaving measure. I'd love to see carriers like T-Mobile take a lead on this and mandate USB-C on their Android phones. It would benefit them in the form of a simpler and probably better accessory lineup. (Sigh.)
The main camera has two sensors: one standard (13-megapixel) and one just for depth, enabling a blurred-background portrait effect. The camera app also has the usual features like auto-HDR and panorama, plus a manual mode. The manual mode is downright odd because it allows manual focus but doesn't offer control over shutter speed. That's highly unusual, and a shame.
On the video side, there are options to create GIFs and slow-motion videos. The selfie camera is 8-megapixel, which is nice.
The interface is standard Android 7.1. That's it; no special features on the software side, though T-Mobile certainly added their usual apps like T-Mobile Tuesdays.
$200 seems about right for this phone, and that's what T-Mobile is charging.
No messages