Review: Apple iPhone X
Hardware Software Wrap-Up Comments 13
The iPhone X is the most interesting iPhone to arrive in years. It gets rid of the ugly bezels and moves to a (mostly) all-screen design that's devoid of buttons. Apple designed a high-quality, compact, and usable piece of hardware that should appeal to almost everyone.
In the plus column you can check off great build quality, pretty display, fine wireless performance, good sound quality, wireless charging, and one of the best cameras available on a smartphone. In the minus column you can count the ugly notch, just average battery life, uneven third-party app experience, slow wired charging with the included charger, and limiting factors like the proprietary Lightning port and no headphone jack.
The loss of the home button and Touch ID means all iPhone X users will need to adjust to the new software-based UI paradigm. Many of Apple's decisions make sense, though some still left me reeling. The new button combinations are more awkward than ever, and the Control Center's new home is seriously befuddling.
Unique features, such as Face ID and Animoji, deliver the smile-inducing delight that smartphone owners are seeking to rekindle, but are clearly in their early days. I expect they'll improve over time, though for now they feel a bit underdeveloped.
The iPhone X costs a whopping $999 for the 64 GB model and a wallet-crushing $1,149 for the 256 GB version. Is it worth that much? That depends on what you want from your mobile phone. If you're looking for an all-screen iPhone, the X is your only choice. If battery life matters more to you, or you're addicted to Touch ID, perhaps consider the $800 8 Plus, which lasts significantly longer per charge, is a better option.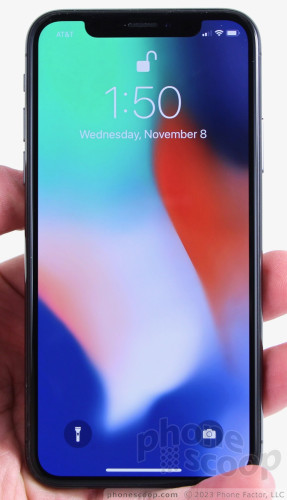 Apple is clearly looking ahead, and the iPhone X represents its vision for the future of mobile computing. It's a pricey vision, but a mostly pleasing one all the same.