Moto Smart Speaker Goes On Sale November 13 for $150
Article Comments 2
Nov 6, 2017, 10:52 AM by Eric M. Zeman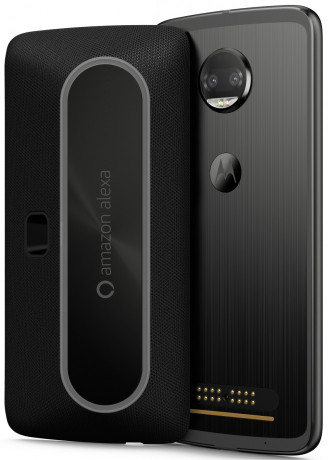 Motorola today said the Moto Smart Speaker with Amazon Alexa will become available over the coming week. Amazon, Best Buy, and Motorola will each kick off pre-orders for the modular attachment starting November 7, with general sales commencing November 13. The device will be available from Verizon by November 16. Motorola is charging $150 for the smart speaker, which lets Moto Z owners access Alexa when on the go. The Smart Speaker can be used to play music and interact with Alexa just like at home with an Amazon Echo speaker. The mod includes its own battery that can deliver up to 15 hours of listening without impacting the phone's power source. It includes a charging dock that works together with the Moto Z to provide a nightstand mode with active Alexa listening. It is compatible with all Moto Mod handsets, including the newer Moto Z2 Play and Z2 Force.
Can you turn off Alexa listening?
This is a much better size than the current speaker mod and I'd be inclined to buy one as long as I'm able to disable the Alexa stuff since I don't use it.
Alexa seems like a forceful market saturation