Review: Sony Xperia XZ1
Hardware Software Wrap-Up Comments 1
Lock Screen
Sony hasn't done much to dress up the lock screen experience.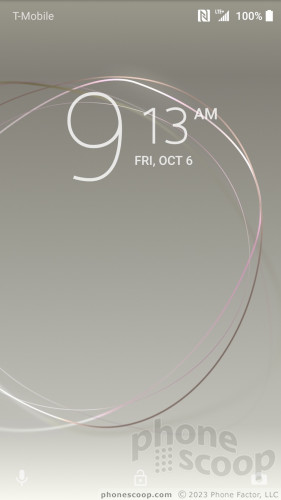 Like nearly all Android phones, a quick press of the screen lock button wakes the display and reveals the clock, notifications, and shortcuts to the phone and camera apps. I really appreciate that Sony allows you to select from a standard digital clock, an analog clock, or the Sony stylized clock for the lock screen. All three are readable. As always, you can choose how much notification is viewable from the home screen.
AD article continues below...
The U.S. variant of the XZ1 does not have a fingerprint reader, which is just ridiculous for a top-tier handset. Sony didn't bother with any other modern security features to make up for this, like facial recognition or iris scanning.
The phone includes the standard Android Smart Lock tools, which lets you customize when and where the device automatically unlocks. For example, you can prevent the phone from unlocking while it's in your pocket, or elect to keep the phone unlocked any time you're home.
Home Screens
The Xperia XZ1 runs Android 8 Oreo with a rather muted skin from Sony. In fact, the home screen experience is nearly stock Android.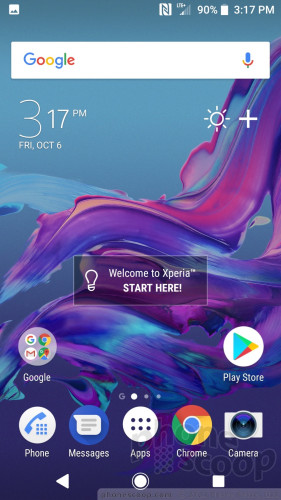 The app drawer is arranged in pages that you swipe left and right. Users can elect to view apps in custom order, most used, alphabetically, or by date. A search tool is always available in the app drawer, which is nice. The app drawer supports folders, too.
Because the phone is sold unlocked, there's hardly any bloatware on board.
The settings tools behave as the stock Android tools do, but have been skinned with a welcome dash of color. The one major difference to my eyes is the inclusion of themes. These bundle together similar color palettes for the home screen, app drawer, and other aspects of the user interface. Sony offers a few themes of its own, but Xperia XZ1 owners can design their own. Get creative!
As far as performance goes, the Xperia XZ1 rates highly. It relies on the Qualcomm Snapdragon 835 processor with 4 GB of RAM, a generally solid combo. The phone performed well while I used it. It never felt bogged down or slow, screen transitions were smooth, and apps opened in a snap.
Camera
The quickest way to launch the camera is to press the dedicated camera button. The camera app opens quickly whether the phone is on or locked.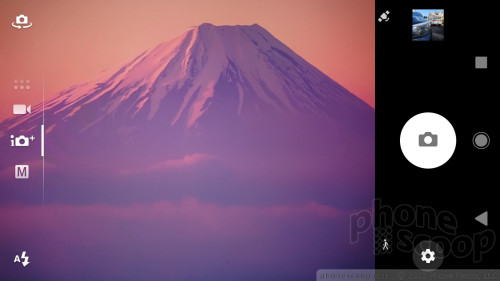 The app is powerful and easy to figure out. By default, the Xperia XZ1 uses Sony's Superior Auto shooting mode. The other basic modes include manual, video, panorama, Sound Photo (takes photos with background sounds), and filters. Swipe the screen up or down to jump from mode to mode. HDR is available in the settings menu and can only be set to on or off (no auto mode).
Superior Auto generally succeeds in intelligently determining what the subject is and adjusting automatically to get the best shot.
Manual Mode gives control freaks what they need to be truly creative. It allows you to set white balance, ISO, brightness, shutter speed (but only up to 1 second), and focus. It's fairly straight-forward to use.
I like that Sony allows you to dial in your own preferences for the Manual Mode and Superior Auto mode. For example, you can pick one resolution for the regular camera and a different resolution for the manual camera and the app will retain those settings.
Sony has completely dropped the crazy suite of advanced fun shooting modes, such as multi-camera, AR Effect, and Style Portrait.
The XZ1 is one of the few flagship handsets to lack a bokeh (blurred background) mode.
The Xperia XZ1 has four different settings for the flash, including fill-flash. Fill-flash helps take photos when you have a light background and a dark foreground and you want to make the foreground pop a little bit.
Everything about the camera is fast. It focuses quickly, and shoots/saves images quickly. I've always liked Sony's camera app.
Photos/Video
Sony gave the XZ1 a 19-megapixel camera with an aperture of f/2.0 and optical image stabilization. The default setting is 17 megapixels at 16:9. If you want the full pixel count you need to switch to 4:3. The XZ1 takes excellent photos. I was impressed with the majority of shots I took, which were sharp, colorful, and clean. There's no doubt the XZ1 has one of Sony's finest cameras.
Snapchatters will be very pleased with the 13-megapixel user-facing camera. Remarkably, this sensor has optical image stabilization, although the aperture is only f/2.4. The XZ1's front camera captures images that are mostly sharp and properly exposed. The majority of pictures are free of grain, too, which puts it ahead of most selfie cams. The screen-based flash does a good job in low-light situations.
The phone shoots video up to 4K Ultra HD resolution. The video I captured with the XZ1 was generally impressive in terms of focus, exposure, and color. It's a fine movie maker.
If you really want to have some fun, be sure to check out the ultra-slow-motion tool. The XZ1 is able to capture video at up to 960 frames per second, allowing you to snap some incredible detail in slow-mo videos. (Most other phones in the market only shoot at about 240 fps). The one caveat here is that you need a crazy amount of light. Shooting outdoors is best. Some of the stuff I tried to shoot indoors turned out really grainy. Sony's lightning-quick Exmor RS sensor delivers some awesome stuff here.
There's also an impressive burst mode. These features are made possible by Sony's unique technology that puts storage right on the camera chip. It can stream camera data to this memory area much faster than it could ever send data to the phone's separate, main storage chips. While Sony makes the sensors in many other manufacturer's phones, Sony is keeping this technology exclusive to its own-brand phones for now.
I'd say you can use the XZ1 as an everyday camera and video camera without regrets. It's a great imaging device.
3D Creator
One of the neatest features of the phone is called 3D Creator. With it, you can scan 3D objects. There are four presets: head, face, food, and freeform. Each capture mode includes a tutorial so you can figure out how to use it. It takes about one minute to move the phone around whatever object it is that you're capturing and voila, you've created a 3D scan.
This tool is a lot of fun. I created 3D scans of my kid's faces and they thought it was the bomb. It adds a whole new dimension to those food photos, too. The tool does take practice. In fact, many of my early attempts ended in failure. Like the super slo-mo mode, the 3D Creator tool requires a lot of light. It also tends to get picky about busy backgrounds.
What can you do with these scans? Share them via messenger, use them as your avatar, or even send them to a 3D printer to be made into a physical thing. This app is unique and totally fun.