Review: AfterShokz Trekz Air Headphones
Article Comments
Oct 5, 2017, 3:02 PM by Eric M. Zeman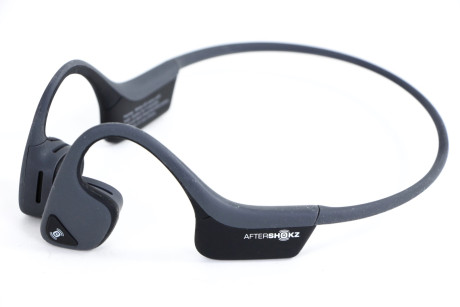 The Trekz Air from AfterShokz take an entirely different approach from most other Bluetooth headphones: they rely on bone conduction, rather than traditional drivers, to deliver sound. The open-ear design ensures you can enjoy your music while also keeping tabs on your surroundings.
Advertisements article continues below...
Background
In some situations (cycling, for example) it's important that outside sounds aren't blocked out completely. That's where the AfterShokz Trekz Air come in.
The Trekz are unlike anything else I've tested. They may be Bluetooth headphones, but they rely on bone conduction technology. How does bone conduction work? Small transducers in the headphones push mini vibrations through your cheekbones directly to your inner ears. Bone conduction benefits the Trekz Air because it allows AfterShokz to employ an open-ear design, meaning your ear is completely free and open to hear what's going on around you even while you listen to music.
Bone conduction tech isn't new. In fact, Kyocera has made a handful of rugged phones with bone conduction built in. Can this technology effectively make the jump from simple voice calls to pleasing stereo music? I'm here to tell you.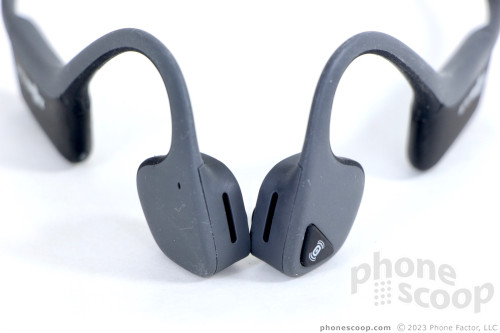 Hardware
The basic form factor of the AfterShokz Trekz Air should be pretty familiar to most people. A band passes behind your head and connects the two ear modules, which contain the battery, controls, and transducer. The transducers are large and bulbous, and you might mistake them for in-ear buds. They are connected to the battery/control modules by a thin loop that goes over your ear. The battery/control modules sit just behind your ears, and the band wraps the rest of the way around.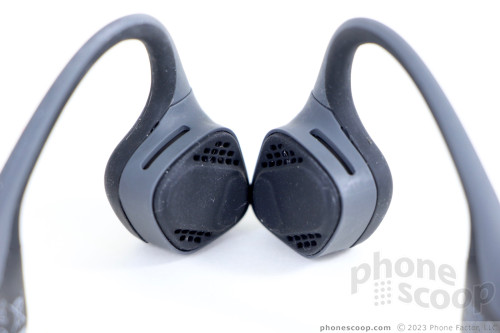 AfterShokz says the connecting band is made from titanium. It's sheathed in a rubbery covering. It feels strong and won't twist or get tangled like some behind-the-ear bands do. The same is true for the over-the-ear loops. Despite their flexibility, the Trekz Air seem rugged.
You'll find a multifunction button on the outer side of the left transducer. It's the only button, so it's easy to find and use. Like many multifunction buttons, you'll need to learn a series of short, medium, and long presses to effectively control the headphones. I'm not thrilled by this, but the patterns aren't too hard to remember. The travel and feedback of the button is good enough, and the corresponding beeps and audio alerts more or less always let you know what action you've taken. There are no buttons or controls on the left behind-the-ear module.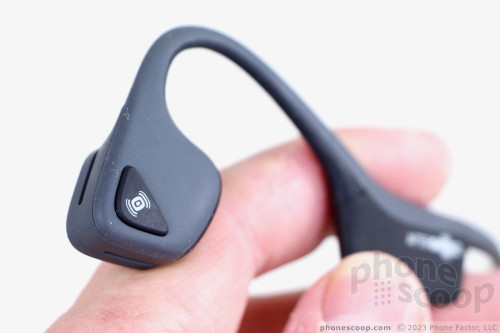 The right side reverses the controls. There are two miniature keys on the behind-the-ear module, but none on the transducer. The rear-most button, located on the bottom of the module, lowers the volume. The forward button raises the volume and doubles as the power and Bluetooth pairing key. The microUSB port for charging the Trekz Air is in front of both buttons. I wish these buttons were just a bit bigger and easier to find. Travel and feedback could be better, too.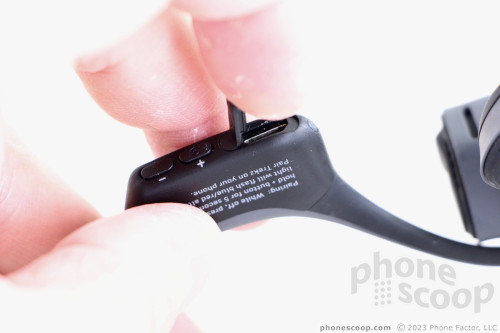 How do you wear these things? Wrap them around your head, fit the loops over your ears, and rest the transducers on your cheekbones just in front of your ears. Don't put the transducers over your ear canal; they go on your cheeks, not your ears. One advantage is that you don't have to worry about finding the right ear tips or getting a good seal for bass response. Just drop them on your head and go.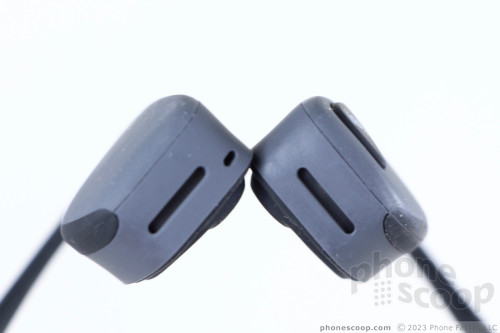 I found the Trekz Air fit really well. I could wear them comfortably for hours, and you can wear them during workouts with complete confidence that they won't pop off and go skittering across the floor.
AfterShokz says the Trekz Air are rated IP55 for protection against moisture. Gaskets plug up holes wherever possible and the internal components are covered with a water-resistant nano-coating. This means they can handle sweat and rain. The headphones easily brushed aside lots of sweat when I wore them on several sweltering days.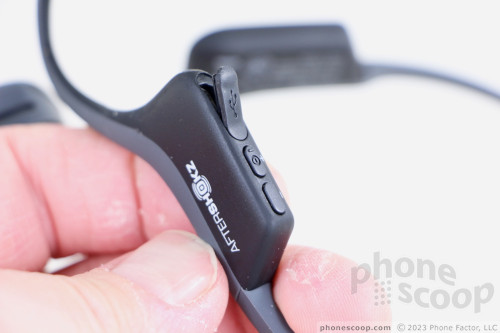 The headphones ship with a neoprene carrying case.
In sum, the Trekz Air are lightweight, comfortable, and generally easy to use. I can't ask for much more.
Performance
A long press (3+ seconds) turns the Trekz Air on and puts them into pairing mode. Using your phone's Bluetooth menu, select the Trekz and pairing is almost immediate. The headphones reliably paired with and re-connected to a variety of smartphones and tablets.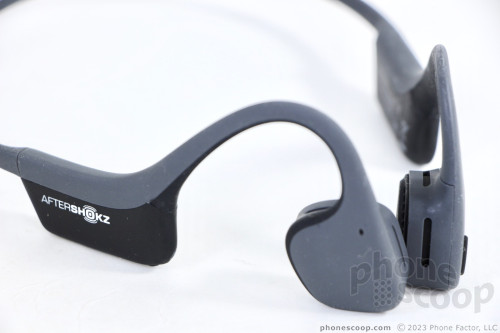 The Trekz Air rely on a Bluetooth 4.2 radio for wireless stereo audio. AfterShokz says the headphones' range is 33 feet (10m), and that's about right. Music playback is flawless up to the 25-foot mark. Once you wander more than about 25 feet, the music will start to cut out, though it returns instantly if you move closer to your phone. The music will drop entirely if you cross the 33-foot threshold. The headphones held onto the phone's signal well.
AfterShoks claims you can get 6 hours of music playback per charge. In my testing, I often saw the Trekz Air call it quits closer to 5 hours 40 minutes. The headphones will charge fully in about ~90 minutes, but just 15 minutes on the charger will give you about an hour of music playback time. The included microUSB cable is compatible with most any USB port or charger.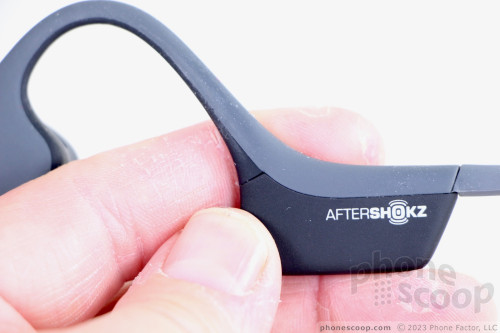 The Trekz Air recreate a frequency response of 20 Hz to 20 kHz, which is typical for most headphones. The company slings all sorts of silly marketing slogans around the Trekz Air, such as "PremiumPitch+", which supposedly delivers wide dynamic range and rich bass. Let's not forget about the "LeakSlayer" technology that helps reduce natural sound leakage. Last, there are dual noise-cancelling microphones to help cancel out non-speech sounds around you, such as low-frequency background din.
How do these things sound? Pretty good, all things considered, but not the absolute best. I didn't have the highest expectations for the Trekz Airs; there's only so much quality you can wring out of bone-conduction transducers. I prefer higher-quality headphones, but the Trekz Air do deliver a fine experience as far as music playback is concerned. All the music I sampled seemed a bit compressed, meaning the lows weren't as low as they should be and neither were the highs as high as I wanted. There's a built-in EQ, but accessing it requires a difficult-to-master long press of both the up/down volume keys at the same time. You can cycle between three options. I didn't notice much difference in sound when I switched from one to the others.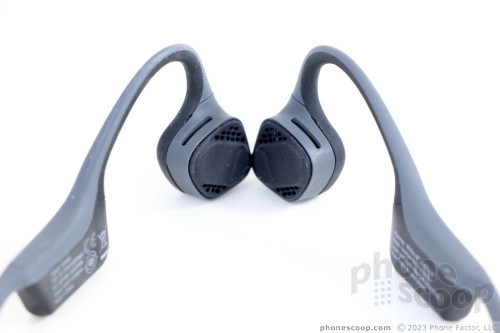 Of course, the big caveat here is the open-ear design. These headphones were made so you can listen to music and hear those talking around you. You can't expect to hear nearby conversations and also get incredible high-fidelity music.
The one thing you can do to improve the sound is, ironically, use earplugs. In fact, the Trekz Air ship with a pair of soft foam plugs that AfterShokz suggests people use in environments where it's safe to block out external noise. I found using the plugs improved the music experience dramatically by helping shut out the surrounding din, though this negates the whole idea of the open-ear concept.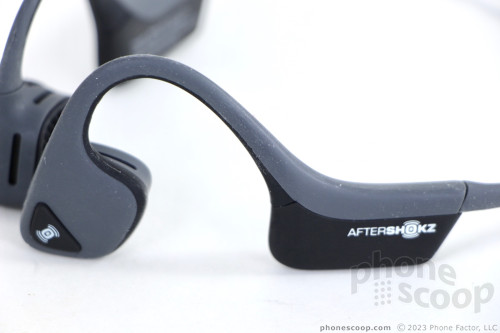 Discussion
The Trekz Air are for a very specific type of user: those who want sturdy workout headphones that can go where they go and do what they do all while still maintaining an awareness of their surroundings. These would be ideal for a gym where noises can alert you to the presence of others, or out on the trail where you want to be able to hear approaching bicycles, bears or horses.
The Trekz Air come in four different colors: black, gray, green, and pink. AfterShokz charges $150 for these headphones, and I think that's a decent price. I wish sound quality were a hair better, but the Trekz Air manage to live up to their marketing claims for open-ear listening.
If situational awareness is a priority for you, the AfterShokz Trekz Air should be the 'phones in your bag.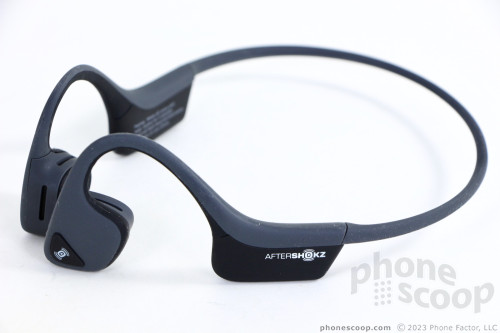 No messages