Review: ZTE Blade Z Max for MetroPCS
Hardware Software Wrap-Up Comments 6
Sep 15, 2017, 10:30 AM by Eric M. Zeman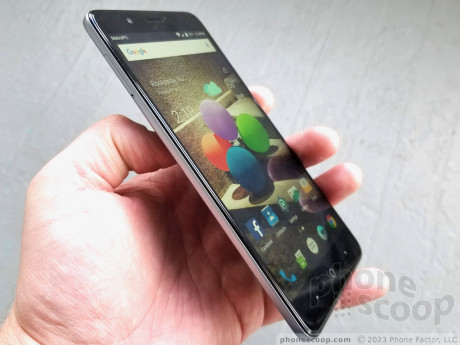 Looking for the biggest possible screen on the least expensive smartphone? The Blade Z Max may be what you seek, thanks to its IMAX-sized display, insane battery, dual cameras, and affordable price point. Here is Phone Scoop's review of ZTE's latest Android handset for MetroPCS.
Is It Your Type?
ZTE has cornered the market on inexpensive, big-screened Android handsets. The Blade Z Max is ZTE's latest offering for MetroPCS customers and it includes a massive 6-inch display, fingerprint reader, and dual cameras, all at an affordable price point.
Body
The ZTE Blade Z Max is an absolutely huge plastic slab. The phone borrows from ZTE's more conservative design ethos in that it is adorned in blacks, grays, and silvers. The size certainly helps the phone stand out a bit, but otherwise it comes across as somewhat boring and nondescript.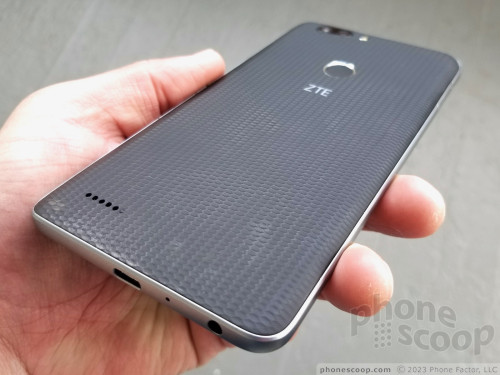 ZTE opted for a nice piece of curved-edge glass for the front. The frame — which wraps all the way around the outer profile — has a metallic finish to it but isn't actually metal. ZTE cut the frame with chamfers along the edges, but the polycarbonate can't shine the way metal would. The rear panel is somewhat unique. It's mostly flat, though it bends slightly near the side edges. The material is rubbery and has a honeycomb pattern to help give the phone some grip. It's unique.
You're going to need some big pockets to tote the Blade Z Max around. The phone is just gigantic. It measures more than 6.5 inches tall and 3.3 inches wide. It dwarfs even large phones like the Galaxy Note8 and the iPhone 8 Plus. To call it a two-handed device would almost be an understatement. It's a bit heavy, too, so you'll always know it's in your jeans when walking around. If you have small hands, or prefer one-handed devices (which I admit are *really* hard to find these days), then the Blade Z Max may be too much phone for you.
ZTE didn't cheap out on the materials. The front panel, made from Dragontrail Glass, is perfectly smooth and formed along the edges. I wish the frame were metal and not plastic, but the plastic certainly seems strong enough. The outer components are assembled tightly. Nothing about the phone feels flimsy or insignificant. I'm pleased with the quality.
The Blade Z Max's 6-inch display is certainly not "bezel-free", though it's par for this class of phone. The display consumes the majority of the front surface. The user-facing camera is easy to spot. The chin is a bit thicker than the forehead and holds three capacitive buttons for interacting with the Android UI. The home button is a small circle, while the back and multi-task buttons are tiny dots. All three light up and vibrate when touched. They're easy enough to use.
You'll find the screen lock and volume buttons on the right edge of the Blade Z Max. The physical profiles are excellent, making them all a cinch to find. The screen lock button has a rough texture to help differentiate it from the volume controls. Travel and feedback is perfect. This trio of controls functions really well. The SIM tray is tucked into the left edge. The tray also accommodates a microSD memory card.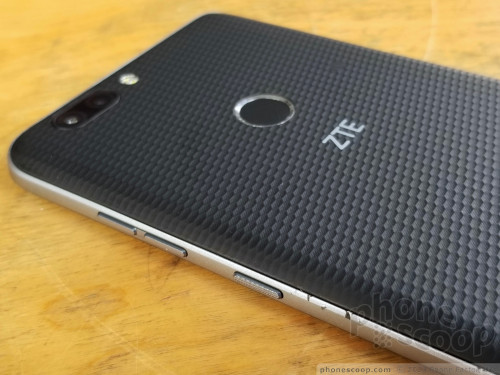 ZTE is one of the few phone makers that has adopted USB-C on its affordable models. I'm happy to see USB-C on the Blade Z Max, but it may require you to update your cables. ZTE was kind enough to install a standard 3.5mm headphone jack on bottom edge.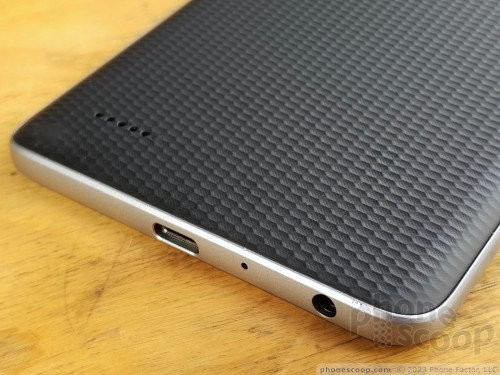 ZTE glued the rear panel into the frame, sealing the battery inside. ZTE positioned the fingerprint reader right where it needs to be, in the upper half of the rear panel. It's a breeze to find without looking. I'm glad the camera module doesn't protrude from the surface.
Like many of ZTE's recent handsets, the Blade Z Max is for those specifically seeking the biggest screen possible. I'm happy to report that ZTE did a commendable job putting this phone together. It may be humongous, but the hardware is made of fine components and assembled perfectly.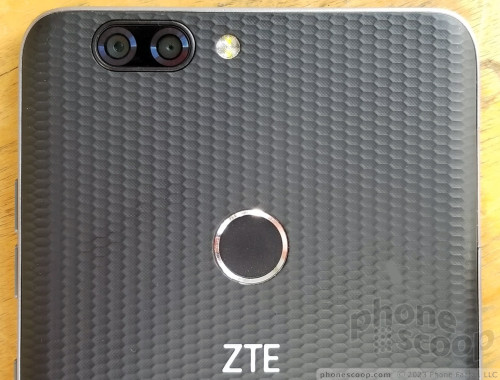 Screen
The Blade Z Max has a 6-inch screen with full HD (1080p) resolution at the traditional 16:9 aspect ratio. The display is bright, colorful, and accurate. Pixel density is (just) good enough at this size. The display is fantastic for watching video content, or multitasking with two apps. Viewing angles are decent for an LCD screen. Brightness is fine most of the time, but visible fingerprints get in the way when outdoors.
The Z Max isn't the best option for VR thanks to the resolution and LCD technology.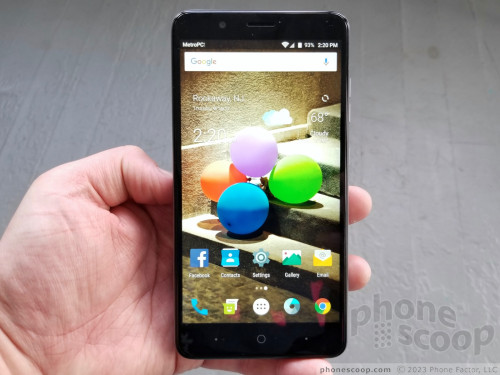 Signal
I tested it around the New York City area and found it performed on par with other MetroPCS-branded phones.
MetroPCS is a T-Mobile company, and so uses T-Mobile's network. The Z Max held onto T-Mobile's LTE network everywhere I took it, and was able to hit decent data speeds under a variety of signal conditions. I didn't run into any trouble streaming music over the network, but watching HD YouTube videos via LTE sometimes ran into buffering issues. Browsing the web and content-rich social media apps worked well.
The phone connected nearly all calls on the first dial and only dropped one on the highway while I tested it during a long drive.
Sound
The Blade Z Max is a fine voice phone. The earpiece pushes clear voices with plenty of volume. I was able to enjoy conversations at home and even in the car with the volume set to medium levels. I had to turn it up when walking on city streets or sitting in a busy coffee shop. High volumes introduced a small amount of distortion, but it wasn't too bad. People I spoke to through the Blade Z Max said I sounded "close by."
The speakerphone does well. It offers bright, punchy voice tones at medium volumes that are audible in spaces such as your home or office. Cranking it up does impact quality a bit, but you can easily hear calls in a moving vehicle.
Ringers and alert tones always got my attention. The vibrate alert performed well.
Battery
Few phone batteries are as large as the one found in the Blade Z Max. This ridiculous 4,080 mAh power supply gives the Blade Z Max all the battery life anyone could ask for. The phone consistently pushed through a day and a half on a single charge. Sometimes it lasted a full two days. You can't expect much more from any modern handset. Even on days when I used the phone intensely, it still had at least 40% battery capacity left at the end of the day.
The Z Max supports Quick Charge 2.0 and the included charger will power it up relatively quickly. The phone does not support wireless charging.
Bluetooth, GPS, NFC, WiFi
ZTE did a fine job tuning the Blade Z Max's secondary radios. The handset paired and connected with headphones, speakers, and my car's hands-free system with no issue. Call quality through my car was surprisingly good, but music came across as rather flat when streamed to a speaker.
I was pleased with the Blade Z Max's GPS performance. It ran Android Auto perfectly when I sojourned into NYC for an afternoon. It kept up with my real-time position and helped me avoid a road clogged by construction. Accuracy was as good as about 25 feet and the phone required less than 5 seconds to pinpoint me on the map.
The WiFi radio performed well. The Blade Z Max does not have NFC.
It does include an FM radio. As long as you use a pair of wired headphones (a common requirement), you can enjoy your local FM stations in stereo.
No luck with the ZTE Blade Z Max
This phone has been nothing but a nuisance since I purchased it in November. I've had it factory reset 3 times to no avail!😡 It freezes up on me often. Will shut down on me while on the phone. Most of the time I can't even open up the apps that I've installed.I wished that I had not given any thought of purchasing this crappy phone! A trac phone works better than this piece of phone!
ZTE phones are not Trustworthy!
After 3 new warranty phones and the Metro PCS store saying that these phones are "Crap", I can not advise anybody to purchase any product from ZTE!!! Metro gave me an old model Alcatel Fierce phone and it has been very good!! I plan to upgrade to the new Alcatel phone very soon!! I just wish they had a 6 inch phone!!!
ZTE zmax pro
I got the zmax pro and never had any problems.
ZTE max
Just letting people know so they don't waste money because these phones are not cheap in price,.. But if this new phone is anything like the last ZTE ZMAX, Then don't get it, I have nothing but problems with this phone, loses calls, turns off when it wants, freezes so you have to turn it off and back on, the sound stops working at the ear but works at bottom back, and when other people call me I can hear them but they say they can't hear me, so they hang up. When you take the phone to get check and they run there test, I hear sorry we can't find nothing wrong with the phone..what a joke, we can afford to buy a new phone every time you have problems with the Phone you already bought...
I concur with Candie. Previous ZMax was a bug trap. I almost lost my job over it. Volume was sometimes non functional on either end of a call at random, calls and texts would not arrive or would come in/arrive at other end much later, outgoing texts w...
(continues)
ZTE Z MAX
This phone is not worth the money it does cut off freezes and slow as buffering the speaker is very very low it keep disconneting from my car or any Bluetooth. I can't wait to change phone. 9/16/17