Apple Reveals iPhone X with Facial Recognition
Article Comments 11
Sep 12, 2017, 1:25 PM by Eric M. Zeman @zeman_e
updated Sep 12, 2017, 2:11 PM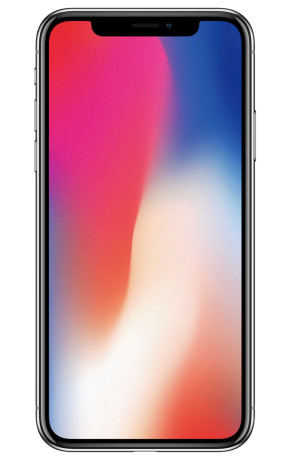 Apple today announced the iPhone X (iPhone 10), a more advanced smartphone that serves as the company's flagship device. It boasts an edge-to-edge display with glass on the front and back surfaces. It has a stainless steel frame holding the glass panels together. Like the iPhone 8 and 8 Plus, the iPhone X is water and dust resistant. It includes what Apple calls the Super Retina display. It is 5.8 inches across the diagonal with 2,465 by 1,135 pixels and it relies on OLED technology rather than LCD. It gets rid if the home button that has adorned the front of iPhones for 10 years. Swiping up from the bottom of the screen calls up the home screen, as well as the app switcher. The side button now activates Siri. It uses Face ID for unlocking the handset, based on facial recognition. It relies on the A11 Bionic chip and specialized hardware to create machine learning algorithms. The neural engine has its own dual-core design and can conduct 600 billion operations per second to assess the user's identity. Apple says Face ID requires user attention to unlock the phone, and it can't be fooled by photographs. It works with Apple Pay and apps, and can adapt to your face as it changes over time. The bar at the top of the screen includes an infrared camera, user-facing camera, flood illuminator, dot projector, earpiece, and proximity sensors. Apple created what it calls Animojis, which are animated emojis that rely on your own facial expressions to create movement in the movement. Like the iPhone 8 Plus, the iPhone X has a revised 12-megapixel camera sensor with better dynamic range with two lenses, one at f/1.8 (wide angle) and another at f/2.4 (telephoto). It has optical image stabilization to create sharp focus and a quad-LED flash. It comes with the Portrait Lighting feature of the iPhone 8 Plus, as well, and can shoot 4K video at high frame rates. The iPhone X has a more advanced selfie camera. Apple claims the new handset offers two more hours of battery life, on average, than the iPhone 7. It supports Qi wireless charging, LTE-A, Bluetooth 5.0, WiFi, and GPS. The iPhone X comes in black and silver. It will come in 64 GB and 256 GB variants. It will be available for pre-order October 27, and will ship November 3. It starts at $999.
Face ID
I like the bump in base model memory. But Face ID? I know it's about security. And that you're not suppose to use your phone while driving. It is however very convenient to unlock your phone without having to look at it in driving situations. And unlock it by just placing a thumb on it. And just glance at it for the information you're needing at the time. I suspect Face ID will require bringing the phone into your FOV. (Field of Vision).
not only unlocking the phone, but i use Touch ID for a ton of apps, including my bank. Not having it is gonna suck.