Energizer Power Max P600S Has 2:1 Display, Huge Battery
Article Comments 1
Sep 12, 2017, 10:31 AM by Rich Brome @rbrome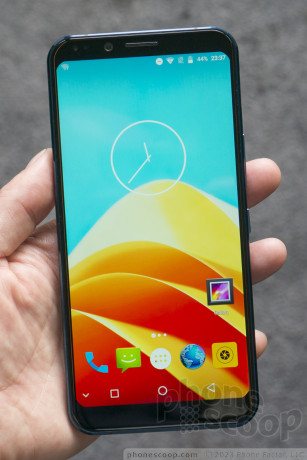 French phone maker Avenir Telecom has licensed the Energizer brand for a range of large-battery phones, which it aims to bring to the U.S. by the end of the year. One model is the Energizer Power Max P600S, which has a tall-aspect-ratio display much like Samsung and LG's flagship phones this year, as well as LG's Q-series. Avenir hopes to sell the P600S starting at $330. The phone has a 4,500 mAh battery with fast charging over USB-C, as well as the ability to charge other devices. Its display has full-HD+ resolution, and it also features a fingerprint reader, dual rear cameras, a MediaTek P25 processor, 3 GB of RAM, a memory card slot, and Android 7.0. Its network support includes LTE 2/4/7/17, for basic support on AT&T's network. Its design has a metal frame, curved-edge glass on the front, and a rounded plastic back with a carbon-fiber design. A very early prototype was shown off at the MWC Americas event in San Francisco this week. (See photos.) The company also showed off two models with rugged bodies and large batteries: the Energizer HardCase H550S and HardCase Energy E520 LTE. Both are water-proof, shock-proof, and have 4,000 mAh batteries. Avenir is still looking for distribution and retail partners to bring these phones to the U.S. market.
source: Avenir Telecom
AD article continues below...
Just like the "POLAROID" phone...FAIL
First it was the CAT phones, then the polaroid phones, now the energizer phones...give me a break already! Customers are way too smart to realize these companies are just selling their brand, and these are nothing more than "CHINESE CRAP" ODM re branded phones...I think I am going to contact P&G and get the "MR CLEAN" logo and go to China and have a MR CLEAN logo phone made.

Please, stop wasting everyone's time...