Review: FIIL IICON Bluetooth Headphones
Article Comments
Sep 13, 2017, 6:00 AM by Eric M. Zeman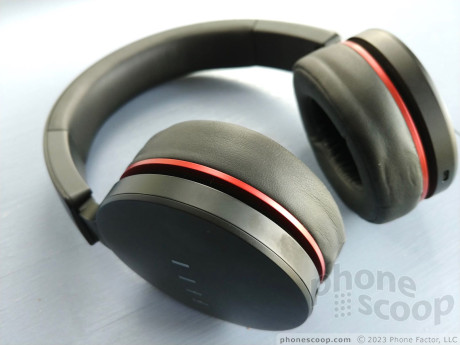 The FIIL IICON Bluetooth headphones offer active noise cancellation, incredible battery life, and over-the-ear comfort. If you're looking for an alternative to offerings from Bose and Beats, FIIL's latest cans are an excellent option for audiophiles.
Background
In all likelihood, you've never heard of FIIL (pronounced: "fill" or "Phil"). The company has been operating in China for some time, but only recently made its North American debut. The company has a range of Bluetooth headphones, including in-ear, on-ear, and over-the-ear models. FIIL focuses on the high end of the market and courts those who seek the best possible sound in their headphones, while offering advanced features.
The IICONs are FIIL's top-of-the-line, over-the-ear Bluetooth headphones and include active noise cancellation, wide frequency response, adjustable sound profiles, and more. They go head-to-head with top brands in this space. Do they have a fighting chance? We gave them a listen.
Hardware
Over-the-ear headphones aren't for everyone, but they often do produce the best listening experience. The larger drivers, passive sound isolation, and general comfort ensure you hear what's most important: the music. At the same time, the big, bulky form factor makes them less portable than on-ear or in-ear headphones. The IICONs from FIIL go big.
Few Bluetooth headphones are as beefy and significant as the IICONs: they're simply huge. Rather than offer flashy color combos and gilded accents, FIIL took a straightforward approach in designing these headphones. The cans are plain circles, and the band is a thick, bowed piece of plastic with plenty of padding. The cans come in black or silver with a black band, or red with a red band. The effect is simple and rather basic, but still classy. I think the IICON's look better than the utilitarian Bose QC35s or Plantronics BackBeat Pro 2, which are busy in comparison.
FIIL opted for a nice selection of materials for these headphones. The outer cover of the ear cups is an aluminum alloy. It works well with the various colors. The leather-covered foam ear pads are comfortable and breathe enough so that my ears didn't get sweaty during extended listening periods. The head band, mostly plastic, provides just enough force so they won't slip off. The band has thick, leather-covered padding that lets them rest gently in your scalp. The individual cups swivel just a bit to allow for a good fit on your ears. The cups are firmly attached to the band, and slide in and out close to two inches each, to fit any size head. The cups rotate outward 90 degrees so they will lay somewhat flat. Last, strong hinges allow you to fold the cups upward into the band itself for carrying.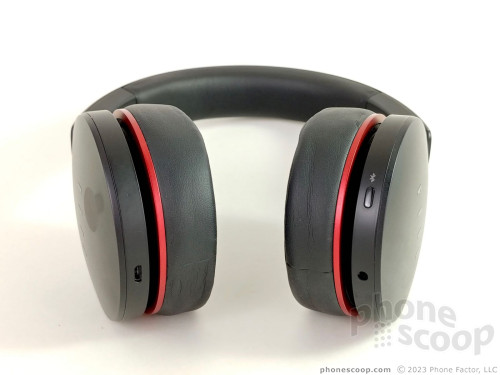 I found the IICONs incredibly comfortable to wear for hours on end. I used them for about eight hours on a flight and didn't experience any discomfort of any kind. Some over-the-ear headphones leave my head throbbing after wearing them for several hours. I felt nothing but soft, padded bliss with the IICONs on my head.
I'm not sold on the controls. First, there's a single, do-it-all button on the bottom of the right cup. The button is too flush with the plastic housing, which makes it hard to find in a hurry. Travel and feedback are acceptable, but could be better.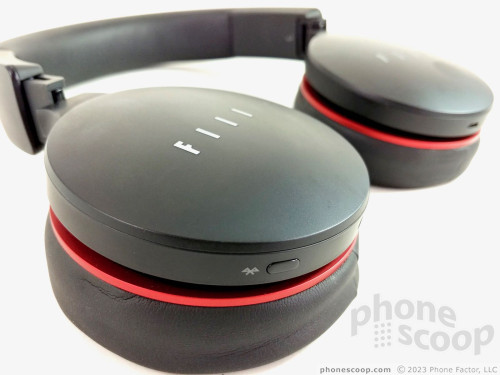 This button is responsible for way too much. A long press (>3 seconds) turns the IICONs on and puts them in pairing mode. Once the IICONs are on and paired/connected, the multi-function button handles everything. A short press will pause/resume playback, or answer/end a call. A double-press turns active noise cancellation on or off. A triple-press will turn the FIIL logo light on or off (is this necessary?!?) A medium-press (2 seconds) will activate Siri or Android Assistant. A medium-press also rejects an incoming call. Confused? Seriously, this is far too much for a single key. Remembering when to single-, double-, or triple-press the button, versus when to short-, medium-, and long-press the button is just ridiculous. I often mixed the combination up.
Second, FIIL opted for capacitive controls to manage volume and track skipping. The right cup's outer surface is touch sensitive. Swipe from the bottom edge to the top edge to increase the volume and vice versa to lower it. Swipe from the back edge to the front edge to skip forward a track and vice versa to jump back. You have to swipe from edge to edge. You can't half-ass it and begin the swipe gesture in the middle of the ear cup. You can also swipe-and-hold to adjust the volume all the way up or down, or scan forward/backward within a track. It took me a long time to get these functions to really work as intended. Worse, the control surface is fussy and not as responsive as I'd like it to be.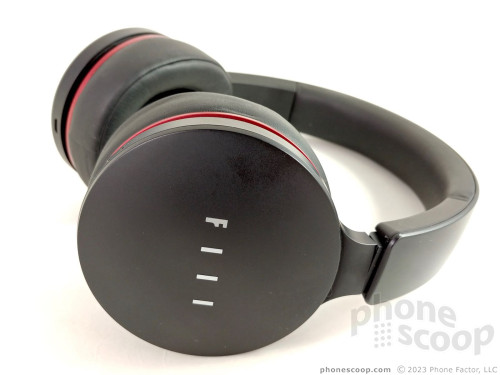 Speaking frankly, headphones this expensive should be easier to use. They look good and are more comfortable than most, but I found them annoying to control. (To be fair, Samsung's Level Pro headphones have similar capacitive controls that are equally frustrating.)
You'll find the microUSB charging port on bottom of the left cup. (I'm still waiting for accessories (especially high-end ones like these) to jump to the newer USB-C.) There's an NFC antenna tucked into the left cup for easy Bluetooth pairing. The IICONs include a 3.5mm jack for passive listening, should the battery die.
FIIL ships the IICONs in a massive, reinforced case. The case holds the headphones firmly, but is oversized and difficult to stick into a backpack. There's no way the headphones, when in the case, will fit in a messenger bag or purse: you need a full-size backpack to carry these around in the case. You can, however, rotate the cups 90 degrees so they're flat. This makes the IICONs more easy to tote sans case.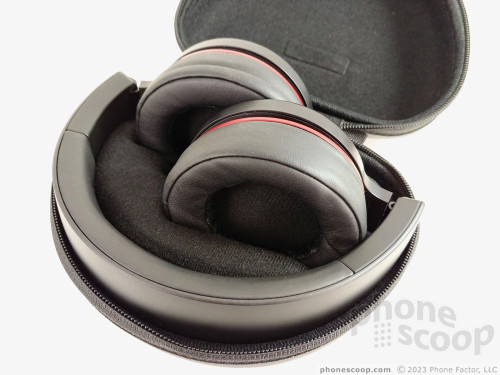 Software
FIIL's mobile application — available to Android and iOS devices — offers just the right amount of functionality. You can use it to help pair the headphone with your mobile device, but your best bet is to use NFC to simply tap and go. Most higher-end Android handsets support this.
The app prompts you to create an account or log in every time you start it. I'm not down with that. I don't need to give FIIL my email address and other information. There's a "login as guest" option so you can skip the account process, but this shouldn't be necessary every time you boot the app. C'mon, FIIL.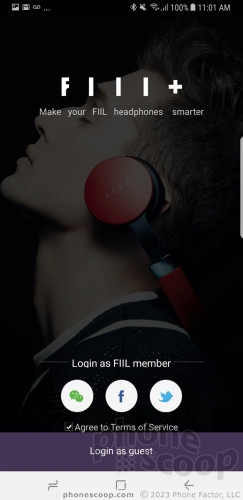 Once you move beyond this annoying login screen, you'll land on the main control panel for the headphones. The dashboard lets you see the battery level, ANC controls, and other settings. An in-depth instruction manual is available here, too, if you care to read it.
What does the app let you do? First, you can check to see if firmware upgrades are available for your headphones. I appreciate that, as firmware upgrades often help resolve performance and other issues that may arise over the lifetime of headphones. You can also set the app to automatically burn-in the headphones, which is a way to break them in so they reach their peak performance level quicker. This is totally optional, as the headphones will break themselves in after a dozen or so hours of use.
The EQ curve tool is simple to use. There are three options: original, bass, and treble. Out of the box, the IICONs are set to the original setting and I found it was the best of the three. The bass mix was a tad too muffled for my ears and the treble mix was a bit too thin.
The ANC has three modes: on, off, and monitor. The control panel lets you easily jump between them.
Last, there's a 3D Sound tool that you can use to expand the soundstage. The options are: off, living room, theater, and hall. Like the EQ, I found the default (off) to be the best option of these four. It offers the cleanest sound. The 3D modes didn't really do what I wanted or expected.
Performance
After all is said and done, performance is what matters most, and damn do the IICON's perform well.
I relied on NFC to pair the IICONs with several different Android smartphones and it worked instantly. On the iPhone, the standard Bluetooth menu worked well enough when first pairing and connecting the IICONs. Bluetooth performance was perfect. Once paired/connected, the IICONs never once dropped the link between headphones and phone or tablet. The wireless connection was as strong as any device I've tested. Moreover, the IICONs have a Bluetooth range of 300 feet, which is ten times that of most other wireless headphones. You can leave your smartphone indoors, step outside, and walk around your house without dropping a beat. That's amazing. You can pair the IICONs with up to 8 devices, and connect to 2 devices simultaneously. This allows you to, for example, connect to your phone for calls and a tablet or PC for media consumption.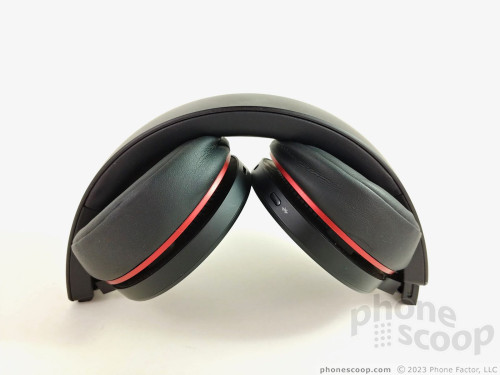 Most headphones and speakers offer a frequency range of 20 Hz to 20,000 Hz. The IICONs go a bit further with a range of 15 Hz to 22,000 kHz. You'll find 40mm drivers within, which is 5 to 7 times the size of drivers in most earbuds. They support the aptX and AAC codecs for the best quality over Bluetooth, and include a high-fidelity digital sound processor.
They are quite simply the best-sounding over-the-ear headphones I've tested. Highs are crystal clear, mids are punchy, and lows are thumpy without being flubby. I didn't have to do anything to find the perfect sound with the IICONs. They sounded (nearly) perfect right out of the box.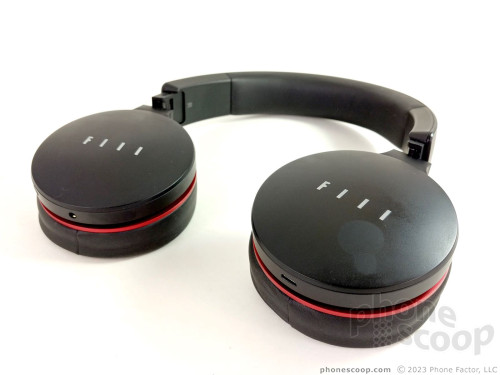 I tested the IICONs with Android and iOS devices, and used Google Play Music, Spotify, and Apple Music. I've already dialed in the EQ settings I like with these individual apps. Combined with the EQ curves available in FIIL's mobile app, it took mere seconds to ascertain which sound was the best for me. I listened to a wide variety of rock, pop, EDM, classical, jazz, and metal. The IICONs handled each genre with aplomb.
The IICONs include active noise cancellation (ANC), though it functions somewhat differently than what you might be used to. FIIL says the IICONs filter out up to 85% of low- and high-frequency sound while leaving human speech more or less intact. That means the IICONs easily drowned out the dull roar of airplane engines and the shrill shriek of subway car brakes, while allowing normal, conversational tones to reach your ears. This worked really well at times. For example, when a flight attendant asked me what entree I wanted for dinner during a recent flight, I was able to hear her clearly even though I had the IICONs cranked up.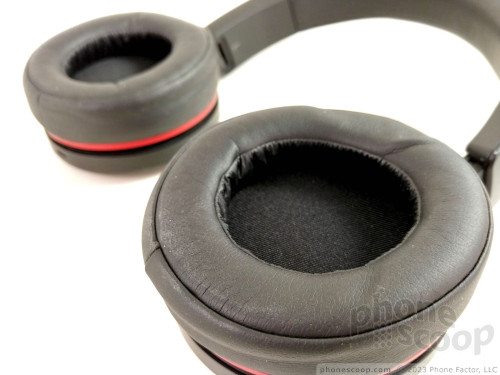 On the flip side, I noticed more noise when I was in a crowded Starbucks where a lot of people were nattering on about this and that. You can opt to turn ANC off entirely if you wish, or set it to monitor mode, which allows even more human speech to reach your ears. But if your goal is to filter out voices, you're out of luck.
Last, battery life: A small LED is positioned right next to the microUSB port. If it's green, you have more than 80% battery life left. If it's yellow, you have between 20% and 80%, and if it's red you have less than 20% left. The app lets you more accurately check battery life, including an assessment of how much playing and standby time is left.
The FIIL IICONs deliver up to 31.5 hours of playback with ANC off, and closer to 27 with ANC on. That's hours more than many competing models. You can't ask for any more. Seriously, you can fly across the country five times on a single charge. It takes about 2.5 hours to charge the IICONs.
Discussion
The IICON Bluetooth headphones from IICON aren't perfect, but they've got it where it counts. I like the minimalist design and found the IICONs to be among the most comfortable over-the-ear headphones I've worn. The multi-function button and capacitive volume/track controls are not what I'd call user friendly, though they do become easier to manage over time. The accompanying app does just enough to make itself useful.
Most importantly, the IICONs offer stellar Bluetooth performance, incredible sound, and competitive battery life. No pair of Bluetooth headphones has impressed me as much this year.
At $350, the IICONs are not cheap; in fact, they are downright expensive. You can order them online from Amazon.com or directly from FIIL.com. Are they worth it? As long as you value the best-possible sound from your headphones, then absolutely.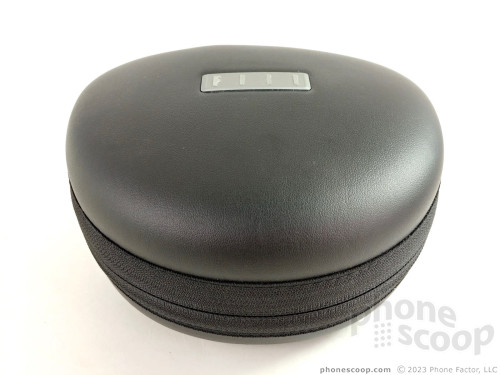 No messages