Hands On wth the Asus ZenFone AR
Article Comments
Aug 3, 2017, 8:00 AM by Rich Brome @rbrome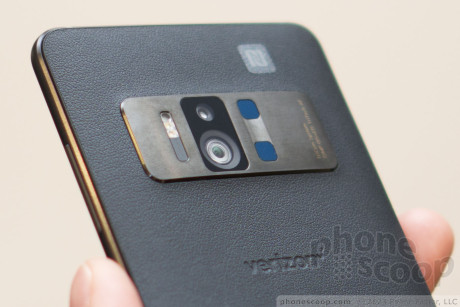 You can finally get a phone with Google's "Tango" AR technology in the US. The Asus ZenFone AR goes on sale with Verizon today. With support for Tango apps, it can scan the room and show you life-size, realistic virtual objects placed in the room in real time. It's also a powerful high-end phone with decent specs, especially in the camera department. What's it it like? We checked it out in person and have first impressions to share.
AD article continues below...
Article
The ZenFone AR is a large phone; larger than most flagships. With a 5.7-inch screen and plenty of bezel space around the screen, it's a phablet, for sure. Fortunately, it's relatively light and thin. A curved back makes it even thinner at the sides, and that helps quite a bit.
The design has a feel that's both premium and a tad unrefined. The metal frame makes it feel solid and the side buttons are nice. They've tried do do something different with a "leather" back. The leather finish doesn't feel bad, and it does help with grip, but it also has a somewhat tacky, plastic-like feel, and the edges of the back are a bit sharp and uncomfortable.
The actual Tango experience is pretty much what you might expect for AR. Note that this is the kind of AR (augmented reality) where you point your phone camera at something, and you see an altered version of what's in front of you on the phone's screen. Pokémon Go is a very basic example. Where Tango takes things further is by actually measuring everything in front of you, so it can place life-size objects into your reality that are actually to scale.
This requires more hardware than just a camera or two. The ZenFone AR uses an active depth sensing system that consists of a dedicated IR (infrared) emitter and IR camera. These scan the room and actually measure the distances of everything in front of it, in a way a standard camera cannot. The phone also has a special wide-angle camera that helps the phone make sure it's oriented correctly no matter how much you shake it around.
The technology works quite well. Some apps we tried had glitches, but others work flawlessly, with really impressive response times and accuracy. When you hang a virtual object on the wall, it stays anchored to that wall like it's bolted firmly; there's no glitchy jumping around. It makes for a smooth and believable AR experience.
There are Tango games, of course, and learning tools. There's also an app to show you what your custom BMW might look like. Honestly, most of these would be better as Daydream VR apps (which the ZenFone AR also supports, and quite well.)
Where Tango shines is with certain shopping apps, like Wayfair. It can show you what home furnishings will like in your actual home, to scale. Ikea did something like this first, but Wayfair does better, in part thanks to the accuracy of Tango technology.
In the Wayfair app, you simply choose the item you're considering and tap to place it on a real surface in your room (floor, wall, or ceiling). There's a cute "unboxing" animation, then it shows the item and its dimensions, but it's already shown to perfect scale. You can then rotate or reposition the item, and tap elsewhere to hide the dimensions, revealing a realistic view of your room with the new (virtual) item in it.
It works with furniture, rugs, light fixtures, and accessories. You can walk all around the room, sit down next to the item, walk past it, and get up close. If you're wondering if the item might be too big or too small, this app will leave absolutely no doubt. Shopping online is even better than going to a store with an app like this.
The rest of the phone is a decent high-end Android 7 phone. It's powered by a Qualcomm Snapdragon 821 chip, which is very high-end, if not the very newest. (The LG G6 has the same chip.) It's paired with 6 GB of RAM, which is above-average even for today's flagship phones. There's also a generous 128 GB of storage, and a memory card slot.
The 5.-7inch display is Quad-HD and AMOLED, ideal for VR and compatible with Google Daydream. It's a very nice display.
The camera is a monster 23-megapixel one, with every bell and whistle, including laser focusing, PDAF, a dedicated RGB color sensor, and dual LED flash. On paper, it should rival some of the best phone cameras. We look forward to testing it in our full review.
The phone's list of other features is long, including NFC, a fingerprint reader, USB-C connector, a 3.5mm jack, and Quick Charge 3.0 fast charging. There's even a barometer for apps that use altitude data. The only major features missing compared to a flagship are water resistance and wireless charging.
The ZenFone AR is on sale now with Verizon for about $650.
It's also available unlocked in two versions: 6 GB RAM / 64 GB storage for $600, or 8 GB RAM / 128 GB storage for $700.
We'll have a full review for you soon.
No messages