Review: Motorola Moto Z2 Force
Hardware Software Wrap-Up Comments 1
What makes the Z2 Force stand apart from the competition, from Motorola's own smartphones, and who is this phone for?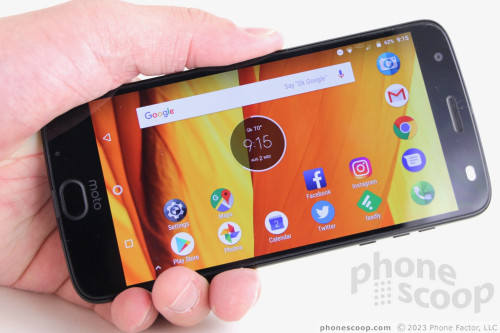 As a flagship handset, the Moto Z2 Force is the only one in the market that is compatible with modular accessories; Apple, LG, Samsung, and others don't support such an ecosystem. The Z2 Force is also one of the only flagship smartphones with a nigh unbreakable screen. If you want to buy into Moto Mods and desire a toughened-yet-sleek smartphone, the Z2 Force fits the bill.
AD article continues below...
The Z2 Force is Motorola's best performer when it comes to photography, app speed, download speeds, and virtual reality. The dual-camera array gets the job done, the LTE radio and processor are top notch, and the quad HD screen looks great. These all put the Z2 Force way ahead of the Z2 Play.
Battery life is an issue. Not only does the Z2 Force fall short of the G6, S8, and iPhone 7, it falls well short of the Z2 Play. Motorola's TurboPower Mod helps, but a phone this pricey shouldn't require an additional purchase just to keep up with the competition. I'm also disappointed that Motorola considers its internal nano coating sufficient protection when competing devices are all fully waterproof.
The Z2 Force is not cheap. Motorola is selling it for $720. Carriers have their own pricing schemes, with average monthly costs coming in at about $30. If you're going to go for it, be sure to take advantage of Motorola's Mod offers, such as the free projector or discounted JBL speaker or battery.
If you have either of last year's Z-branded handsets and are looking to upgrade, the Z2 Force is a fine option. You'll be able to use your existing Moto Mods and gain better performance in almost every respect. If you prioritize battery life — without Mods — then perhaps the lower-end Z2 Play is a better option, though you'll lose screen resolution, speed, and camera performance along the way. If you're incredibly style conscious, perhaps options from LG and Samsung are worth considering.