Motorola Debuts 'S' Variants of the Moto G5 and G5 Plus with Metal Bodies, Bigger Screens, Better Cameras
Article Comments 1
Aug 1, 2017, 8:49 AM by Eric M. Zeman @zeman_e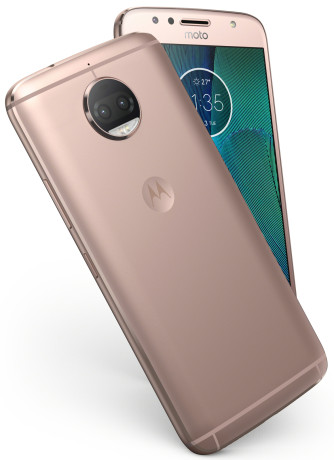 Motorola today announced the Moto G5S and the Moto G5S Plus, special editions of the G5 and G5 Plus it revealed earlier this year. The G5S features an aluminum unibody design with a larger 5.2-inch full HD display and higher-capacity 3,000mAh battery with rapid charging. The G5S also improves the main camera from 13 megapixels to 16 megapixels with PDAF, and adds an LED flash to the front for better selfies with the 5-megapixel, wide-angle camera. The G5S Plus (pictured) adopts a metal unibody design, pushes the full HD screen from 5.2 inches to 5.5 inches, but carries over the 3,000mAh battery of the G5 Plus. The most significant change involves the camera, which switches from a single 12-megapixel shooter to a dual 13-megapixel arrangement with features such as selective focus, and black-and-white image capture. Similar to the G5S, the G5S Plus adds an LED flash to the front of the phone for improved lighting via the 8-megapixel selfie cam. Both the G5S and G5S Plus adopt the new Motorola multi-purpose fingerprint reader that can also be used for navigating the user interface. The phones include the latest software features from Motorola, too, including Night Display and Quick Reply. The G5S costs about $295 while the G5S Plus costs about $350. They will go on sale in the U.S. this fall.
Variants
This is great from Motorola (Lenovo)
People do not have to be stuck with an entry-level or a flagship and still get pretty decent a phone for an affordable price-point.
As long as Motorola keeps up with a good camera which it appears to be the case with the G5S plus, it will draw a larger market.