Cingular To Launch HSDPA Music Phone
Article Comments 19
Oct 23, 2006, 2:05 PM by (staff)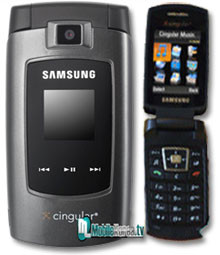 Samsung Korea today announced that Cingular will launch a new HSDPA clamshell. The A707 appears to be based on the Z560 - a thin, light folder launched in Europe earlier this year. In addition to HSDPA high speed data, the A707 has a 2 megapixel camera and stereo Bluetooth. The Z560 featured a QVGA and MicroSD slot, it is likely these features will also carry over to the A707 but they have not been confirmed. The A707 features Windows Media DRM and is compatible with Plays For Sure music services such as Napster and Rhapsody. It is possible Cingular will also launch a music download service with this phone as well. It also has music identification software that will find the name and artist of a song when played into the phone.
I GOT ONE!!!!
HAHAHA I got one first!!!!!
I had two on hold Friday (in Louisiana) since the rebate wasn't effective until Monday.

When I returned today to pick up the phones, the clerk (at a Cingular store - not a third party retailer) told me that these phone had been recalled and that th...
(continues)
A Cingular Annoucement???
finally, rich you must have read my earlier post lol this is finally some decent news under cingulars part.
Got that right!!!! Something half-way decent's gotta come from Cingular EVENTUALY, but they still have to launch the damn thing.

Hey Rich, any idea as to whether or not the 2mp camera is an auto-focus, from this picture, it doesn't look like it, bu...
(continues)
Same Samsung
This phone looks like all the rest of Cingulars Samsungs. Only difference is the camera and speed of internet?