LG Introduces Next Style Icon
Article Comments 54
Oct 18, 2006, 1:05 PM by (staff)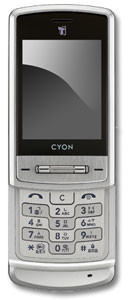 LG today announced the Shine, a new phone for Korea that the company hopes will capture the public's attention like the Chocolate before it. The Shine is a total departure from LG's previous designs. It is a slim slider wrapped in metal instead of plastic. The entire phone looks metallic as even the large QVGA screen is hidden behind a mirrored surface. To reduce size, LG has opted for scroll wheel navigation similar to older Japanese Sony Ericsson models rather than a D-pad or joystick. The phone features a 2 megapixel camera, 1 GB of built in memory, memory card slot and 3G data. If successful when it launches in Korea early next year, it is likely that as with the Chocolate, LG will launch the Shine on Western shores.
US Release
Anyone hear when this will be available in US? What carrier?
Well, according to CES, we ain't getting anything soon. The original slider is Europe only. F**K LG. It's the iPhone now.
Kinda Large
Is it just me or does the shine look rather large in size. I think the phone looks awesome and does have a huge screen but it looks pretty big. Anyone else?
I thought the same thing at first, but now that I look at it, I'm not so sure its as large as it appears, the woman holding it seems very small. While I do think it is larger than average, I think the combo of that and the person holding it should bot...
(continues)
Change the name
The name of the phone will have to change IF it ever hits American shores. 'Shine' is a racial slur against African Americans.

Neat phone though...
comes to mind. Off the "Confucius Says" CD: Kid who slides down bannister, makes monkey shine. (Some of the taboos were different in his day)

Hopefully the ethnic marketing consultants/telecom employee affinity groups are hip to this.
...Um, ok, so you didn't find the "chocolate" moniker of their last product to be offensive. Come on man, I'm an African American. Nigerian, of the Ebo tribe to be exact. I think we're all getting a little too sensitive about the wrong subject matt...
(continues)
Get ready! Its LG's time to Shine.
Dude this phone looks sick. 🤤 😈
I would get it. Go LG!
wmolockjr said:
Dude this phone looks sick. 🤤 😈
I would get it. Go LG!
So would I...if it weren't a slider.
CHECK OUT THESE AWESOME PICS
now those pictures really do it some justice!! notice the sim card slot...
wow now those pics impress me, even tho its lg and their gsm lineup with cingy is terrible cuz of reception of software slowness this has potential
LG still kinda blows
I'm not impressed. I'm going to stick with my KRZR, RAZR, SLVR, and RIZR. Wooo
The KRZR is one of the most pointless phones I've seen yet and I've had Moto and LG. But I'm sorry, the KRZR shows me nothing of surprise, the screen is too small, the outer keys have no purpose unless already playin and an iffy camera. I think with t...
(continues)
have you seen the awesome pics in the other thread?? phone looks way better then any moto phone and 1gb of internal mem yea and razr is sooo dumb everyone has ones same with slvr the other ones are ok...
what ever you want buddy.. i guess you own all of them.. that of you such a dork you have to trump on phone schoop how you love moto?
LIke it or not, LG is still total garbage
Their dated UI (way worse than Motorola's) , bugs galore, and second-rate features.

Motorola's got these guys schooled in the fashion phone realm. (The chocolate has too many afterthought design decisions, like the speaker location)
you are def right!! even the speaker phone feature had to be downloaded and even that just came weeks ago
Well first of all LG makes phones just as good as any other.. How could it be total garbage? Garbage is wrappers and stuff you dropped on the floor and wont eat.. LG is making phones that people want very badly... I owned the vx7000 and now the vx9...
(continues)
Finally Aphone That Isnt Plastic
I want one I want one I want one
wow that phone is sexy, bye bye razr, krzr, slvr, rizr
Carrier
What will be the carrier for this phone?
Hard to say at this point because, with the SIM card slot it could go Cingular, BUT it's not hard to remove that for Verizon...I can venture a bet that it's between those two...t-mobile has no chance and Sprint..well sprint has bigger issues right now...
(continues)
Verizon Wireless. Because we get all the cool LG phones. 😎
LG continues to impress
LG is on a roll. I have had several LG's and not one has dissappointed at all. I think that I may be a fanboy.
Personally, my favorite LG that I owned was the LG7000 on Verizon. Even with the Verizon UI, I thought that this phone fit my needs flawlessly
Ah, the good old VX7000. 🙂
helio?
Hmm.... think helio might be getting this phone? I heard since on of their phone manufacturers went out of business LG might jump in and make some phones for them. Any thoughts?
launch date????
DOES ANYBODY KNOW OF A LAUNCH DATE YET???
always the first question asked...and the last one answered.



probably 10-12 months from now would be a guess ;)
First quarter in Korea, and if it is successful, everywhere else after.
I'd say a year to a year and a half. But it may be like 10 years from now. 😳
hrm
This doesn't seem that revolutionary. At least not when you look at the RAZR and Chocolate. It is a slider, made of metal. The only real difference I see between this and the chocolate is the material.

Features are a moot point because they can change before the phone gets here.

I think it will sell well, but I don't think it will be as impacting as other phones.
I disagree. It's not often you get a "metallic" phone and definitly not the "mirror lcd". As long as the features stay through to US deployment, the phone will hit better than Chocolate because...they learned to have the speakerphone feature enabled f...
(continues)