Fall Brings Two More Limited Edition Sidekicks
Article Comments 3
Oct 13, 2006, 12:17 AM by (staff)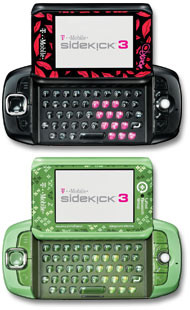 T-Mobile has announced that this fall they will again be launching 2 limited edition Sidekicks - one for the men and a one for the women. This year the limited edition models will be based on the Sidekick 3 with no apparent changes to the hardware or the software except for the phone body. The Diane von Furstenberg model will come in gloss black with graphics of hot pink lips. The Lifted Research Group (LRG) model will come in the brand's baby tree camouflage with LRG's styled drawings around the screen. Both models will be available in limited quantities on October 30.
source: T-Mobile
Can I barf now?
Yeah, these were cooler when they were just rumors. At least when they were rumors they came in the form of Tiffany's and Luois Vutton (or however you spell it). These are junk. I really like LRG and what they are all about, too, but the lime green is junk. T-Mob better have a few more for Christmas or these might never sell...
sk's
are lameeeeee every one has one thats one reason why i will never get one and then these limited editions for 100 bucks more for art on it **** jsut buy some skins save you the money
they should had fixed some problems with the phone because it sucks, instead of making some new design, wow!