Meet the LG Exalt, Verizon's First LTE-Only Flip Phone
Article Comments 9
Jun 15, 2017, 10:39 AM by Eric M. Zeman @zeman_e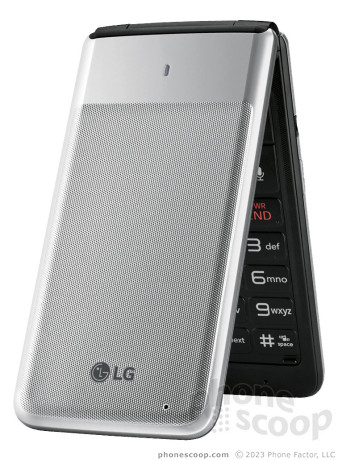 Verizon Wireless recently added the LG Exalt LTE to its lineup of inexpensive flip phones. The Exalt LTE has the distinction of being Verizon's first 4G LTE basic phone, according to the carrier. The handset includes LTE and UMTS/GSM radios, but the Exalt LTE does not support Verizon's legacy CDMA 3G network. That makes it unique among Verizon flip phones. In addition to LTE, the Exalt includes WiFi and a high-quality speaker for HD voice calls over either LTE or WiFi. The Exalt LTE has a 3.0-inch display with 400 by 240 pixels, a 1,470mAh battery, and a 5-megapixel camera. The Exalt LTE packs 8 GB of internal storage and supports microSD memory cards up to 32 GB. Verizon didn't say what operating system the Exalt LTE runs, nor what processor might be power the phone. The LG Exalt LTE is available online only for $168 at full retail or $7 per month for 24 months.
What's the point?
Really, if there's no email (perhaps only a mobile useless browser), who needs LTE service? The voice calls are not much better (and worse at times), and LTE sucks battery much faster (hence, they upped the battery from 900mAh on the Exalt II to 1470). I wish LG would add an email application for this (Verizon doesn't support email on dumb phones anymore).

It's also sad to see the useless gimicky front LCD, instead of providing a reguler, easy to read display.

I do welcome (improved over the Exalt II) the 8gb of interior memory instead of 256mb!! and the HD-quality 720p video recording. Is the camera/lens itself improved? It remains to be seen. Both have a 5mp. I hope phoneScoop would do a review on this phone.

In my opinion, if the...
(continues)
You have to keep in mind that VZW wants to retire CDMA within the next few years and go LTE-only. For that to happen, they need to get CDMA phones off their network, and dumbphones are some of the least upgraded devices out there. People get them, a...
(continues)
Every phone will need LTE when they shut off the CDMA network. This phone lays the first groundwork for that eventual, necessary step. It won't be for a while, but it will happen. You will not see Verizon launch another new phone without LTE, I promis...
(continues)
any idea on OS and chipset?
anyone? Bueller?
Summary Screen Size 3.0 inches
Screen Resolution 400 x 240 pixels
Battery Capacity 1,470 mAh (Removable)
Camera Resolution 5 MP
Processor Qualcomm Snapdragon™ 1.1 GHz Quad-Core
Storage 8 GB (up to 4.3 GB usable)
Carrier Verizon
Other F...
(continues)
The chipset is almost certainly a Snapdragon 210.

If it runs an OS like BrewMP or stripped-down Android, don't expect to reap any of the benefits like apps. This is not a smartphone.
8 GB of internal storage
Happy to see 8 GB of internal storage. Can we expect that after 200 text messages I won't get that pesky message "you inbox is 80% full"?