BlackBerry KEYone Goes On Sale Today for $549
Article Comments 2
May 31, 2017, 7:11 AM by Eric M. Zeman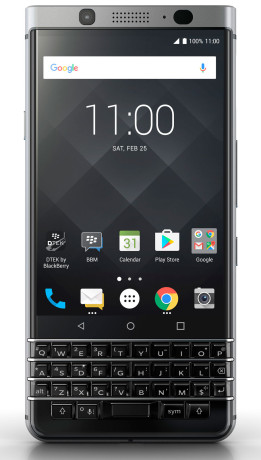 TCL today announced that the BlackBerry KEYone, a smartphone it developed with BlackBerry Mobile, is now available for purchase online. The handset includes a 4.5-inch touch display, full QWERTY keyboard, Snapdragon 625 processor, 12-megpixel camera, LTE, and Android 7.1 Nougat with BlackBerry Hub and BlackBerry Messenger. Both the unlocked GSM and CDMA variants of the phone are available online from BestBuy and Amazon. TCL says a limited number of KEYone's will be at select Best Buy retail stores around the country. Sprint plans to sell its own branded variant of the BlackBerry KEYone later this summer.
Snapdragon 625
Excellent for batter efficiency.
Not so great for performance.
Best BlackBerry yet!
I set my wife's up last night and was very impressed with the keyboard, fingerprint sensor in the space bar, and overall how great the phone performed and felt in my hand.