5 Most Important Things Google Announced At I/O
Article Comments
May 19, 2017, 12:00 PM by Eric M. Zeman @zeman_e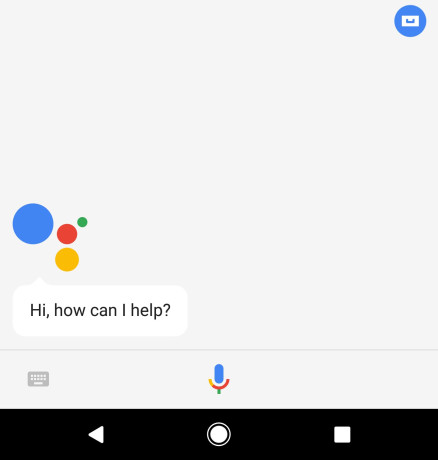 Google I/O, the search company's annual developer conference, is wrapping up after a whirlwind few days in Mountain View, Calif. Google hit attendees with a blitz of announcements centered around artificial intelligence, machine learning, and mobility. While much of what Google showed off is meant for its developer partners, plenty will reach consumers in the days, weeks, and months ahead — not only on Android devices, but iOS, the web, your car, your wrist, your headset, and more.
AD article continues below...
Here are the 5 most important things Google revealed this week.
1. Google Assistant
One of the first things Google CEO Sundar Pichai said when he took the stage during Wednesday's keynote was to say Google is moving from a Mobile First company to an AI First company. Pichai made good on that promise.
Google Assistant is soon going to be everywhere. Google expanded its voice-based helper to the iPhone, improved its feature set, and offered developers an SDK so they can add Assistant to their own apps, services, and hardware.
Google Assistant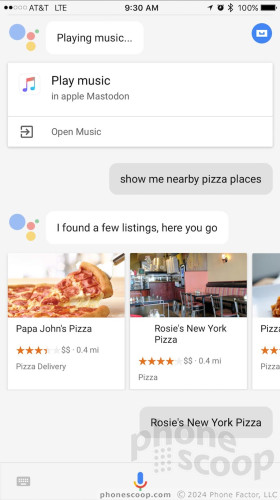 Google Assistant
Bringing Assistant to the iPhone is clutch. The U.S. market is somewhat unique in that about half of all smartphones are iPhones. That's dramatically different from the worldwide number for iPhone adoption, which sits at just 14%. Offering Google Assistant to iPhone owners effectively doubles the reach of Assistant in the U.S. Even if only a small percentage of iPhone owners adopt Assistant, it will let Google capture invaluable user data, and potentially pry iPhone owners away from Apple-based services (ahem, Siri) in favor of Google's.
Google Home runs Google Assistant at its core and the in-home speaker is now more powerful. This week Google added what it calls Actions On Google to the Google Home product. In short, Home can now handle calendar and reminder requests; it now works with more audio and video streaming partners (Spotify, Soundcloud, HBO, CBS); and it can cast content directly to TV sets via voice command. Oh yeah, Google Home can now make voice calls. This is a big jump for Home owners.
The new Google Assistant SDK provides developers with the tools they need to add hotword detection, voice recognition, and action-based responses to TVs, refrigerators, and other in-home gear. Companies such as LG have already committed to bringing Google Assistant to their products. I don't know about you, but I can't wait to talk to my fridge. Again, the basic goal here is to add points of contact between people and Assistant.
Make no mistake, this week's expansion of Google Assistant clearly shows what's most important to Google and highlights its new vision.
2. Android Go
Google is taking a new approach to put Android into the hands of everyone around the world, even those who can barely afford a phone. The Android Go initiative for entry-level devices would seem to replace the Android One project with the goal of "reaching the next billion users."
Google already has 2 billion daily active users worldwide. That's about 24% of the world's population. Even so, only about half of everyone on the planet has a phone or smartphone, and Google knows that in order to reach more people it needs to offer a lower-cost solution.
Android Go hopes to create a great smartphone experience for devices with 1 GB of memory or less. Google designed it around simple, relevant features that will truly help those with limited connectivity. The core system changes are part of Android O in order to optimize performance in entry-level hardware. Moreover, Google is targeting the Play Store in a big way to ensure there are Android Go capable apps. For example, it has reworked its own YouTube, Chrome, and GBoard apps to use less memory, take up less storage space on the phone, and use less mobile data via data compression and so on. Google expects developers to support Android Go by submitting full apps and Android Go apps to the Play Store.
Google expects Android Go to fully launch on fresh hardware in early 2018. Google will share more details over the next few months.
3. Google Lens
Google Lens may sound familiar. Google has offered an image search tool (Google Goggles) like this for some time. Even Nokia tried its hand at real-time, image-based search on its old Lumia smartphones. Google Lens takes the idea to through the logical next step.
Google Lens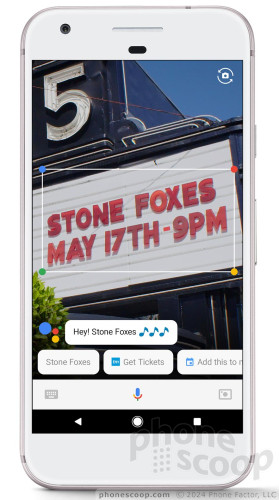 Google Lens
Using Lens, people point their Android phone at something they see in the real world, such as a flower, and Google will perform an instant search based on the live image and provide a result. Like almost everything announced this week, machine learning plays a heavy role in the background.
In the example provided on stage this week Google pointed a camera at several businesses, including a theater. Google Lens was able to read the billboard, determine the name of the venue and the band playing, and pull up search results complete with the option to purchase tickets and add the event to your calendar. That's powerful — all thanks to machine learning.
Google Lens will make its debut in the coming months.
4. Google Photos
Google Photos earned its own artificial intelligence and machine learning powers this week. Google says more than 500 million people use Photos every month, backing up an incredible 1.2 bllion photos and videos each day. This level of adoption led Google to find ways to improve the experience and is doing that through new AI (there's that word again) sharing tools.
Google Photos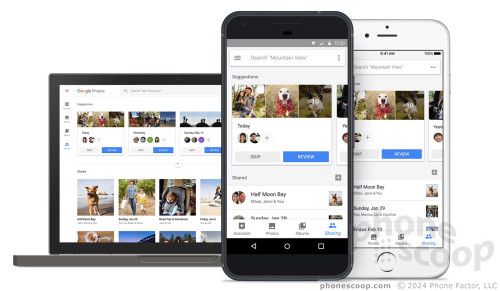 Google Photos
First up, suggested sharing. Google Photos will automatically scan your pictures for things it recognizes and can categorize, like peoples' faces. Using machine learning, Google Photos will automatically select the best photos (in focus, good exposure) eliminate duplicates, and then remind you to share them with the people it thinks it sees in the photos. Users need only tap "send" once Google wraps up its magic.
New shared libraries will help sharing in a different way. This lets people effortlessly send/receive photos with single users. Google says users can define how much of their library others will be able to see, including parameters such as time, date, location, and subject. With two people contributing to a shared library, Google Assistant will then do its job of creating stories, collages, movies, and so on.
Last in this trio of sharing-themed tools is photo books. Google Photos will use all of the tools already mentioned to automatically create physical photo books that you can print and send to others ($10 for softcover, $20 for hardcover.)
Google is rolling out all these tools to Android, iOS, and web users in the coming weeks.
5. Daydream 2.0 Euphrates
If Cardboard was Google dipping its toe into the VR waters, Daydream 1.0 was Google wading in up to its knees, and Daydream 2.0 Euphrates represents Google diving all the way in.
The next version of Daydream makes a huge leap forward in multiple directions at one. To start, more smartphones will soon be Daydream compatible. While only about eight handsets can use Daydream now (according to Google), it expects closer to 50 models will support it by the end of the year. Some of those devices will come from LG, Motorola, and Asus. (Verizon plans to sell the ZenFone AR later this summer.)
Daydream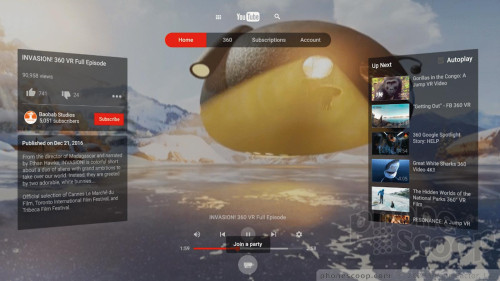 Daydream
More importantly, virtual reality is about to become more social. Right now, your vision of virtual reality is that of some nerd looking all around with a goody contraption on his head. This isn't going to change, but that nerd will no longer be exploring worlds by himself. Google wants people to share their VR experiences, and that's where Daydream 2.0 comes in. The new platform, which will reach all supported devices, will let people capture and share screenshots of what they're seeing, cast to TVs, and even join co-watching experiences via YouTube VR. The YouTube VR tool is neat, as it supports avatars, live comments, and more. VR is about to come to the web, too, thanks to full support for WebVR in Chrome for Android.
Casting VR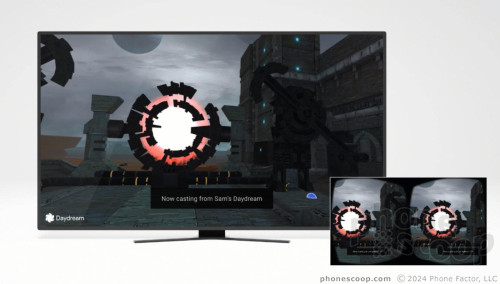 Casting VR
Google didn't forget about its Project Tango augmented reality platform. Moving forward, Daydream and Tango will be able to run on the same smartphones, allowing people to virtual and augmented worlds from a single device. Software tools will let people try on virtual clothes, measure the size of their living room for furniture purchases, and even explore shared spaces with its Expeditions AR app, intended to students.
Daydream 1.0 got off to a slow start, but Google has a clearer purpose for its VR and AR spaces moving forward. Let's not forget developers, to whom Google gifted a wide range of new tools to create VR/AR apps and services.
No messages