New Samsung Smartphone Slips Through FCC
Article Comments 8
Oct 4, 2006, 2:53 AM by (staff)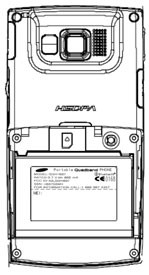 The FCC has approved the Samsung i607, a new Windows Mobile Smartphone which should be coming to Cingular. The i607 is the follow up to the i320, a tiny smartphone with a QWERTY keyboard and horizontal QVGA screen. It improves on its predecessor by adding 3G HSDPA to the already feature-packed device, considering its tiny size. The i607 features quad-band GSM / EDGE as well as the aforementioned 850 / 1900 HSDPA. It also features Bluetooth, a camera and side mounted scroll wheel similar to the Motorola Q. The i320 also includes a MicroSD slot, which is most likely on the i607 as well.
Release Date
Does any one know when Cingular would eventually release? Or when it might be avail from other distributors? I can't even find on Samsung's web site.
Pricing
Any news on pricing? My CU500 needs the boot, this HSPDA phone is in!!!
Verizon Samsung Windows Mobile 5.0 phone
I am just very curious as to what is in the pipe for Samsung as far as Verizon wireless is concerned. I carry the aging i730 and have since it was first released. I love the device. My only complaints are the weight and that it has no camera. Other than that it is a great device, but Verizon is starting to phaze it out with nothing from Samsung in the pipes that I am aware of to replace it.

BTW when are Mobiles manufacturers going to start adding an FM transmitter?
QWERTY?
does anyone know if this thing will have a QWERTY keyboard?
yes, it's pictures all over the net!
it also said it in the news brief. 😁