Review: Ring Pro Video Doorbell
Article Comments
May 12, 2017, 2:00 PM by Eric M. Zeman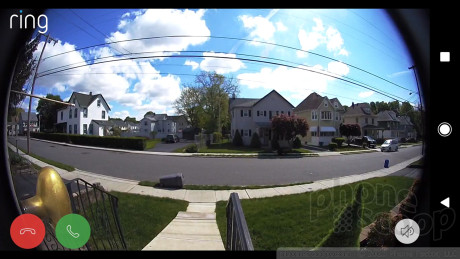 The Ring Pro video doorbell is smaller than the original, shoots higher-quality video, and offers lots of under-the-hood software advancements that boost performance across the board. If you want to keep tabs on your front door, the Ring Pro has you covered in more ways than one. Here is Phone Scoop's in-depth review.
Advertisements article continues below...
Home security has become much easier to manage and much less expensive thanks to connected devices. There's no more need to have a security company come to your home, wire it up, and charge you a monthly maintenance fee. Now, just about anyone can pick up an internet-capable camera at Best Buy and install it in mere minutes.
Ring's video doorbells have been available for a few years now. Together with the mobile app, they allow you to answer your doorbell from afar, see who's ringing, and record the entire interaction for safekeeping. Ring can be a lifesaver for those who have security concerns, or provide peace of mind for those who simply want to keep tabs on the neighborhood when not at home.
Hardware
The Ring Pro represents the second-generation of hardware from Ring. The first doorbell was rather significant in size and shape, while this new rig is a bit smaller. The Ring Pro measures 4.5 inches by 1.85 inches by 0.80 inches. It's still chunky compared to a standard doorbell, but the smaller size can be helpful when it comes to installation, especially if you have a narrow door frame. The original was rather bulky.
Ring Pro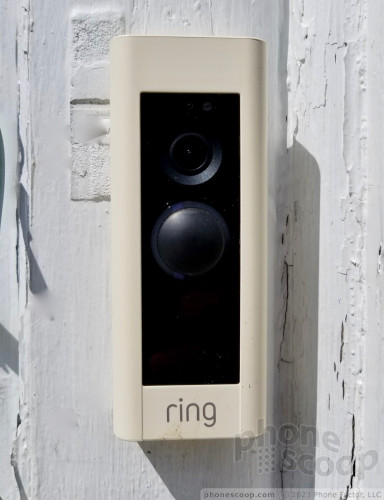 Ring Pro
Original Ring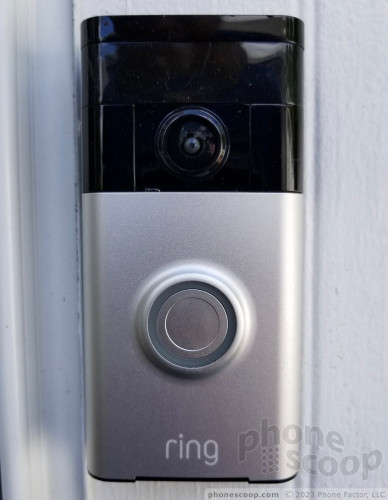 Original Ring
The device itself is made nearly all from plastic. It feels strong and well built. The over-sized button has good travel and feedback, and it lights up to let the caller know he or she has successfully rung it. The bulbous camera lens is located above the button, and you can easily spot the microphone and LED light if you're up close. The device is weatherproof, so you don't have to worry about protecting it from the elements. The Ring Pro includes several interchangeable faceplates to help better match your house. You can choose from silver, black, off-white, or brown. I wish Ring offered a pure white faceplate to go with my doorframe.
Installation is straightforward as long as you have a little electrical know-how. In order to use the Ring Pro, your home has to have a hardwired doorbell. This may be a dealbreaker for some. The original Ring is battery operated, which, in my view, makes it a bit more flexible and practical.
Don't forget to switch off the circuit breaker before you get started. The Ring Pro requires you to wire a small power pack to the actual doorbell inside your house. The installation kit for this power pack couldn't be simpler to use and it takes all of two minutes to put in place. Seriously, as long as you have a Philips screwdriver around (one comes in the kit) you're in good shape. With that step completed, remove the original doorbell button from your front entryway, attach the existing wires to the back of the Ring Pro, and screw the entire thing into place. The installation kit includes a drill bit for drilling pilot holes as well as nylon anchors for use with different materials (stone, wood, plaster, etc.) Once you've attached the doorbell, affix the faceplate of your choice and lock it into place with a special torx screw underneath (to help prevent theft). Again, the entire process might take you a couple of minutes.
Once you've completed these steps, it's time to configure the doorbell via the Ring mobile app.
Software
The Ring app is free to download from the Google Play Store and iTunes App Store. It works with phones and tablets, and the service is also accessible via the web on your computer. The app walks you through the process of setting up the doorbell.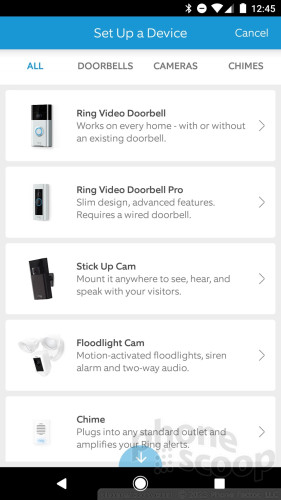 Using simple, graphic-rich menus, the app lets you select the exact product you want to configure, where you've placed it on your home (front door, back door, office), set your address, and so on. A home or office wifi network is required. It's worth pointing out that the Ring Pro jumps to dual-band WiFi. The app includes detailed installation videos to watch. The videos can be really handy, especially if you're not sure how to connect the wires.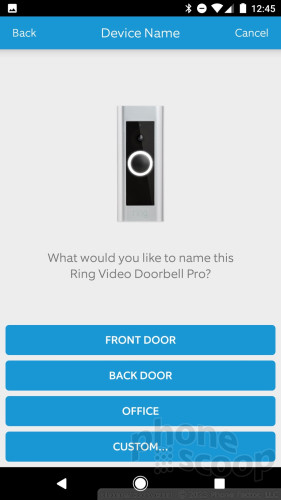 Once everything is configured you should be all set. The Ring Pro is always on and will begin capturing all the goings-on in your neighborhood immediately. The basic interface of the app lets you see all of your alerts in chronological order. Tabs allow you to sort between answered rings, missed rings, motion, and so on.
You'll want to spend a few moments tweaking alerts. First, you can elect to have only actual doorbell presses alert you. This makes the most sense for most people. Second, you can have the Ring Pro alert you when it records motion events.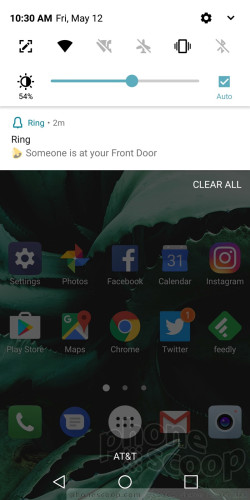 Be really careful with motion alerts, as these can quickly get out of control. My house is really close to the street. The older Ring doorbell was too sensitive when it came to detecting motion and often fired off an alert every time a car drove down the street. You can imagine what a hassle that was. I was forced to turn off motion alerts entirely.
The Ring Pro attempts to solve this problem. The app allows you to define custom zones for recording motion, which I found to be really handy. With the Ring Pro, I was able to exclude the actual street from the motion zone and still cover my stoop, walkway, and sidewalk. The tool for defining motion zones is a simple as drawing a box around the area you want covered. I highly recommend you take the time to do this.
Setting Motion Zones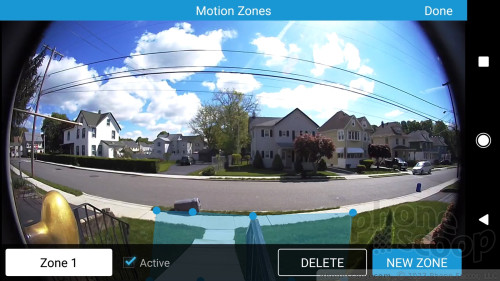 Setting Motion Zones
The Ring app supports multiple Ring doorbells, Ring's chime accessories, as well as Ring's Stick Up Cam. The console for controlling them all is dead simple to use. The app makes it possible to favorite specific events, as well as delete and/or collate events however you wish.
Indoor Chime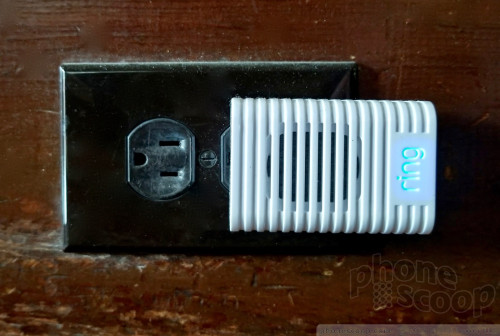 Indoor Chime
Performance
With the Ring Pro installed and the app configured, you may be wondering how it all really works. Here's the deal.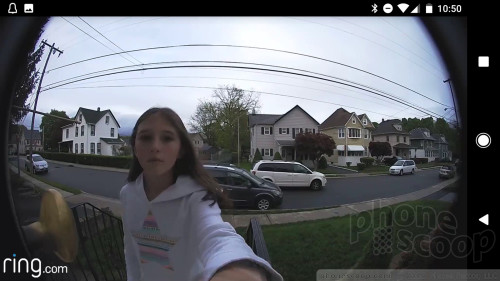 Let's say the mail carrier presses the button on your Ring Pro. A few things will happen. First, he or she will hear an audible ring at the doorbell so they know they activated it. At the same time, the Ring Pro will ring the hardwired doorbell in your home and ring your phone. You can ignore your phone and simply get off the couch to answer the door as you normally would, you can answer the "call" on your phone, or you can just ignore everything (you lout). The app will ring your phone twice to ensure you don't miss the alert. You can customize the chime, which I appreciate.
The interface for accepting a video door call is as simple as answering a regular phone call or FaceTime chat. Press the obvious green button and you'll be taken to a live video feed from your doorbell where you can speak with the person out front. (FedEx and UPS will not leave packages that require signatures, even if you chat with the driver and beg him/her to drop off your new precious.)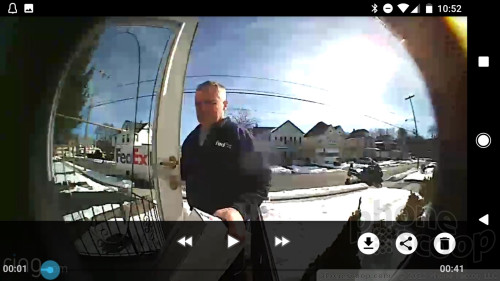 The Ring Pro captures 1080p video in a very wide (near 180-degree) field of view. I can basically see my entire front yard from the Ring Pro. The video feed may be fisheye style, but it is really clean, and a definite upgrade from the 720p quality offered by the original Ring. Moreover, the Ring Pro's night vision is excellent. Nighttime video is clean and provides plenty of detail. The Ring Pro produces vastly superior results in the dark. This is particularly important when keeping an eye on your home.
Night View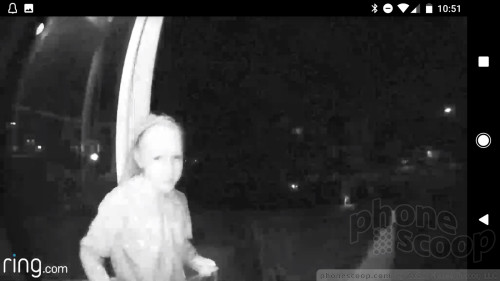 Night View
The live calls take about a second or two to connect, and there is sometimes a short delay in two-way conversations. Worse, sometimes the app won't ring for several minutes after the doorbell was pressed. In fact, I was standing in my driveway recently and turned to see the FedEx truck drive past my house. About 5 seconds later I received a Ring alert from my Ring Pro, which showed the driver leaving a package and then driving off. That's frustrating. The delay occurred only a few times over the course of a month, or maybe about 5% of the time. I experienced this delay at home over wifi as well as when out and about over 4G, as well as on both Android and iOS devices. That leads me to believe the root cause is somewhere in Ring's software.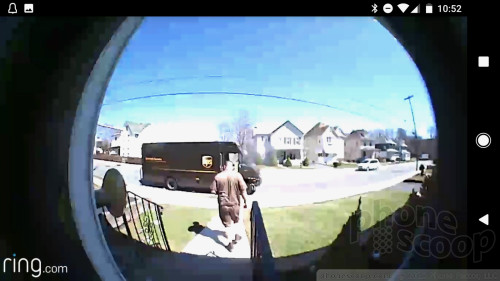 As aggravating as that delay might be, the Ring Pro definitely saved my hide a few times when people were dropping things off or needed to pick something up when I wasn't at home. For example, I was able to avoid speaking to some door-to-door salespeople by peeking at them via the Ring Pro. Further, I've answered calls to talk to suspicious-looking people who may have been checking to see if anyone was home. I absolutely scared off at least one nefarious fella who made have had impure thoughts about my house. This guy rang the doorbell, then stepped back off my stoop and looked all around the house. I spoke loudly through the Ring Pro's speaker and he wandered off quickly. It's difficult to put a value on that.
The video doorbell calls are just one aspect of what the Ring Pro does.
You can always check out a live camera view through the Ring Pro, allowing you to see what's going on at any time. I found this to be a comforting thing to do when traveling for several days.
Live View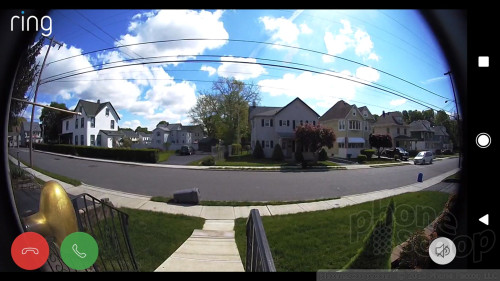 Live View
As noted earlier, every interaction is recorded and stored online for later access. This requires a yearly subscription to Ring's cloud storage service, which is just $30 (totally worth it).
Beyond video calls, the Ring Pro will record "motion events". This means if someone strays too close to your front door (in the motion zone), you'll still capture them on video even if they don't press the doorbell. This feature helped me discover the identity of a neighbor who was allowing their dog to make a mess in my front yard in the early hours of the morning. The motion events are also a great way for me to see exactly when my kids get home from school.
Motion Captured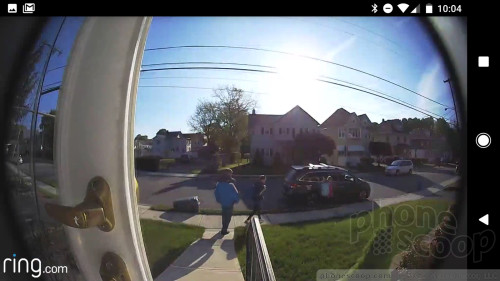 Motion Captured
Discussion
There are myriad home security cameras available today, but few offer the value of the Ring Pro. It's one thing to have a camera perched over your entryway, calmly keeping an eye on things, that you can view whenever you want. It's another to have a camera that also serves as a doorbell and allows two-way voice conversations in real time with people standing at your door.
Practically anyone can install the Ring Pro in a matter of minutes. As long as you have a hardwired doorbell at home, you're good to go. The app is powerful and allows for plenty of customization, and the Ring Pro delivers excellent video and voice quality, and very good night vision.
I've relied on the Ring doorbell for over a year now, and upgrading to the Ring Pro is a no-brainer. The improved resolution, upgraded wifi, and powerful motion zone tools let you fine-tune your experience in a way the original couldn't. At $249, the Ring Pro isn't the cheapest security camera available, but I'd still call it one of the best. It's a must-have for the security-conscious homeowner.
Ring Pro - Side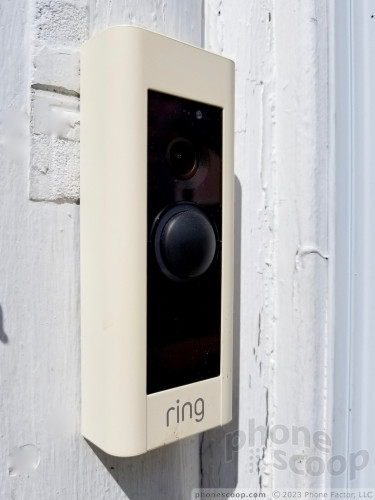 Ring Pro - Side
No messages