T-Mobile Says It Will Start Using 600 MHz Spectrum This Year
Article Comments 7
Apr 13, 2017, 1:19 PM by Eric M. Zeman
updated Apr 13, 2017, 1:26 PM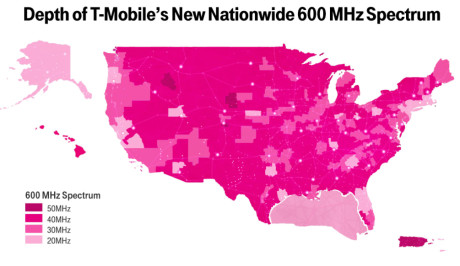 "T-Mobile now has the largest swath of unused low-band spectrum in the country," said T-Mobile CEO John Legere about the company's 600 MHz auction winnings. The company successfully won an average of 31 MHz (ranging between 20 MHz and 50 MHz) of the 70 MHz low-band spectrum auctioned off by TV stations and the FCC. The winnings give T-Mobile 100% coverage of the U.S. and Puerto Rico. "That is a [big freaking deal] for our customers. This spectrum sets us up to bring the Un-carrier — and real competition — to wireless customers everywhere," noted Legere. Further, T-Mobile claims it will put some of the new spectrum (at least 10 MHz) to use later this year. T-Mobile began preparing for the 600 MHz spectrum in 2016, and it already has compatible equipment from Ericsson and Nokia on deck. T-Mobile expects devices with select chipsets from Qualcomm will support the 600 MHz spectrum before the end of 2017. "Our team has a history of deploying network technologies at record-breaking pace — including the fastest recorded LTE deployment in US history," remarked T-Mobile CTO Neville Ray. "We're ready to break records again on 600 MHz." T-Mobile didn't specify which markets might first see access to 600 MHz services, nor did it say what handsets might support the new wireless broadband spectrum.
Penetration is the key!
This low frequency will travel much further that the 2.4 Ghz and even the 800 Mhz. They shouldn't need as many antennas to cover similar areas as other carriers which means quicker deployments. At least I think I have that right. What an excellent move for T-Mobile. Plus look at all that lovely pimk in Alaska, where T-Mo has ZERO (native) coverage.
Don't expect them to suddenly put up a bunch of cell sites just because they have a license there. It might be years until that happens.
And once
Again you'll need a new handset to take advantage of this new found spectrum and coverage. Phone makers must just love T-Mobile.
The makers of the cell site equipment must love them too. Sprint as well.

Which makes me wonder, they just got a big chunk of their network upgraded for 700 mhz support. I wonder how much equipment they will have to recycle when they install the ...
(continues)
Are you daft? Verizon required one to get a new handset to take advantage of their XLTE network as well.
Will Start Using
There are plenty of spotty areas once you get out of a town, highway, metro area with T-Mobile. Hopefully this puts them on a par with big-red and blue.
I dropped them because their service was really bad where I worked.
They have no plans of upgrading the area even though many requests from many people and even in the surrounding residential areas have been made.
Only on the major highway that is a few miles away have they decided to keep the service decent.