Article Comments
Apr 11, 2017, 9:30 AM by Eric M. Zeman @zeman_e
Looking to tap into your creative side and have some social fun with your smartphone camera? Here are a handful of third-party apps we like when we're in the mood to flex our shutterbug muscles, especially when sharing via social networks is concerned.
AD article continues below...
Photography is one of my many artistic passions. Smartphones have really helped foster this passion by putting a powerful camera in my pocket day and night. Now, I can snap a shot whenever the opportunity presents itself (and timing is everything). I'm certainly no Ansel Adams, but I like to think I snag fun or interesting shots from time to time.
Whether Android or iOS is your operating system of choice, app makers have plenty on offer. This particular collection of recommendations leans more towards fun and sharing than it does serious photography. Each app lets you go beyond what stock cameras can.
1. Clips
Clips lets iPhone owners capture and assemble a pastiche of photos and videos, apply effects, and then share them.
Clips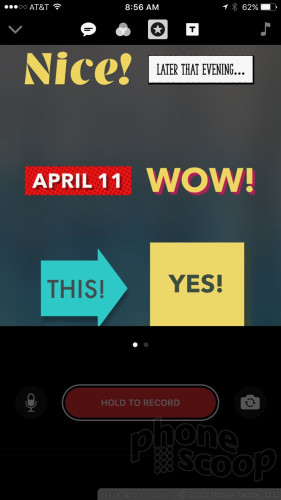 Clips
Clips is brand new and only became available in the last week. My 12-year-old and her friends are already in love with it. The app offers a plethora of tools. The default action is to capture selfies, but you can easily switch to the main camera or access photos/videos from the camera roll. Once you've selected and arranged the images you want, you can add text bubbles, filters, graphics, transitions, and even music soundtracks.
It takes practice. I was hoping arranging photos and videos would be a bit easier. For example, I found I couldn't rearrange photos/videos I'd already added to the Clip, which forced me to start over to get them in the order I wanted. Still, it's fairly straightforward. Of course, it goes without saying that sharing to most social networks (and iMessage in particular) is a breeze. (iTunes)
2. Prisma
Prisma is for filter fiends. If you want to take your original image and apply PhotoShop-quality filters to it, Prisma is the app for you.
Prisma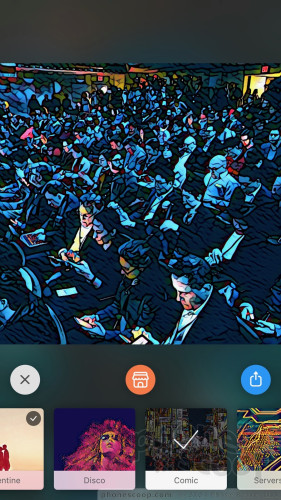 Prisma
Prisma relies on neural networks and artificial intelligence to apply dramatic, artistic filters to images. Prisma's filters go way beyond tweaking brightness, exposure, color, and focus. No, Prisma applies readily-identifiable artistic styles to your photos, such as Cubism and Impressionism, and modern styles like Gothic or Anime. The default action is to take a new photo, but you can switch to the selfie camera or access your camera roll easily enough. The filters take several seconds apply, so the app takes some patience when using. I find it simple enough to use and the results are lots of fun.
When it comes to sharing, Prisma has taken a turn of late. The app used to simply apply filters, but now it hooks into Facebook and lets you share photos to your own feed as well as follow the feeds of others. It's trying a bit too much to be Instagram here, but I still like the app for how it treats photos. (Play Store, iTunes)
Prisma Sample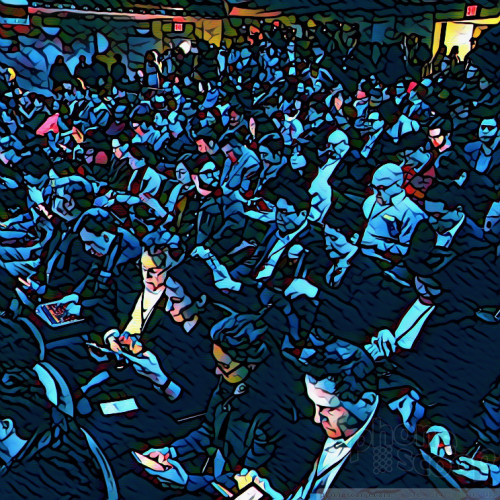 Prisma Sample
3. Boomerang
Boomerang gives photos some life. It allows you to record about one second of motion and then loop it back and forth, before sharing with others.
Boomerang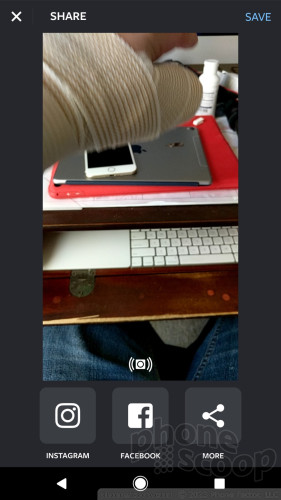 Boomerang
The effect can be neat. The idea is to find something or someone that is moving (train, kid, car, cat, dog) and capture the action. Rather than video, Boomerang snags a burst of 10 photos and turns them into a miniature movie. The app does all the stitching automatically. It runs the video forward and then backward over and over and over. Boomerang can be especially delightful if you time your shot just right and capture someone sneezing or tripping. The results are only ever as good as the source material. Did I mention you can use either the main or selfie cams to capture the action?
Like other photo apps, sharing from Boomerang to a variety of social networks is a breeze. (Play Store, iTunes)
4. Google Cardboard Camera
Google wants the future of photography to be multidimensional and I do, too.
Cardboard Camera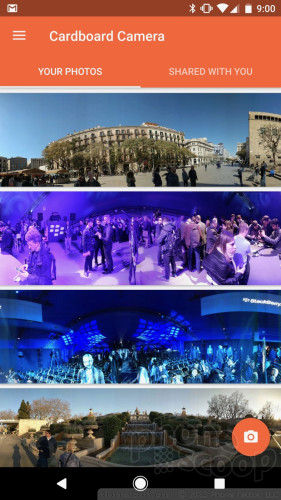 Cardboard Camera
Google got its virtual reality start with Cardboard, a simple cardboard viewer that allows most any smartphone to view VR content. Cardboard has since evolved into DayDream, but the latter is only available to the latest flagship phones. Cardboard is still available to everyone and the Google Cardboard Camera app lets you easily capture 360-degree photos with Android and iOS phones, no fancy 360-degree camera required.
I've used this app extensively when traveling over the last year, including on vacation in the mountains and on work trips to Berlin, Las Vegas, and Barcelona. The 360-degree images, which are easy to backup and share via Google Photos, include sound to give your shot that extra something special. The sound (which is optional) really helps recreate the ambience of the actual space in which the photo was taken. Peering at 360-degree images taken with the Cardboard Camera app via the Cardboard viewer is a neat experience all around (pun intended).
Google Cardboard is your best starting point if you're ready to dip your toes into virtual reality and/or 360-degree landscapes. (Play Store, iTunes)
360-Degree Shot

360-Degree Shot
5. Motion Stills
Motion Stills is a Google app for iPhones that gives Live Photos more staying power.
Motion Stills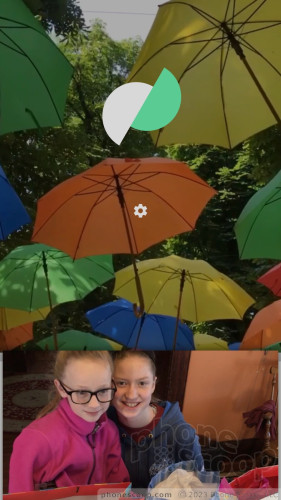 Motion Stills
Live Photos on an iPhone are really short videos that masquerade as photos. At its simplest, snapping a photo in Live Photo mode captures a second or so of video. The result is a moving picture so you can see what was really happening when you tried to pose the entire family for that holiday portrait. Apple's Live Photos are neat, but lack universal sharing tools. As of now, Live Photos can be shared via Facebook and through Apple's own Photos and iMessage apps. Live Photos are somewhat trapped in the Apple ecosystem. Enter Motion Stills.
First, Motion Stills take Live Photos and turn them into looping GIFs that can be shared across apps and platforms. That's a big deal all by itself, and means your Android-using relatives can now enjoy your miniature creative works. Motion Stills also lets you paste together multiple Live Photos to create a longer movie, if you wish. The app includes stabilization, advanced rendering to smooth out gaps and create seamless stitches, and the ability to select the thumbnail image. If you love Live Photos, Motion Stills is a must for taking your moving pictures to the next level. (iTunes)
(GIF no longer available)
6. Layout
This universal app is for creating collages. It lets you easily and quickly piece together multiple photos into a single image and then share that image.
Layout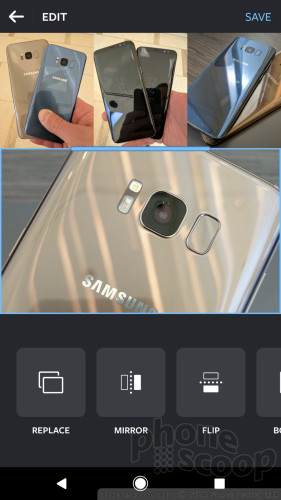 Layout
Layout was created by (and for) Instagram, but it functions fine without the bigger app on board. I find this app is great for assembling images to tell a story in one shot. The app has a simple image picker, allowing you to put between 2 and 9 images in the frame. I really like that Layout includes almost a dozen different… layouts. This lets you choose which images are given visual prominence over others. You can also flip individual images in the collage horizontally or vertically, as well as add and adjust borders to help separate the pictures from one another.
The app includes a dedicated button to launch the selfie camera, as well as access to the photo gallery, and a tool that sorts through faces and/or people. This is really helpful if you're looking to create a collage of your friends and family. Once you're all done, the app includes lines for sharing directly to Instagram or Facebook, as well as SMS, email, Twitter, and so on. (Play Store, iTunes)
7. Instagram
Instagram may be the most obvious camera app to recommend, but I do so with good reason: it's the most feature-rich and the most social.
Instagram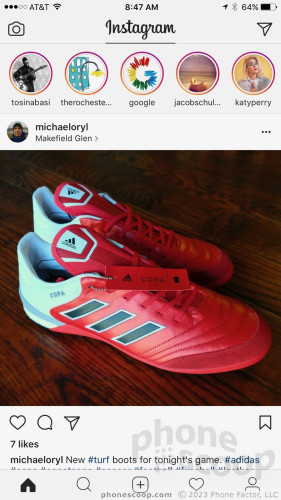 Instagram
Instagram started small. It allowed you to take pictures, apply one of several old-timey filters, and share the photos with others on Instagram. Now, Instagram allows you to snap photos or videos, perform full edits, apply tons of filters, share pictures privately, create short-lived stories, and push images to every corner of the web. The app may not be as simple and pure as it once was, but its reach is undeniable.
Instagram is owned by Facebook and lets everyone tap into their Facebook account for quickly expanding their network. It's also wildly popular with celebrities and A-listers, which makes it fun for regular folks to use even if all you ever do is casually scroll through posts from Taylor Swift, Kim Kardashian, and Justin Bieber. Instagram's 400 million users can't (all) be wrong. If you're not already on Instagram, you should be. (Play Store, iTunes)
No messages