More Carriers and Phone Makers Agree to Adopt Google's RCS-Based 'Android Messages' Service
Article Comments 1
Feb 24, 2017, 7:40 AM by Eric M. Zeman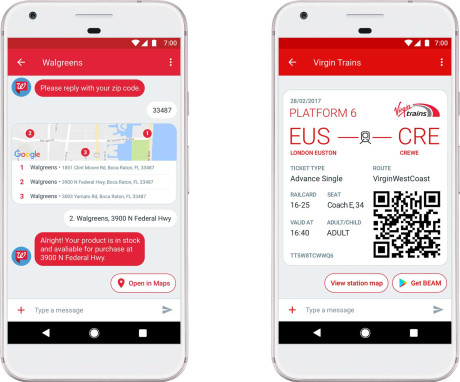 Google today said more wireless network operators and handset manufacturers will use Android Messages, its RCS-based messaging service, as the default SMS/MMS tool on their phones. (Android Messages was previously known as Google Messenger.) Some of the features of RCS, which is a global standard, include group chat, high-resolution photo sharing, advanced calling features, and read receipts. It has been improved lately with more interactive tools, such as the ability to check into flights. Google says a number of brands plan to use RCS in order to enhance their own services and help spur adoption. Some of the brands include Walgreens, Baskin-Robbins, FICO, Gamestop, Sonic, Subway, and Time. Moving forward, the Android Messages app with RCS will be preloaded by LG, Motorola, Sony, HTC, ZTE, Micromax, HMD Global, Archos, BQ, Cherry Mobile, Condor, Fly, General Mobile, Lanix, LeEco, Lava, Kyocera, MyPhone, QMobile, Symphony, and Wiko, along with Google's own Pixel and Android One devices. Further, Google was already working with carriers Sprint, Rogers, and Telenor, and today added Vodafone, Orange, Deutsche Telekom, and Globe. Notably absent fro the list of phone makers is Samsung, while AT&T, T-Mobile, and Verizon have also yet to commit. Phones with Android Messages on board will still be able to interact with Samsung handsets and those running on non-Sprint networks of course, but will lose the advanced features available via RCS. Samsung, AT&T, T-Mobile, and Verizon haven't said if or when they might adopt Google's Android Messages, though T-Mobile and Verizon already use their own RCS-like messaging platforms.
Still buggy with boost
App still has issues with boost mobile lg handsets. Pictures won't send or long messages. Been a big problem for us at our boost store.