Review: Logitech ZeroTouch Car Mount
Article Comments
Feb 21, 2017, 10:15 AM by Eric M. Zeman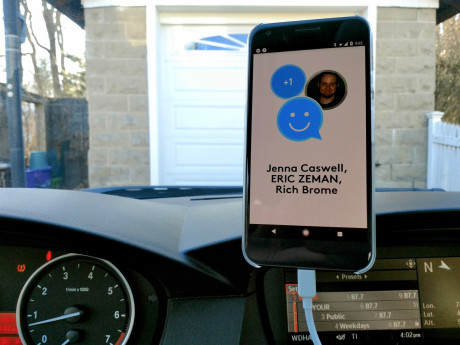 The Logitech ZeroTouch car phone holder brings the power of Amazon's Alexa to your car. The ZeroTouch combines a car mount, mobile app, and Alexa so you can not only make calls and send texts, but access your smarthome settings safely from behind the wheel.
Advertisements article continues below...
Background
I have a dumb car. My 2008 sedan may have an in-dash navigation system and entertainment center, but it isn't compatible with Apple's CarPlay, Google's Android Auto, nor any other smartphone-based service. More to the point, the voice actions my aging automobile does support are limited to a small number of specific calling functions and they never work well. There's no such thing as asking my car for directions or to play a certain song from Spotify.
Logitech is pitching the ZeroTouch not only as a way to help people with older cars access the newest voice-based functions when on the go, but to also tap into the power of Alexa, Amazon's artificial intelligence. Alexa covers the in-car basics, and goes a bit further than CarPlay and Android Auto thanks to its hooks into your Amazon-based Alexa account.
The ZeroTouch brings the modern, connected world to your dumb car in a way Apple and Google haven't yet quite been able to.
Hardware
The ZeroTouch is available in two mount options: air vent ($60) or dashboard ($80). We tested the dashboard-mount version.
The ZeroTouch dashboard mount resembles a small cone with the top lopped off. A flat, adjustable platform forms the upper one-third of the body and a wider platform with a suction cup forms the bottom two-thirds. The plastics have a soft-touch finish and feel strong. It takes but a moment to wipe down your dashboard, position the ZeroTouch, and engage the suction cup. It holds firmly, even on semi-porous leather and/or vinyl dashboards.
The top of the ZeroTouch contains a powerful magnet and a Bluetooth module. The kit includes two smaller magnets that attach to the back of your phone. Logitech recommends people use the oval-shaped metal magnet and attach it directly to the back of the phone and/or case. It is the stronger of the two options. The second is a thinner, circular, cloth-like magnet that slips in between your phone and case. This magnet isn't as strong, but it has a lower profile. I tested both.
The metal magnet is just thick enough to be annoying when stuck on the back or your phone/case. I didn't care for the feel very much, but it forms an incredible bond with the mount. New Jersey has some horrendous roads and the ZeroTouch never once dropped my phone.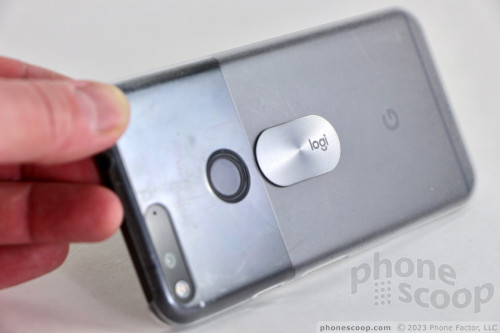 The thinner magnet is more comfortable and attractive because it disappears underneath your case, but you lose some grip between the phone and the mount. It might not work with all cases, depending on how snug the case it. The under-the-case magnet was slightly more apt to drop my phone, but only on the absolute worst bumps.
The air vent clip has the same magnetic attachments.
You can place the phone on the mount vertically (portrait) or sideways (landscape). It doesn't swivel; it simply holds on for dear life. The app adjusts its orientation to match the phone. Since there are no cradle arms or other impediments in the way, it's easy to keep your phone plugged in and charging. Even without the associated app and services, the ZeroTouch is a fine car mount for your phone.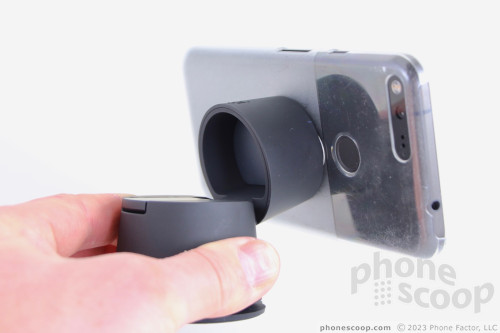 Software
The ZeroTouch hardware is dead simple to use. The software requires a little more work on your part.
The first limitation may be the biggest: ZeroTouch is only compatible with Android smartphones. That means iPhone owners can write the whole thing off.
The set-up process is somewhat intensive. You'll need to snag the ZeroTouch app from the Google Play Store to get started. Take the mount, your phone, and various account credentials with you out to your car. Install the mount and then launch the app. Logitech's app will walk you through all the steps needed to get up and running.
The mount is required in order to use the ZeroTouch app. The mount has a small Bluetooth 4.2 Low Energy radio inside with its own battery. The app won't work if it can't validate the presence of the mount via Bluetooth. This keeps freeloaders from using the (otherwise free) app without the mount, but it also has a convenience factor: Placing your phone on the mount automatically turns on the ZeroTouch app. Pulling your phone off the mount turns the app off. This I like.
I was rather annoyed to find that I had to sign into every separate account in order to get them working — including my Amazon account, even though I already had the Alexa app installed and configured on my phone. I'm surprised Logitech's app isn't better at reading the data that's already on your handset. Instead, you'll need to enter your home and work addresses, your Spotify or Pandora login and password (even if you're already signed in via Alexa), and myriad other accounts if you want everything to work properly. It takes some time, and you can't complete any of these step until after you've paired your phone with the mount in your car. Bleargh.
Despite the number of steps involved in configuring ZeroTouch, the app's user interface is fairly easy to decipher. It uses big fonts, lots of white space, and drop-down menus to speed up the process of tweaking settings across the board. Moreover, the app includes an extensive number of tutorials, suggestions, and tips to help you get started. Take the time to peruse these pages; it'll help later.
Performance
The learning curve is a bit steeper than I was hoping.
To start, the ZeroTouch is not voice activated. There's no "Hey, Alexa" or "Hey, Zero" catchphrase to initiate commands. The app offers two options: you can high-five your phone by holding your hand in front of the proximity sensor (usually next to the earpiece speaker) or wave your hand in front of the sensor. Performance is mixed here.
I found the high-five action requires you to hold your hand in front of the phone for a full second, and you have to be somewhat accurate in your hand placement. This isn't good if you're driving, because it means you probably have to take your eyes of the road for a sec. Further, the first time I mounted my phone I put it too far away to reach safely. I had to reset it closer to the steering wheel. The waving gesture makes more sense, but it doesn't work as consistently: I found myself waving twice to get my phone's attention. Waving feels faster and safer, however, so there's that.
Once activated via your hand, ZeroTouch kicks on the microphone and awaits your command. You can mostly command the ZeroTouch like you would CarPlay or Android Auto, but not entirely. For example, you can say "send a text message to so-and-so" and ZeroTouch will do that. The process may get a bit mired if you have multiple phone number or email addresses for a single contact, but that's the case with CarPlay and Android Auto, too. Every now and then, the system seems to take things one step at a time (first, "send text"; then "to so-and-so") with a short pause in between. I activated an advanced setting that allows you to speed up the process by skipping the pauses and it helps.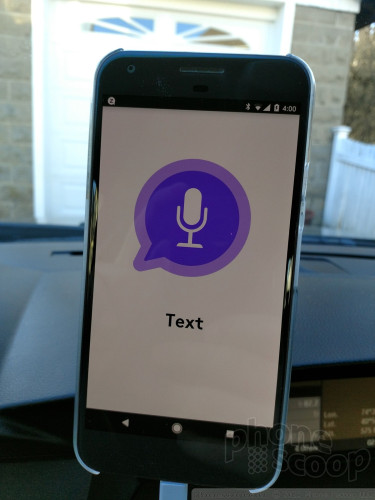 The navigation feature works well with Google Maps, but often bounces you between the ZeroTouch app and Google Maps. This can be annoying.
"Texting" and "messaging" are two different things in the world of ZeroTouch. If you command the app to "text" someone, it will do that through your default SMS app. "Messaging" is reserved for third-party messaging apps, such as WhatsApp, Facebook Messenger, and Google Hangouts. This means you can use your social accounts in addition to your SMS account for sending text-based missives. That's kind of cool, but you have to be careful about using commands such as "send a message to so-and-so" versus "send a text to so-and-so." ZeroTouch will also read incoming emails and allow you to send simple responses if you wish.
Music options include Spotify, Pandora, Deezer, SoundCloud, and Google Play Music — but not Amazon Music. What?!? This function didn't work the first few times I commanded ZeroTouch to "play some Metallica." If I said "play Metallica from Spotify" (which I have set as my music service) the ZeroTouch got it right. It takes some trial and error to learn the right phraseology.
If I were to stop this review right here, I'd say skip ZeroTouch and use Google's built-in voice tools (and/or Android Auto) to do what you need while you're in the car: navigation, messaging, and music. Google alone is almost always faster and more accurate than ZeroTouch, and the ability to use the spoken "OK Google" phrase is easier and safer than waving your hand around the cabin.
But we can't ignore ZeroTouch's integration with Alexa, and that's what makes it special.
In order to use Alexa, you still have to use the hand gesture to wake the app and then say "Alexa" as you might with your Amazon Echo at home. Using the Alexa command lets you tap into everything you're used to via Alexa. That means you can check your calendar, listen to your flash news briefing, order Starbucks, check movie times, and much, much more. Pretty much any skill you've enabled via the Alexa app is accessible in the car. This is great if you've set up smart home products, such as thermostats or lights. For example, you can ask Alexa to turn up the heat and flick on your lights from the car as you approach home after a long day at work. Alexa will tell you jokes, read you audiobooks, answer trivia questions, and so on. For some people, this is everything.
Amazon has done a great job of working with third-party companies to empower their own apps and devices with Alexa. If you've invested the time and energy into teaching Alexa various skills at home, you'll find you can do much of it from the relative comfort of your car thanks to the Logitech ZeroTouch. It's not a flawless approach, but it does work.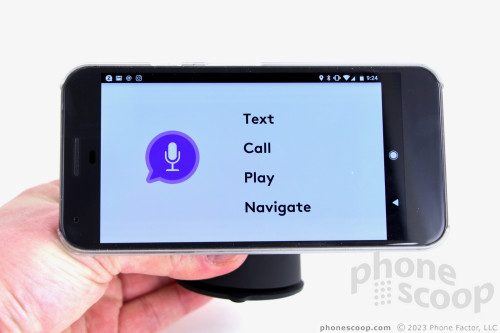 Discussion
Is the Logitech ZeroTouch for you? That depends wholly on your commitment to Alexa.
I found the ZeroTouch dashboard mount is a fine device for securing your handset to your car. The small footprint of the mount lets you put it most anywhere and it sticks well. The included magnets provide plenty of grip so your phone remains firmly and safely attached. Moreover, the mount leaves all the room you need to connect ancillary cables, such as power and music. It works both with and without a case, which is a bonus. I wish the mounts were a bit cheaper than the $60 and $80 price points Logitech charges for the air vent and dashboard devices, respectively.
The app takes more time to configure than I'd like, but it does let you tweak most everything you need to "high five" your way into messaging, calls, email, music, and navigation. I'm not sold on the gesture-based action, and it will perhaps frustrate some that the ZeroTouch app requires a bit more verbal coaxing to get stuff done.
That said, the ZeroTouch does add a measure of smarts to your dumb (or just old) car. Not only can you find the nearest Starbucks, but the Alexa integration allows you to order your favorite drink before you arrive, too. It's a shame this functionality isn't available to the iPhone, but Alexa-hooked Android users can find plenty to like.
If you don't use Amazon Echo or Alexa, there's no reason to look at the Logitech ZeroTouch. However, if you're an Alexa aficionado and would delight at the idea of bringing her along in the car with you, then the ZeroTouch fulfills that need.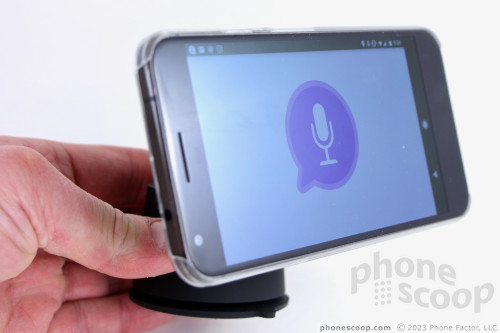 No messages