Review: ZTE Blade V8 Pro
Article Comments 2
Feb 8, 2017, 11:45 AM by Eric M. Zeman @zeman_e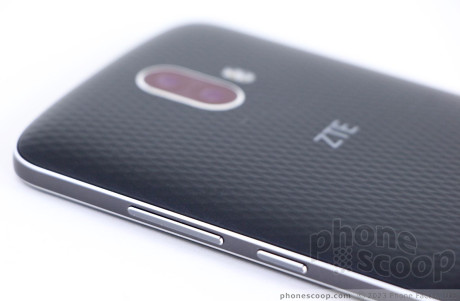 The V8 Pro is the first Blade series device from ZTE to be sold directly to U.S. consumers. This unlocked Android smartphone features an appealing design, good materials, and a solid spec sheet, but this V8 doesn't run quite as smoothly as we'd like it to. Here is Phonescoop's in-depth review.
AD article continues below...
Hardware
Is It Your Type?
The V8 Pro is the first Blade series phone from ZTE to make it to the U.S. This mid-range Android handset features an attractive design and specs to match its affordable price point. If you're looking for low-cost Android phone that's sold unlocked, ZTE's Blade V8 Pro offers lots to like.
Body
The V8 Pro is a large handset with above-average looks. Sure, it's a black slab, but ZTE selected a nice set of materials to boost the V8 Pro's visual appeal. From some angles, it could almost be mistaken for a flagship phone.
Glass covers the V8 Pro's face and it curves along the edges to flow smoothly into the chamfered metal frame. The shiny outer rim adds some flair and class to the V8 Pro's design. Matching accents on the home button, side buttons, and rear camera complete the picture and tie the design together nicely. No one will think the V8 Pro is an iPhone or Galaxy S7, but it has a nice shape and look that's a cut above other phones in this price range.
Like many phones with 5.5-inch screens, the V8 Pro has an over-sized footprint. It stretches beyond 6 inches tall and 3 inches wide, which means it may be unwieldy for those with small hands. My thumb could reach only about half the display when I gripped the phone normally. The shape is smooth and there are no sharp edges. The V8 Pro fit into most pockets without trouble, but tight jeans may be problematic.
Build quality and materials are excellent for a device in this price range. The glass feels great under your thumb, the metal frame is strong and attractive, and the patterned, soft-touch rear panel is comfortable. All the components are assembled tightly; I didn't see any gaps in the seams. The V8 Pro doesn't come across as a cheap handset at all, and in fact is a pleasure to hold and use.
The V8 Pro's 2.5D curved glass is more dramatically curved along the edges than most. Such curves are often subtle, but the rounded shape is fairly obvious from a distance on the V8 Pro. That's a good thing. The glass and chamfered metal frame define the phone's face. I'm glad the bezels aren't overly obnoxious. The oval-shaped physical home button has a low profile, but it is still easy to find and use. I like the chrome accent, and travel and feedback are quite good. The home button — which doubles as a fingerprint reader — is flanked by two small capacitive buttons for multitasking and moving back through the user interface. They work well.
ZTE positioned the screen lock button and volume toggle on the right edge of the V8 Pro. They stand out visually thanks to chamfered accents. The physical profiles are excellent; both buttons are a cinch to find. Travel and feedback is perfect. The buttons each offer distinct action with an audible click. You'll find the SIM tray tucked into the left edge. The tray also accommodates a microSD memory card. It's easy to use. The V8 Pro features a standard 3.5mm headphone jack on top and a USB-C port on the bottom.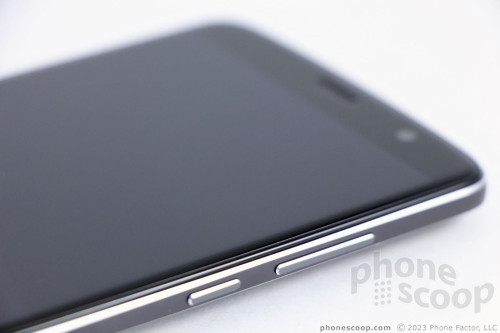 The V8 Pro's rear panel has a nice curve to it. I found the shape really helps the phone fit comfortably in your palm, as does the soft-touch, patterned material. It's grippy without being sticky. The dual-camera array is flush with the rear surface, but called out visually thanks to a shiny chrome accent.
You cannot remove the rear panel of the V8 Pro; the battery is inaccessible.
In all, the ZTE V8 Pro is a fine piece of hardware that should please most people.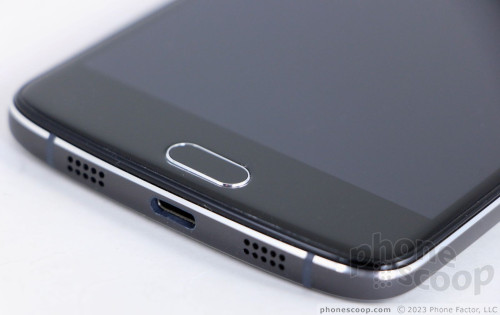 Screen
ZTE picked a nice LCD display for the V8 Pro. It measures 5.5 inches across the diagonal and offers full HD resolution for a pixel density of 401 pixels per inch. The size/resolution works well and I found on-screen elements to be sharp with clean edges. Individual pixels are nigh invisible without a loupe. The display offers enough brightness for both indoor and outdoor use. I had no trouble using the V8 Pro outdoors under sunny skies, though you will have to adjust the brightness up all the way. The screen leans a bit toward the blue end of the color spectrum, which means whites aren't perfectly white. This is amplified just a bit when you tilt the phone from side to side. Viewing angles are okay. These minor niggles aside, the screen is more than adequate for this class of phone.
Signal
ZTE is selling the Blade V8 Pro to consumers directly online. It's unlocked and supports the LTE networks of AT&T/Cricket and T-Mobile/MetroPCS. It doesn't include every LTE band under the sun, but it supports enough for a reasonably good experience on these networks.
I tested the phone across the NYC metro region and can tell you that the V8 Pro performs on par with most other phones on AT&T and T-Mobile. The phone demonstrated a strong connection to the networks even under the worst network conditions. It was always able to make and receive calls, and the phone didn't drop or miss any, even when traveling in a car. Data speed are not the fastest I've seen, but they're decent enough for regular activities. That means you can download apps and check your Facebook feed without any trouble. Watching video on YouTube was a bit choppy, as was streaming music from Google Play Music. This is common behavior for many mid-range phones.
It's worth pointing out that the V8 Pro supports two SIM cards, so you can use it with two separate wireless accounts if you wish.
Sound
ZTE made a fine voice phone in the V8 Pro. The earpiece produces enough volume that you can easily hear calls in coffee shops, diners, and other semi-noisy spaces. It's not the loudest phone ever, but it gets the job done. Clarity is very good, but short of excellent. Voices sound warm for the most part, but the speaker was prone to some distortion when set all the way up. Clarity is best with the volume at about 50%, but then calls are harder to hear. People I spoke to via the V8 Pro said I sounded "just OK."
The bottom-mounted speakerphone packs some punch. The little speaker puts out enough sound for your home, office, or car. Clarity is good enough most of the time, though you'll hear more distortion via the speakerphone than via the earpiece. Ringers and alerts are loud enough to get your attention most of the time, but I did miss them from time to time. It would help if the vibrate alert were stronger.
Battery
ZTE jammed a 3,140 mAh battery in the Blade V8 Pro's frame, but somehow it didn't live up to my expectations. The phone struggled to make it through an entire day. It pushed from 7am to about 10pm most of the time, which is about two hours short as far as I am concerned. As I always do, I tested the phone with brightness set at 50% and all the radios turns on. I surfed the web, browsed social networks, and streamed video and audio over LTE. These activities routinely sapped the battery of its capacity long before I was ready to call it a night.
Thank goodness ZTE included some power management tools. The phone includes a smart power-saver mode and ultra power saving mode. The former reduces notifications, darkness the screen, and spools down the CPU a bit, while the latter drops everything but basic phone and SMS capabilities. Employing the first helped coax the phone from breakfast to bedtime with a bit of power to spare. Putting the second into effect will give you days of uptime. You can also tweak individual apps' power consumption behaviors if you wish.
Last, the V8 Pro supports Qualcomm Quick Charge 2.0. This means it powers up a bit faster than most other phones.
Bluetooth, GPS, NFC, WiFi
The V8 Pro's Bluetooth radio functions well enough. The phone paired with a range of Bluetooth accessories, including headsets, speakers, and computers. The device delivered average quality calls through headsets and my car's hands-free system. Music sounded just okay via Bluetooth speakers.
I was happy to have NFC to help with Bluetooth pairing. NFC on the V8 Pro also supports Android Pay.
Together with Google Maps, the V8 Pro was able to field my general location in several seconds. It took closer to 15 seconds to truly lock down my exact location, and accuracy was as good as about 25 feet. That's pretty good. Google Maps worked well as a driving navigation tool, but it sometimes lagged my real location when traveling at highway speeds.
The WiFi radio worked very well.
Software
Lock Screen
The Blade V8 Pro's lock screen helps you manage incoming notifications like most other Android phones. Press the home or lock button to wake the display, and see the clock and notifications. The lock screen provides a large clock in the upper-right corner, but it's hard to read on light wallpapers. Notifications are broken down by app and listed in chronological order underneath the time/date. As always, you can adjust the privacy of notifications.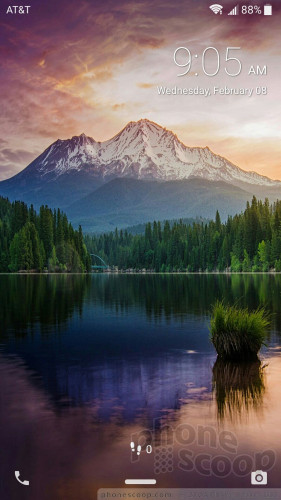 The V8 Pro offers PIN, pattern, password, or fingerprint options for securing the phone. Training several fingerprints is a breeze and I found the reader was usually fast enough for unlocking the phone. The V8 also supports the Android Smart Lock function, which will keep the device unlocked when it senses trusted devices, locations, and voices. These all worked as they should.
The lock screen provides shortcuts to the phone and camera apps. Swiping up from the bottom reveals controls that let you quickly swap lock screen wallpapers or dive into the lock screen's full settings. This is unique to the V8 Pro.
Last, the V8 support a number of gestures and motions. For example, you can mute calls by flipping the phone over, answer calls by lifting the phone to your ear, snooze alarms by flipping the phone over, and shake the phone to turn on the flashlight. These functions work well.
Home Screen
The Blade V8 Pro runs Android 6 Marshmallow (no Nougat yet? C'mon!) with a not-too-terrible interface skin from ZTE.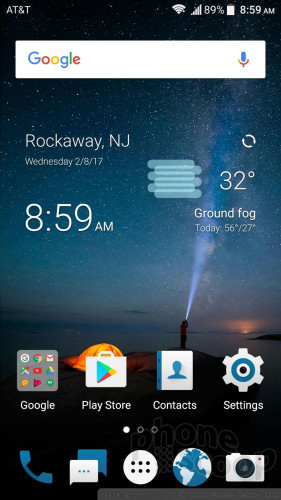 The home screen panels and app drawer function much like they would on a standard Android handset, but have their own look and feel thanks to ZTE's fonts and colors. Three home screen panels are active out of the box, but these can be customized however you wish. In other words, feel free to change up wallpapers, app shortcuts, and widgets to suit your preference.
The settings menu adopts ZTE's fonts and colors, but it is arranged exactly like stock Android. I appreciate that; it's familiar and works well. ZTE tweaked the Quick Settings tool to match its fonts and semi-transparent theme, but again, the structure and functionality is the same as stock Android. I like that you can rearrange the Quick Settings panel however you wish.
The Blade V8 Pro includes a couple of themes: normal and MiFavor. They look pretty similar to my eyes, with only minor differences in colors and such. More themes are available to download from ZTE if you're looking for more options. You may also select from several different screen animation styles.
By default, the capacitive keys below the screen are back, home, multitask, but you can swap back and multitask if you're used to the Samsung layout.
The Blade V8 Pro also includes ZTE's Mi-Pop tool. Mi-Pop takes the form of a small floating circle on the screen. You can plop the circle anywhere on the screen you prefer. A quick press of the Mi-Pop button takes you back a screen. A long-press and slide to the left calls up three other options (home, menu, multitask). Mi-Pop is supposed to improve one-handed use. It's not for me, and it's off by default.
The Blade V8 Pro has a Snapdragon 625 processor under the hood. This chip falls in the upper half of Qualcomm's mid-range processors. This 2.0 GHz quad-core engine with 3 GB of RAM does an admirable job keeping the Blade V8 Pro moving smoothly. Performance was quick most of the time. I didn't see any major issues when jumping from screen to screen, switching to other apps, or playing games.
There is one major quirk that I must mention: The device has an overly aggressive RAM management feature that automatically closes apps after 15 minutes of "inactive" time. That means if you're listening to Spotify or Google Play Music and the screen is off (or you don't touch the phone) for 15 minutes, the app shuts off and the music dies. The same is true of other apps, such as Google Fit when recording a workout. This is really annoying and breaks the functionality of certain apps. ZTE says it is aware of the problem and hopes to patch it soon.
Camera
The quickest way to open the camera is via the lock screen shortcut. Otherwise, you're left with the standard home screen icon. The camera opens quickly enough.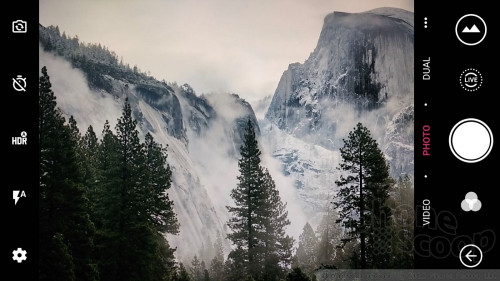 The viewfinder includes a handful of toggles for some features (settings, HDR, timer, flash, camera switcher) on the left and separate buttons for the camera and video camera on the right. The Blade V8 Pro has nine shooting modes: auto, live, dual, manual, panorama, time-lapse, multi-exposure, sports, and slow motion. Most of these are self-explanatory.
The live shooting mode essentially captures short GIFs that are a little like Apple's Live Photos. It pieces together a handful of images to create a 1-second animated image. Capturing these live images is easy; sharing them is not. I couldn't get other devices to accurately play them back.
The "dual mode" makes use of the Blade V8 Pro's two cameras. It has three separate sub-modes: monocolor, monochrome, and bokeh. The first creates an image where the subject is in full color, but the background is in black & white. Monochrome is an entirely B&W image. Bokeh images focus sharply on the subject and severely blur the background. I didn't have any trouble using the shooting modes and the results are more or less what I expected to see. You will have to practice a little to get the hang of using these tools, but it's not overly burdensome.
The multi-exposure mode does pretty much what the name implies: you take two pictures and overlay them in a handful of different ways to create a single image. Like the dual shooting mode, this one takes practice.
The manual mode is great for people who want to take a little more control. It allows you to adjust shutter speed, white balance, ISO, exposure, and focus. The manual mode includes an always-on visual tool to help ensure the shot is level.
ZTE (thankfully) refreshed the appearance of the settings menu, which are much simpler and easier to decipher than on the phones we saw from ZTE last year.
The selfie camera includes a beautification tool that reduces blemishes and wrinkles. I like that it has a sliding scale for adjusting just how fake you want to look. The selfie cam also has a smile-trigger setting.
The Blade V8 Pro's camera offers a lot of shooting modes and is relatively straight-forward to use. Save for the advanced shooting modes, most people will figure it out in a snap.
Photos/Video
The Blade V8 Pro's main camera has a 13-megapixel sensor and it's supplemented by a second, depth-reading sensor. About 99.9% of the time you take pictures you're relying solely on the main 13mp imager. The only time the second sensor comes into play is when you turn on one of the Dual modes.
I thought most pictures I took with the V8 Pro were decent, but they didn't wow me in any respect. Focus, white balance, and exposure were typically good with little deviation. That means you should get usable photos most of the time. I did see a bit more grain in low-light images, but it was nothing too egregious. The flash does well with exposure when you're shooting at close distances, but it creates too-blue images. Pictures shot in bright sunlight were best.
The 8-megapixel selfie cam does a pretty good job, though it would help if it had some sort of selfie light or flash. The low-light self portraits I snapped were soft and saturated with grain. The self-beautification tool ranges from OK to OMG WHAT HAPPENED TO UR FACE!!! Use it sparingly.
You can capture video up to 4K if you want to. I thought the V8 Pro's full HD setting offered the best balance of quality and optimization (with respect to storage). The phone defaults to full HD and that's all most people should need. It takes clean, well-exposed video.
I wouldn't use the V8 Pro for most my important life events, but it's passable as an everyday camera.
Wrap-Up
ZTE managed to push out a solid smartphone in the Blade V8 Pro and yet it is sadly held back by a few weak points here and there.
On the plus side, the V8 Pro has an appealing design and good build quality. The curved glass and chamfered frame are particularly nice. The materials are definitely above average for a phone at this price. The phone also offers good call quality and good-enough data performance. Most people ought to be pleased with the camera, and the ZTE-skinned Android platform is powerful and runs well.
The negatives aren't as many, but they are strong detractors. First is battery life. This phone should have no trouble pushing through a full day with power to spare and yet it barely manages. Moreover, a power-management bug shuts off all apps once the screen has been off for 15 minutes. This is a real drag when you're listening to music. (Again, ZTE says a fix is in the works.)
At $230 the ZTE Blade V8 Pro is priced well for an unlocked handset, but it doesn't quite cut deep enough for me to recommend right now.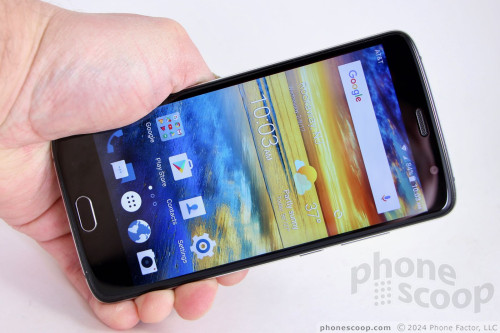 ZTE makes excellent hardware, terrible software
The new Blade V8 uses the same MiFavor operating system as my Axon 7. Unfortunately the software is the real negative for this phone. ZTE has chosen not to implement some of the most basic features of the Android OS. There are not many options or customizations on this phone.
Pretty good price for a dual sim...
To me thats the key feature of this device, and either sim can use LTE, which is selectable in software.

For anyone else who cares bout Dual SIM features, from the Manual:

When two nano-SIM cards are installed, pay attention to the
following restrictions.

If one nano-SIM card connects to 4G LTE, the other card can
only connect to 3G or 2G networks.

You can use either card for mobile data service.

You can use either card for mobile data service, but not both at the same time.

If one card is connected to a phone call, the other card is unreachable.