Review: Olloclip Pivot
Article Comments
Jan 13, 2017, 3:00 PM by Eric M. Zeman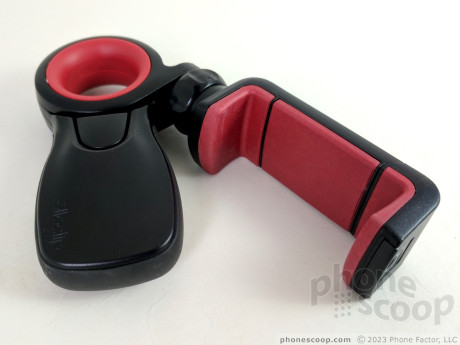 The Pivot from Olloclip is a simple pistol grip for smartphones. It is meant to help when capturing video and/or photos with your mobile device. It's unique in that it has an articulating arm to allow for more poses and angles when shooting. Here is Phonescoop's review.
Advertisements article continues below...
Intro
The Olloclip Pivot is a small, flexible pistol grip that makes it easier to shoot video with a smartphone. If you're looking for a simple, inexpensive option to a full-fledged gimbal, the Pivot does indeed improve the video-capturing experience.
Background
Capturing video with your smartphone has never been better. Today's flagships offer 4K video resolution, and most others can shoot in full 1080p HD. The best phones may include some degree of stabilization, be it optical or electronic, but nothing supplants a tripod or other steady foundation when shooting. Tripods are often impractical to carry around, which is why a number of companies have created portable, pistol-like grips that let you hold your phone in a more natural way in order to reduce shake when shooting video on the go.
Olloclip, best known as a maker of lens accessories for mobile devices, recently debuted the Pivot, its take on the smartphone pistol grip. Here are our thoughts.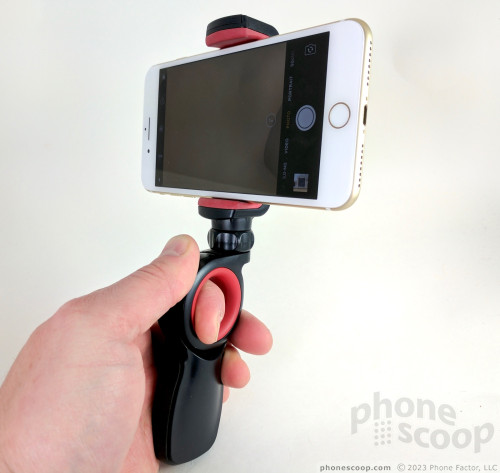 Hardware
There's no question that holding phones to shoot video is awkward at best. It's just not comfortable. Pistol grips attach to your phone and allow you to hold the phone in a more natural pose. The result? Less arm fatigue and (hopefully) more steady video. The Pivot from Olloclip is a bit more flexible than most pistol grips, as it offers 225-degrees of articulation and supports photo accessories, such as mics and lights.
The Pivot is an odd-looking thing. It is only available in one color: black with red accents. The Pivot is made mostly of plastic. It feels rather cheap and is creaky when you use it. I've used other pistol grips made of metal that are sturdier and more confidence-inspiring. The trade-off, of course, is weight; the Pivot is very light and easy to carry around in a backpack or purse.
The grip itself is shaped more like a paddle and it features a large hole for a finger. A rubber surface around the edge of the grip helps give it some stickiness against your skin. A large button on one side of the paddle unlocks the rotating arm. Pressing the button lets you move the arm back and forth. There are 12 positions available and each position locks in place. I'd prefer it if the arm offered more positions. The travel and feedback of the button is decent, and the arm provides a solid click as it rotates through its range of motion.
A standard one-quarter inch screw atop the rotating arm accepts the included universal smartphone clamp as well as an included GoPro mount. The phone clamp screws into the mount easily and can be locked in place facing any direction. The clamp is spring-loaded and accommodates most phones with screens up to about 5.5 inches. I was able to stuff an iPhone 7 Plus (with a case on it) into the Pivot's phone clamp, but I could tell the clamp was straining a bit. It more easily handled phones such as the Pixel XL and Moto Z Droid without cases.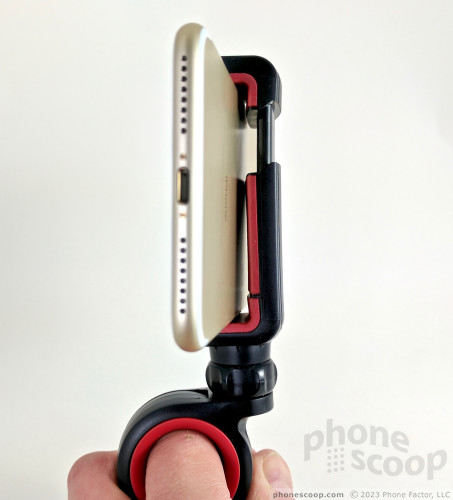 I'm not totally in love with the universal clamp. Strong clamps allow you to place the pistol grip to one side of the phone securely. The Pivot comes across as a bit weak when used with heavier phones and is most steady when you center the phone's weight in the clamp. I was slightly worried my phone would fall out when shooting some video, especially when waving the phone/grip around quickly.
A camera accessory shoe sits atop the clamp for accessories. Remove a small, plastic nub and you can insert a microphone, video light, or other add-ons that don't require syncing with the phone.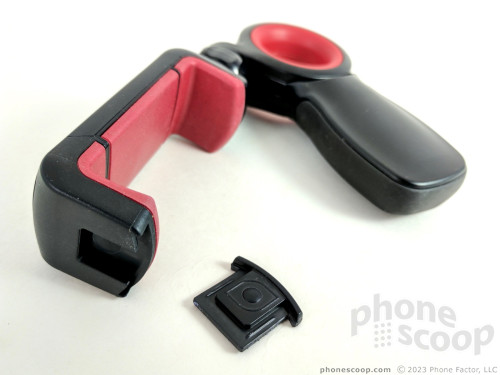 The clamp itself can be removed from the Pivot and attached to most standard tripods. Even so, I wish the bottom of the Pivot's grip included a tripod screw receiver so the entire thing could be screwed onto a tripod. This would allow you to attach the Pivot to a tripod for a sturdy foundation while also giving you a bit more articulation than a tripod alone could provide.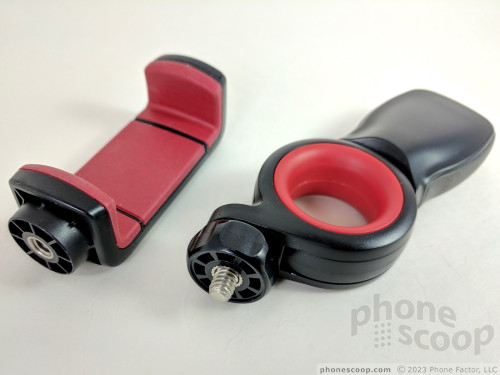 The Pivot is weaker than I want it to be. I wish it were stronger and better able to tightly grip today's bigger, heavier phones.
Performance
The Olloclip Pivot provides basic physical support for smartphones when shooting video. You can hold the Pivot in a wide array of positions and shoot video from nearly any angle you can imagine. It's comfortable to use for longer periods of time and absolutely reduces arm fatigue. There's no question that the Pivot improves the video-shooting experience, but does it help improve your videos?
Well, that depends a bit on you. The Pivot doesn't use tiny motors to keep your phone level, like a real gimbal would. It also doesn't include any sort of stabilization or shake-dampening tools. It simply provides smartphone owners with a more natural way to hold their smartphone when recording video. In and of itself, this helps smooth out video a small bit.
I shot a video tour earlier this month without a pistol grip and my arm was dying after about 60 seconds. And that video is definitely a bit wobbly. But when I shot a similar video using the Pivot, I found I was able to do so over the course of an hour without suffering from arm fatigue at all. I can't say with any measure of certainty that the video is less shaky, but the entire video was easier to shoot thanks to the Pivot. That's not the most ringing endorsement ever, but it's something.
Discussion
Smartphone grips come in all shapes and sizes. Pricing ranges from $30 for the cheapest handles to $300 for full-fledged stabilizing gimbals. The Pivot from Olloclip costs $50, which is about the average price for most accessories in this class. I like the flexibility offered by the Pivot, but the plastic materials and cheap-feeling build leave me questioning its value. Moreover, it struggles a bit to firmly hold one of today's more popular handsets, the iPhone 7 Plus.
If you're looking for a sporty, flexible grip for your smartphone that gives you a bit more freedom when shooting video, the Pivot covers that base. It also helps reduce arm fatigue, which is clutch if you're planning a long day of shooting friends' antics at the skate park.
I'd be more apt to recommend the Pivot if it were $10 or $20 less, which leads me to suggest that perhaps Olloclip shouldn't pivot away from its core lens business just yet.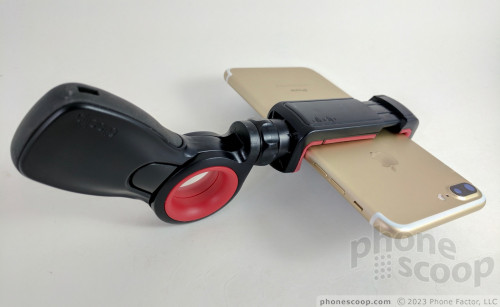 No messages