Hands On with the Casio WSD-F20 Smartwatch
Article Comments
Jan 5, 2017, 11:37 PM by Eric M. Zeman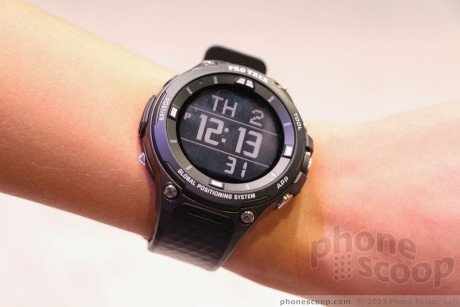 Casio trotted out its second-generation Android Wear smartwatch this week. The WSD-F20 is a major improvement over last year's model thanks to the addition of GPS and Android Wear 2.0. Here is a quick look.
Advertisements article continues below...
Casio thus week showed off the WSD-F20, a new Android-based smartwatch for the really, really active set. The hardware isn't too much different from last year's model, but Casio was sure to include some missing features that make the F20 a more well-rounded wearable.
Like many outdoor enthusiast watches, the F20 is super chunky. It's an enormous wearable that consumes a huge portion of your wrist. I didn't get a chance to measure it, but it's definitely thicker than a double-stuff Oreo cookie. It looks like a fitness watch and acts like a fitness watch. There are three hardware buttons on the right side that handle dedicated tasks such as opening the main menu, starting/stopping workout apps, and so on. I am not a fan of these buttons. They felt rather mushy to me. The left side of the watch has a speaker and Casio's proprietary charger. The bottom has an optical heart rate monitor for tracking fitness.
The F20's face includes a stationary set of lines to mark the hours as well as some random branding elements. The screen itself measures 1.39 inches with 360 by 360 pixels. This is the same size/resolution as most round Android Wear devices we've seen over the last two years. I found it to be plenty bright. It offers more than enough resolution for the size. Like the F10, the F20 includes Casio's low-power mode that turns the full-color display into a monochrome screen that displays only the time. Casio claims the screen will last for a full month in monochrome mode.
The device runs Android Wear 2.0 but right now there's not much to say. The software is clearly in an alpha state on the pre-production watches that Casio had on hand. The watch was slow to respond to button presses, and the UI was janky and odd. The circular UI didn't seem to watch to work, and swiping motions barely worked at all. It's no wonder Google has delayed the platform's release by more than four months at this point.
There is some really good news. The F20 gains GPS for tracking workouts. This is a feature the F10 didn't have. Moreover, you can download maps for offline use and the GPS radio will show you where you are in real-time even without an active connection to your phone or network. The maps are really detailed, showing all types of roads/trails, as well as contour and geographical points of interest, such as mountain tops and rivers/streams. This feature could mean the difference between life and death when people become lost and/or injured out in the wilderness.
But that price. Casio didn't reveal the exact cost, but said it will be in-line with last year's model. That means it will likely be around $500. Ouch. The Casio WSD-F20 is expected to ship in April.
No messages