Review: Samsung Gear IconX Bluetooth Headphones
Article Comments
Dec 7, 2016, 3:45 PM by Eric M. Zeman
Samsung's Gear IconX are truly cord-free earbuds that promise the ultimate wireless experience. These Bluetooth headphones include advanced features, such as ambient sound mode and a heart rate monitor to track workouts. They make a fine companion to Samsung's Galaxy smartphones, but there's one major caveat. Here is Phonescoop's in-depth review.
Intro
Samsung's Gear IconX are a pair of completely cordless earbuds that can handle music, calls, and workouts. If you're looking for a totally wire-free experience, the IconX offers a compelling option to competing models, even if suffers from some of the same shortcomings.
Background
This style of earbuds — two separate buds, one for each ear, with no wire in between — is primed to be the Next Big Thing in wireless headphones. Earlier this year we looked at a similar model from Motorola, while a handful of others from the likes of Jabra are just now reaching the market.
As much as I love listening to music, I dislike wires dangling from my ears. The IconX's cord-free design gives this style of buds an appeal that few others can offer.
Samsung took the IconX beyond simple audio functions and added serious fitness-tracking features. Thanks to embedded sensors and the accompanying app, the IconX can track your speed, distance, heart rate, and calories burned. This makes them a more well-rounded set of Bluetooth headphones for the active set.
This form factor does have its limits, so prepare to make some sacrifices for the IconX.
Hardware
The Samsung Gear IconX Bluetooth headphones come in a plastic, pill-shaped case that doubles as a charger. I like its simplicity. The case closes onto the buds firmly so they make contact with the charging pins within. Two lights, one for each bud, let you know when they are charging and when they are full. The microUSB port is located on the back of the case, and a flat bottom lets it sit on flat surfaces. The case is solid and feels high-quality. Press a little button on front to open the hatch, which can lock in the open position.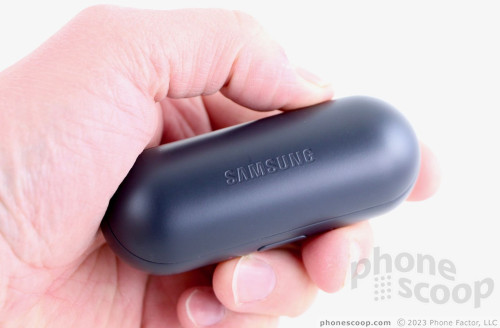 The buds are stowed in form-fitting craters, but they don't snap into place. If you tip the case over the buds will fall right out. Opening the case turns the buds on, and they'll automatically connect to any paired device.
The IconX buds are relatively small. They come in black, blue, and white, and feature a distinct triangular accent on the outer side. The black buds' accent is green and helps give them some personality. Samsung went with hardened plastics to form the buds' shell. They feel strong and well-made. A rubber wing forms a small loop on the top of each bud to hold it in place, and a silicone tip covers each ear insert.
Samsung provided three sets of tips and three sets of wings with the IconX. The wings are necessary to ensure a secure fit and I'm happy to report they aren't as annoying or fussy as wings I've tested other buds recently. I had no trouble finding a comfortable fit. The snug fit helps the IconX sit firmly in your ear and prevents them from falling out. I used the IconX when on the treadmill and tried knocking them out with some jumping jacks. They remained in place, even when damp from sweat. Speaking of which, the IconX are rated IPX2 for protection against sweat so don't be afraid of working up a good lather.
The IconX don't have traditional buttons. Each bud has a capacitive surface that lets you interact with the headphones by tapping and swiping. You tap once to play/pause music, double tap to answer/end calls and skip forward, triple tap to go back a track. How do you raise the volume? Lightly swipe the capacitive surface towards the back of your head to increase volume and swipe toward your face to decrease the volume. Easy-peasy.
These are good earbuds.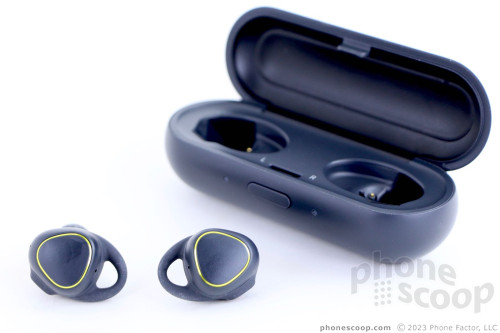 Performance
A Bluetooth 4.1 Low Energy radio is stored in each earbud. The two buds talk to each other wirelessly through your head. I recommend you use Samsung's Gear app to pair and set up the earbuds. Annoyingly, you have to download the Gear app and then download and install a separate plugin for the IconX. The app allows you to choose which earbud is the dominant one (handles calls and heart rate functions), fuss with the EQ, control notifications, see battery levels, and so on. I'm glad the app is easy to use. (The IconX do not work with iOS devices.)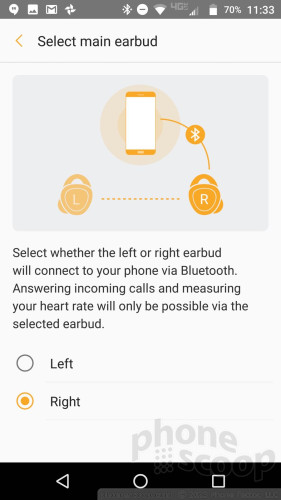 Once paired, the IconX automatically connect to your smartphone whenever you open the case. The Bluetooth connection between the phone and IconX was generally good. I didn't notice any significant problems. Range is typical at 30 feet. The individual buds maintained a good connection to one another. Drops/cuts between the two buds — something that plagued Motorola's VerveOnes+ headphones — were minimal.
Music sounds surprisingly good via the IconX. The buds' default EQ is perfectly flat, so I suggest you take advantage of the app's controls to adjust it. There are several presets as well as a user-defined five-band EQ. It took no effort at all to dial in exactly the type of sound I prefer when listening. Samsung says the buds' frequency response is 20 Hz to 20,000 kHz, which is typical for many headphones. Highs and lows are clear. Samsung did a good job tuning these.
The IconX rely on passive noise isolation to mute the outside world, but you can turn on ambient sound mode to hear what's going on around you. Each earbud has two microphones that are always listening. These, together with the software, are able to mix ambient sound with your music so you can remain aware of your surroundings. This could be useful if you're out for a jog or bike ride and want to be sure to hear cars or other people. I found the tool works well.
The microphones also enable phone calls. The calls I made with the IconX were excellent in terms of quality. Both volume and clarity were better than average.
The IconX includes a heart rate monitor that will talk to the Samsung S Health app. It's generally accurate for tracking your heart rate during workouts. The rates it clocked were on par with another wearable I tested it against. The S Health app has been around a while, and it's fairly refined at this point. It easily collects data from the IconX and presents workout stats in easy-to-digest charts. S Health and the Samsung Gear app are both available to non-Samsung Android devices.
You can load up to 1,000 songs in the IconX's 4 GB of storage for device-free listening. Samsung Galaxy owners can sync songs through Samsung's mobile apps, but non-Samsung device owners will need to use a PC and USB cable plugged into the case to load music.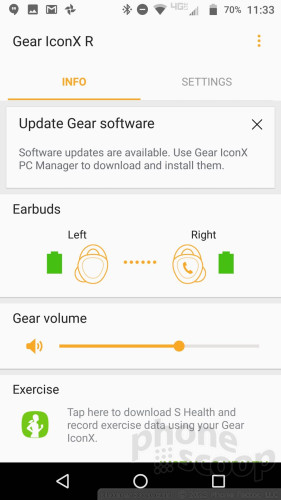 If there's one major bummer about the IconX, it's battery life. Each bud contains a 47 mAh battery and the case includes its own 315 mAh battery. Samsung says the buds should provide "more than" an hour of playback and the case provides enough juice to recharge both buds twice, for a maximum of 3.5 hours of playback. That's some seriously wishful thinking.
In my experience, the IconX ran out of power consistently right at the 60-minute mark. The buds warn you when you reach 10% and then 5 minutes later the music cuts off. Recharging them takes at least 30 minutes. The most playing time I got with the bud-and-case combo was 3 hours (plus charging breaks), well short of Samsung's claims. Motorola's VerveOnes+ deliver much better battery life at 3 hours per charge and a total of 12 hours with the case. The IconX will not get you through a cross-country flight; heck, they'll barely get you halfway from NYC to LA. The battery life is bad enough that the IconX is truly limited to short bursts of listening.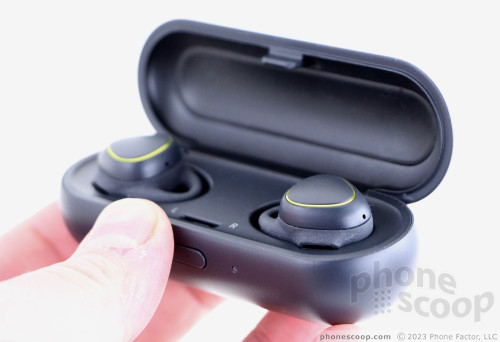 Discussion
Samsung came very close to making the perfect set of cord-free Bluetooth headphones, but fell just short. There's a lot to like about the Gear IconX earbuds, such as the excellent case, good build quality, comfortable fit, easy pairing, powerful app, and advanced fitness features. Sound quality is very good, and the ability to turn on ambient sound mode or take calls make the IconX ideal for multitaskers.
It's a shame that battery life is so bad. I think one hour of playback per charge is too little. It all but rules out using the IconX for longer runs or bike rides, which could easily stretch beyond two or three hours. Moreover, the time needed to recharge and the case's limited capacity mean the IconX spend more time charging than they do playing music.
At $200, the Gear IconX isn't cheap. For that price, I expect better battery performance. As much as I like the form factor and the experience of using the IconX, the battery life nearly cripples them. I'd recommend these headphones only to people who demand a cord-free experience and keep their workouts / commutes relatively short.
No messages