Review: Lenovo Phab 2 Pro and Project Tango
Article Comments
Dec 2, 2016, 2:00 PM by Eric M. Zeman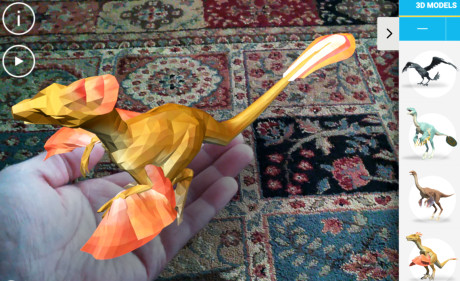 The Phab 2 Pro is the first Project Tango handset to reach the market and sets the stage for our augmented reality-filled future. This massive Android smartphone features four cameras and the ability to track motion and measure distances. These help bring AR environments to life on the giant screen. Here is Phonescoop's report.
Advertisements article continues below...
Intro
The Lenovo Phab 2 Pro is the first handset to ship with support for Google's Project Tango aboard. The phone is meant to serve more as a vessel for the powerful AR tech within, than to be an everyday handset. If you have a professional need for augmented reality tools, then perhaps the Phab 2 Pro is worth a leap into the computer-generated future.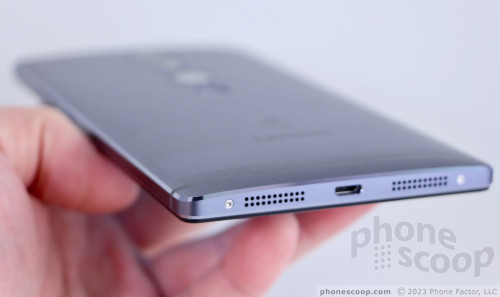 Background
Google first announced Project Tango, its augmented reality platform, in February 2014. That was nearly three years ago. Only now has the Lenovo Phab 2 Pro, the first production Tango phone, finally reached the market. The phone represents a launch point, (more so than an end point,) into the world of augmented reality.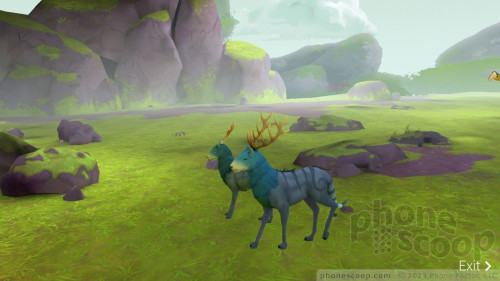 Nokia was doing basic augmented reality on its Lumia smartphones years ago, so the idea is not a new one. But Google's Project Tango is much more ambitious.
Project Tango uses multiple cameras to map the local three-dimensional environment and then overwrite it with info, graphics, animations, and other elements. Think about some of Snapchat's animated filters and you might get the very basic idea behind augmented reality. Only, rather than placing a dog snout on your nose, Project Tango is placing an entire world over the visual, and then allowing the real to interact with the virtual.
The Phab 2 Pro is closer in size to a tablet than a smartphone, and thus is entirely unwieldy as a daily driver. The size is necessary in order to contain the battery, cameras, and other components needed to create the augmented reality content. The Phab 2 Pro includes a handful of Project Tango apps. Here's a look at the initial results.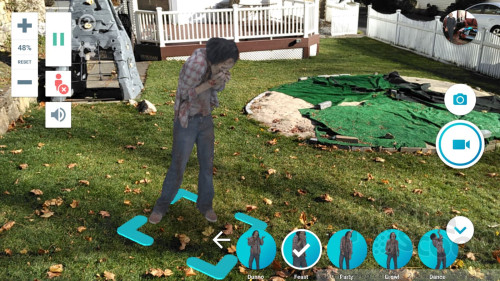 Hardware
The Phab 2 Pro is a metal, unibody handset that looks like what might happen if Nokia and HTC's design teams got into a tug-o-war. It resembles the shape of Nokia's high-end Lumia smartphones (severe rectangle shape, sharper corners), but uses the metal-and-glass materials made popular by HTC.
The Phab 2 Pro is, simply put, one of the largest "phones" I've ever encountered. The device has a 6.4-inch screen and that necessitates some ridiculous dimensions. It's tall, wide, and hella heavy. It is awkward to use and absolutely requires two hands all the time. It doesn't fit into most pockets comfortably, making it difficult to carry around.
Phab2 Pro v. iPhone 7 Plus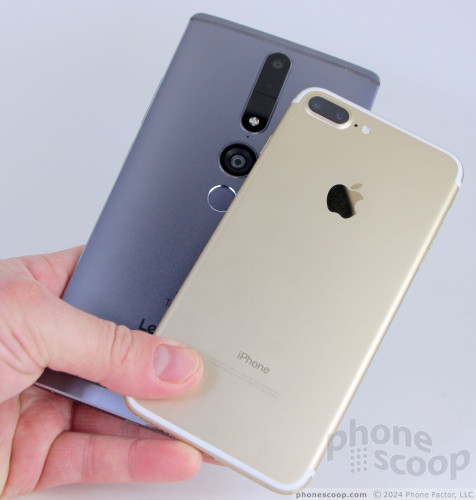 Phab2 Pro v. iPhone 7 Plus
The design is a little bit on the plain side. It features an aluminum shell complete with lines crossing the back to denote the antennas. The edges of the metal chassis are chamfered and the sides are flat enough that the phone will stand up on end. A huge glass plate covers the entire front face and sits atop the metal chassis, rather than within it. The rear surface tapers a bit as it approaches the edges, but this doesn't do much to reduce the phone's footprint. The Phab 2 Pro comes in gold and dark gray.
Glass stretches from edge to edge and is black through and through. Huge bezels surround the display. The forehead and chin above and below the screen, respectively, are an inch thick each, and the side bezels are easily seen, too. A thin, wide grille covers the earpiece and user-facing camera is next to it. Three capacitive buttons rest below the display. They work well. The screen itself is impressive. It measures 6.4 inches across the diagonal and offers quad HD resolution. The production screen is a much better than the pre-production one I saw earlier this year. It's plenty bright, and delivers accurate color. Viewing angles are good.
You'll find the screen lock button and volume toggle on the right edge of the phone. The screen lock button has a nice texture to it and is positioned closer to the middle, which makes it easy to reach with your thumb. The volume toggle is smooth and very long. Both of these buttons have good travel and feedback. The SIM card tray is buried in the left edge.
Oddly, the Phab 2 Pro uses a microUSB port rather than USB-C. It's placed in the bottom edge of the phone. The headphone jack is on top.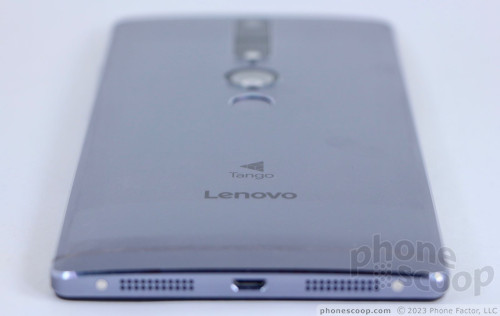 The rear cover has a lot going on. This device has four cameras (4!!!), three of which are on the back. The main camera captures 16-megapixel images and it has a two-tone flash. The Phab 2 Pro also has a camera for recording depth information and another to track motion. These are essential for the augmented reality features of the phone. The cameras are lined up vertically, with two ensconced, along with the flash, in a narrow strip of glass. One large camera stands on its own, and it is placed just above the round fingerprint reader.
The fingerprint reader is buried pretty deep. The indentation where it is located is one of the deepest I've found on a phone. This is good, because it makes the reader easier to find and use. The camera module just above it has a large, rimmed profile that protrudes from the surface a bit. Learning the difference between the two is easy.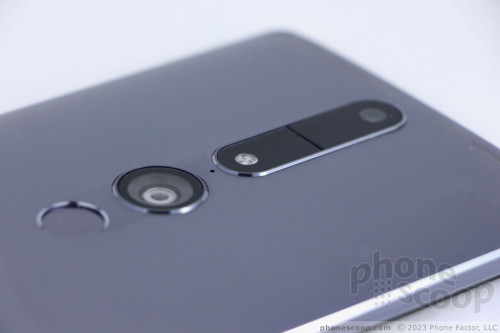 The unibody chasses means the battery is inaccessible.
The Lenovo Phab 2 Pro is a decent piece of hardware, but its ludicrous size makes it unusable as a day-to-day phone for most people.
Performance
As an Android-powered phone, the Phab 2 Pro holds its own. The device is sold unlocked with support for the LTE networks of AT&T and T-Mobile. It latched onto both networks in the NYC area with no problem and was adept at connecting calls and maintaining them at highway speeds. Calls were clear and generally loud enough when pushed through the earpiece speaker. I was pleased with voice quality, and data speeds were average for AT&T/T-Mobile phones. LTE performance was strong enough to support high-quality audio/video streaming with no problem.
The massive 4,000 mAh battery will push the phone through at least two full days if you don't use the Project Tango software. Using AR drains the battery rapidly. You could chew through 50% of your battery in several hours of AR use, so caution is warranted.
Lenovo didn't mess with the Android 6 Marshmallow platform too much. It's a near-standard build of Google's mobile operating system and includes useful notifications, and a flexible home screen experience.
I seriously question Lenovo's decision to use the Snapdragon 652 processor in this phone. This is a mid-range chip and, while it has some VR and AR chops, it's still not a top-of-the-line processor. I didn't notice any lagging or slow performance with normal apps, but the AR apps all felt choppy. My guess is the Phab 2 Pro would have benefited greatly from a Snapdragon 800 series chip.
Software
Let's not beat around the bush: the Project Tango software is the only reason to buy this phone, and even then I'm not entirely sold on the notion.
Tango App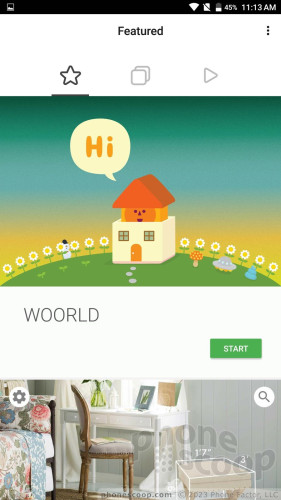 Tango App
There are two core Project Tango apps, called Measure and Tango.
Measure is a tool for measuring distances. It's a digital measuring tape that you can use to estimate the distance between points. You can measure straight lines, or multiple lines (forming shapes like squares or triangles), to determine the total length of and/or around something. It doesn't do circles or curves. It's an awkward tool to use at best.
You need to tap a circle to set an initiation point, but it doesn't always work. When it does, you then point the phone at the approximate end point of what you want measured and use the software to drop another dot on the screen. The app the connects the dot and tells you the distance between them. The software automatically looks for straight edges and angles to help you set the dots and lines more accurately, but it's flighty, especially if there are patterns or contrasting surfaces/lines in the path you're attempting to measure. For example, I tried measuring my laptop, but the app wanted to see the edge of my desk, a nearby keyboard, a nearby phone, and other objects that confused the software.
Is it accurate? About 85% of the time. It got about half of (short) measurements almost exactly right, but it was was off by as much as 33% on others. I'd say the tool is reliable enough to give you a really good estimate of distances, but I'd still break out a physical measuring tape if you're buying materials (lumber, flooring tiles, etc) for a particular project.
The Tango app is an entirely different story.
Lenovo said the Phab 2 Pro would ship with three dozen or more AR apps aboard and that's a lie. The Tango app is an all-encompassing showcase for AR apps. It includes a single demo app that shows you some dancing deer (really?!?). You can browse through the showcase and then choose to download the apps highlighted within the Tango app. Some are free, some are not. Many of them are big, and that's probably why Lenovo didn't preinstall them. A Hot Wheels game, for example, clocks in at close to 1 GB.
I tested close to a dozen of the AR apps. Some of them are fun, others are hard to use, all of them ran poorly.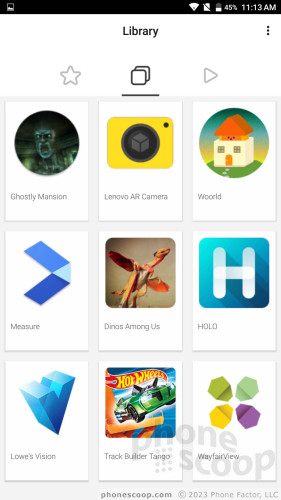 Each app takes a minute or longer to map the immediate area, whether that's your office, living room, or basement. The apps coax you to move around, rotate the phone, point it at the walls, the floor, the ceiling, etc. You can see a grid appear on the screen as it starts measuring and drawing polygons. There's a lot of waiting involved.
Measuring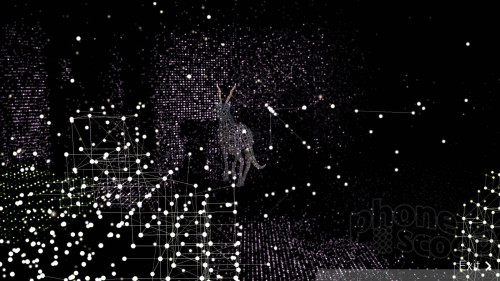 Measuring
One app, called Dinosaurs Among Us allows you to populate your surroundings with animated dinosaurs. They don't do much but stand there. Each runs a little script and will roar or snap at you, but the only way to interact with them is to zoom in really close and — wait for it — tap some "+" symbols to learn some facts about the dino-SNORE-us.
Another called Ghostly Mansion is a game that has you walking all over the place to interact with objects in various rooms. You're a dead person trying to find out who you were in life by collecting your former belongings. This app had me move throughout my entire house. It doesn't draw maps over your surroundings, which would have made it a lot better, and instead uses a pre-drawn map.
Wayfair has an app that lets you shop for furniture and then see what it looks like in your living room. This is actually sort of practical, but shopping apps turn me off big-time.
Lowes has its own measurement app that is specifically meant to help with home improvement projects. This one is well conceived and fully featured. You can measure distances, draw 3D objects, use design tools, and other functions to see how Lowes' various products might work. This was probably my favorite of the bunch and could be beneficial to general contractors.
Holo lets you download 3D holograms and then place them in your environment. This app is enormous and takes a long time to launch. It comes with just two hologram packs, one with several goofy characters and another with Hillary Clinton and Donald Trump facsimiles.
Holo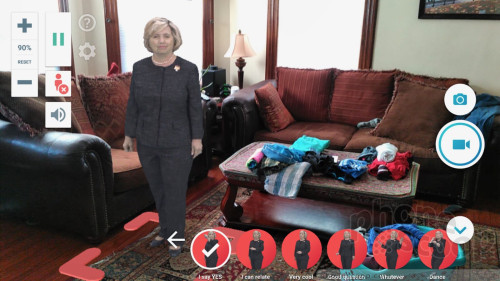 Holo
What's annoying is that even though you've downloaded the app, you also have to download each hologram, and they clock in at 125 MB to 150 MB each. Once downloaded, you can stick them anywhere and they'll run through some pre-recorded actions. It's kind of lame, and if you want more than the two hologram packs you'll have to start coughing up some cash.
If it's not clear already, I'm rather underwhelmed by the AR as envisioned on the Phab 2 Pro. I'm much more interested in virtual reality and 360-degree photos/videos, such as those within Google's Daydream platform. The AR stuff is neat and entertaining. My kids loved it. But Project Tango still feels like a 0.80 beta to me, rather than a 1.0 product.
Discussion
Lenovo is selling the Phab 2 Pro unlocked and online directly to consumers; you can't buy it at a carrier store. Thankfully the price is reasonable at $500, though I'm not sure it's the best investment.
The Phab 2 Pro is a decent piece of hardware as far as phones go, and yet the gigantic footprint makes it impractical as an everyday phone. It's simply too big and too heavy. That said, it's made of fine materials, assembled tightly, and has a modern, if somewhat spartan, design that works. The screen is nice, calls sound good, data is quick, and the battery lasts long enough under normal use. The AR apps will, however, make short work of the battery.
Project Tango aims high, but as realized in the Phab 2 Pro is more two-dimensional than three. Most of the initial batch of augmented reality apps are short games that don't do much but entertain for a several moments. The few practical apps, like those from Wayfair and Lowes, want you to buy something.
In the end, I would only recommend the Phab 2 Pro to people who want a second phone specifically to test the leading cusp of augmented reality. Project Tango won't be ready for the masses until it works in smaller phones and is less destructive to battery life.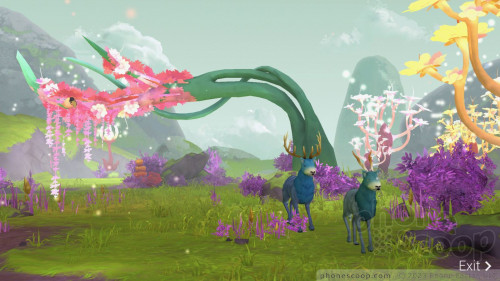 No messages