Review: LG V20 for AT&T
Hardware Software Wrap-Up Comments
Lock Screen
The V20 carries over the V10's Second Screen functionality with no updates or improvements. That means it's still more of a gimmick than truly necessary.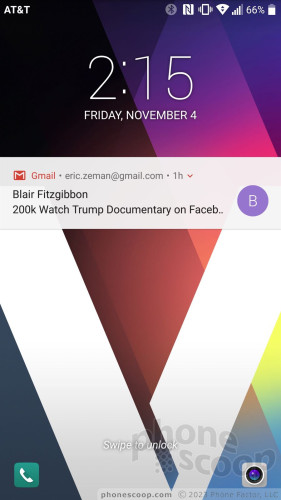 When the phone is locked, the Second Screen always shows the time, date, and battery percentage, but not signal strength. When you receive a notification (message, email, Facebook, etc,) a corresponding icon pops up within the Second Screen. In other words, you can pretty much always read the time or see your basic notifications. But the text and icons are so small, they are hard to see from more than an arm's length away.
Advertisements article continues below...
If you swipe the Second Screen while the display is off, you'll find shortcuts to the camera, flashlight, WiFi radio, and silent mode. If you tap the Second Screen, it wakes the device and loads the full lock screen where you can better read the clock and your alerts. The full lock screen behaves just like it does on any other Android phone. Notifications pile up below the clock and can be dismissed one at a time or en masse.
You can customize the lock screen a bit. First, you can set which shortcuts appear at the bottom, as well as where the clock appears on the screen. You can also adjust the swiping animation and choose whether or not to display the weather.
The V20 includes LG's KnockOn and Knock Code. Double-tap the display to wake the lock screen. This is most helpful when the phone is sitting on a table or desk, although it's a little redundant since a single tap of the Second Screen has the same effect. KnockCode is an optional security tool that unlocks the phone through a custom pattern of taps on the screen. It's a moot tool, too, given the V20's fingerprint sensor. (But hey, options!)
The V20's fingerprint reader is quick and reliable. It takes only a few moments to set up several fingerprints and I found the reader was consistently the fastest way to unlock the phone. The reader works with just a light touch; you don't have to press the actual button. Beyond unlocking the phone, the fingerprint reader can be used to secure individual photo galleries and QuickMemo files, but not apps or folders.
Home Screen
The V20 is one of the very first phones to ship with Android 7.0 Nougat — not that you'd know, thanks to the ridiculously heavy interface layer added by LG.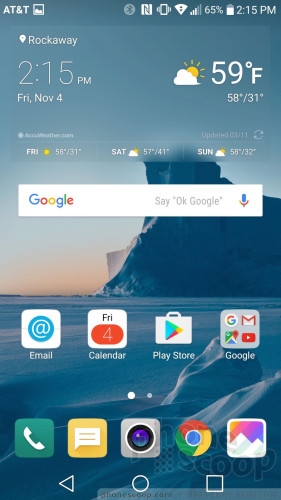 The V20 ships with three different versions of the LG home screen, commonly referred to as a "launcher." Out of the box, the default launcher doesn't include the app drawer. This means users don't have access to a central repository for apps; instead, all the apps are bundled together in folders on the home screens. This gets clutter-y for my taste. You may elect to choose a different home screen experience that includes the app drawer (literally called Launcher + App Drawer). The third home screen experience is LG's EasyHome, which dumbs down the interface for novice users.
There are just two home screen panels active when you first boot the V20. The main screen holds a couple of widgets, several apps/folders, and the dock at the bottom. The second screen is populated with folders containing all the remaining apps. As per usual, the V20 supports multiple home screen panels, widgets, and shortcuts in any configuration you might prefer.
The device allows you to switch up wallpapers and other behaviors with ease. I like that apps can be arranged in various grid configurations (4x4, 4x5, 5x5) to allow for more effective use of the screen's real estate, and, using menu options, you can elect to hide apps you know you won't use often, as well as bring them back when needed. You can control behaviors such as fonts, font size, button arrangement, screen effects, and so on.
The Second Screen doesn't add much value to the home screen experience. The notifications that appear on the Second Screen when the display is off have vanished. Instead, you can swipe between four panels on the Second Screen: your name (What? Who cares to see that?), the radio shortcuts, and two panels of app shortcuts. You can't choose which shortcuts appear. Shortcuts to the camera and settings menu are alway available in the Second Screen, while the others change to reflect your most recently-used apps. The lack of consistency prevents you from developing any muscle memory, which makes them far less useful.
LG didn't mess with the Quick Settings panel too much. It includes five toggles across the top, as well as a slide to control screen brightness. You can customize which toggles appear in the Quick Settings screen and swipe the toggles to see more. The panel also allows you to access, act on, and dismiss notifications.
The main settings tools are broken down into several tabs by default, but you can adjust it so they appear on a single screen. It's rather dense and not that easy to use. Moreover, you lose the easily-gleaned and helpful data that's baked into the stock version of Nougat. For example, in stock Nougat the settings screen shows you how much battery percentage is left, how much RAM or storage you're using, and how many apps you have installed, without digging down into sub-menus. That's all gone in LG's user interface. Boo.
The V20 includes a separate Google Search tool called In Apps. It is specifically meant to help you find content that's hiding within applications on the phone. It can scan emails, messages, maps, photos, your music/video content and more to find specific items. It's nice to have all the results compiled in a single app. This functionality is also built into the main Google Search bar, but the In App results are hidden off screen. This tool is best used when you know you have a specific piece of information on your phone (such as an address) and can't remember the specific app that info is in.
With a Snapdragon 820 and 4 GB of RAM under the hood, the V20 is a very, very fast phone. It does everything in short order. I couldn't find anything to tax the V20 while I used it. Games ran smoothly and VR content presented with no trouble.
Camera
The V20 is all about the camera experience. The V20 doesn't have a physical camera button, but you can launch it from the lock screen or with a quick double press of the volume-down button.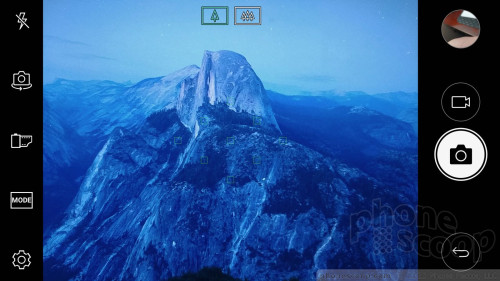 Where the V10 had two user-facing cameras and one rear-facing camera, the V20 adopts the G5's setup and instead has one user-facing camera and two rear-facing cameras. The main sensor on the back captures 16-megapixel images with a 75-degree, normal field of view. The secondary sensor on the back captures 8-megapixel images with a 135-degree, wide-angle field of view. The front-facing sensor captures 8-megapixel images. A toggle appears on the top of the camera app that allows you to jump from the regular-angle camera to the wide-angle camera any time, no matter which shooting mode you're in. Like the iPhone 7 Plus, the V20 allows you to zoom seamlessly from one camera to the other.
The camera interface is a really busy place. Starting from far left, the Second Screen contains three shortcuts to auto (default), manual photo, and manual video. A second batch of options runs down the left side of the main screen and includes flash controls, user-facing camera, film effects, shooting modes, and settings. None of these buttons cannot be customized.
There is a decent selection of shooting modes, including auto, popout, multiview, snap, panorama, slo-mo, and time-lapse.
Pop-out mode creates a picture-within-a-picture effect. In other words, you have a smaller box in the middle of the frame with the subject, and larger box around the outside to which you can add effects (blur, fisheye distortion, etc.) to make the central image pop.
The multiview mode lets you shoot pictures with both rear cameras and the front camera at the same time so you can include yourself in a three-panel montage. This was carried over from the V10 and can be fun. There are several different panel configurations and you can arrange them however you wish.
The snap shooting mode lets you assemble video clips into a 60-second story. You can shoot with 1, 2, or 3 panels in a variety of configurations. A quick tap of the shutter button records a 3-second segment. You can piece together up to 20 of the 3-second clips, or press-and-hold the shutter button to record longer clips up to 60 seconds long. It takes some practice to use effectively.
These three shooting modes are relatively easy to master. The pano, slo-mo, and time-lapse functions work as expected.
Manual mode, available from the Second Screen, is for knowledgeable users who want to be creative. As the name implies, you have full control over everything: white balance, focus, brightness, ISO, and shutter speed. Shutter speed can be set as long as 30 seconds, (for dramatic and/or creative night shots.) You can also set the auto-exposure to lock. Each option has its own slider that lets you, for example, alter the focal point between close and far. As you do this, the screen changes to provide a preview of how the resulting image might look. It gives you some neat insight into how each individual part of the exposure process may affect the final result. Manual mode for video is essentially the same thing. These shooting modes will likely be overwhelming for novice users.
LG buried a simple shooting mode deep in the settings menu. Simple mode is exactly that. It offers no controls. None at all. Tap the screen to take a picture. Swipe the screen to swap between front and rear cameras. You can also toggle between normal and wide angle, but that's it.
The camera settings menu is pretty straightforward. It allows you to adjust image and video resolution, as well as turn on/off geo-tagging, the timer, the grid, and image stabilization. Looking for HDR? It's buried in the settings menu, too. You can set it to on, auto, or off. I wish the HDR tool was accessible from the main viewfinder.
The user-facing camera includes a number of its own tools, including a screen flash, smile capture, gesture shot (make a fist to snap a photo), and beautification filters.
The V20's camera software is extraordinarily quick to focus and snap photos. It's a powerful app that performs well. I wish it were less overwhelming.
Photos/Video
The V20 takes very good photos. Whether you're snapping artistic cityscapes or run-of-the-mill selfies, most people will be happy with their pictures.
In general, basics such as focus, exposure, and color are all good. The main 16-mp camera sensor produces consistently good results. If all you do is take regular shots in the auto mode, you'll be very pleased with the results.
LG appears to have solved the color and exposure issues I saw on the G5's wide-angle camera, as the V20's secondary 8-mp sensor produces solid results, too. The wide-angle camera does, however, introduce obvious optical distortion when you're too close to subjects.
The front 8-mp camera takes great selfies. I recommend you take advantage of the selfie light and go easy with the beautification tool for the best results.
The phone can record video up to 4K. Video stabilization is only available when shooting full HD. I was very pleased with the video results, both 4K and full HD, which were consistently good in terms of exposure, focus, and color.
Of note, the V20 has incredible sound-recording capabilities. It can capture high-definition stereo that sounds lifelike when played back over good equipment.
When compared to competing devices, the V20 certainly holds its own. The camera is absolutely on par with the Galaxy S7, iPhone 7, and Pixel XL. However I do feel like the V20 requires more effort to get the same results that are so easy to accomplish with the iPhone and Pixel.
You can definitely rely on the V20 to serve as your main imaging and video device.
LG Stuff
LG's ever-present QuickMemo tool is on board. It's accessible via the Second Screen and the Quick Settings panel. As always, it takes a screenshot and then opens a basic editor so you can annotate the screenshot and share it with others. It works fine.
QuickMemo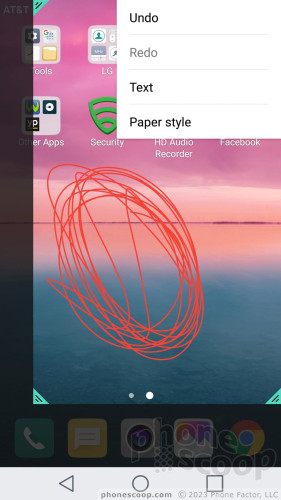 QuickMemo
QSlide apps are still around, too. Certain applications, including the phone, browser, calculator, notepad, and others, can be shrunk down to smaller sizes for multitasking. You can drop several QSlide apps on the home screen and quickly bounce between them. I've always liked that you can control the transparency of QSlide apps.
QSlide
QSlide
Split-screen multitasking is still around. LG has offered it on its big-screened phones for several years. It's hard to tell if LG is using its own split-screen software or the underlying Nougat-based split-screen software. Whichever it is, the multi-tasking tool is easy to use.
The V20 has an infrared emitter and LG's feature-rich TV remote application. It takes but a moment to configure the app to work with your TV and other home theater equipment. I wish phones more consistently offered TV remote functionality. LG's is among the best available.
LG's Health app is as powerful as ever. It includes beginning and advanced modes to cater to individual needs. LG suggests new users start with the beginner toolset and move to the advanced tools once they've reached a certain level of health and fitness. If you're interested in doing things like tracking steps and diet, that's easy to do with LG Health. It handles walking, running, climbing and cycling and provides an overview of your progress. Too bad it doesn't share data with Google Fit.
LG Health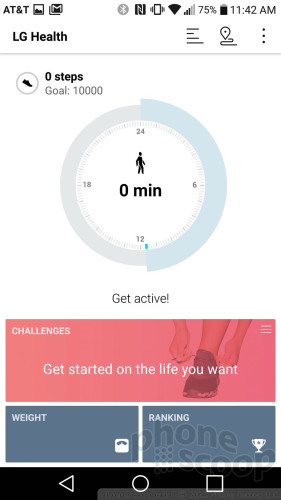 LG Health
Last, LG added a highly-powerful sound record app to the V20. It makes use of the multiple microphones to record even high-intensity sound, such as concerts. The user interface is straightforward and easy to figure out. I'd say the best way to use this tool is for recording your guitar jam sessions or your kids' school concert — if you're looking for audio only.
AT&T Stuff
Ugh. AT&T continues to assault its customers with a preposterous amount of garbage apps and bloatware. AT&T assails you with its own services during the initial setup process and actively populates the notification tray with suggestions for it branded apps, such as DirecTV. Filling up the notification tray with advertisements is not okay, AT&T, not at all. Stop it.
Then there are the 15 AT&T-branded and partner apps that cannot be deleted, such as LookOut, Games, Uber, Yellow Pages, and DriveMode. I don't want this garbage on my phone.