A Day with the Huawei Fit
Article Comments
Nov 3, 2016, 4:32 PM by Rich Brome @rbrome
The Fit is Huawei's first full-fledged attempt at the fitness watch category. It aims to provide the looks and function of a smartwatch with the lightness and battery life of a fitness band or "dumb" watch. It makes some very smart hardware choices, but what's it like to wear and use? We gave it a spin.
Advertisements article continues below...
Article
The Fit is one of the most comfortable watches or fitness bands I've ever tried. I'm not a watch person, precisely because I can find something irksome about the feel of almost anything I put on my wrist. The Fit is possibly the first thing I've put on my wrist and forgotten it was there. The fact that's it's practically light as a feather takes most of the credit here, but it's also just a good, comfy design. It's especially impressive because the Fit needs to be worn tightly for the heart rate monitor to function correctly. The scalloped back of the band, and the clasp, look like they'd be uncomfortable, but curiously they aren't at all.
heart rate sensor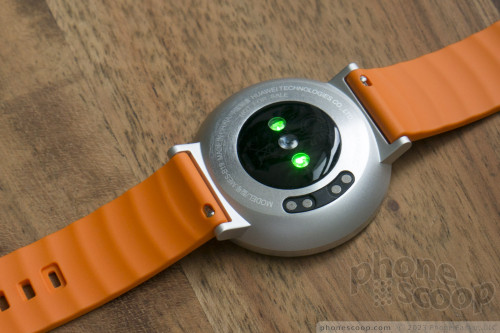 heart rate sensor
The display is a circular touchscreen. It's a memory LCD, of the reflective and always-on variety. Having a watch that always shows the time is key. It also has a backlight that automatically activates when you lift your arm in a dark environment. Being reflective, the display is extremely easy to read outdoors; the brighter the sun, the better. Unfortunately, it's not as easy to read in dimmer light, and the dim backlight does the minimum to help. I could always technically read it, just with more eyestrain than I would have liked. For basic watch and outdoor fitness functions, a reflective LCD is the right choice for readability and battery life, I just wish it were slightly better. A brighter backlight would go a long way; I'd gladly use a brighter backlight option at the expense of some battery life, if it were available.
There are no physical controls; just the touch screen. There's not even a power on/off function; when it's charged, it's on. I like the simplicity of that. Unfortunately, the touch screen doesn't work reliably. I frequently found myself tapping and swiping in frustration at an unresponsive device. Sometimes it was due to the confusing interface, (more on that in a sec,) but often it seemed to be the touch screen itself that just wasn't working, or was busy misinterpreting taps as swipes, or vice-versa.
The Fit does indeed have good battery life. I can't yet say if it lasts the claimed six days, but my experience so far is that it should. (It's been a couple of days since it left the charger, and the battery's still at 60%.) The charger is a simple plastic circle with pins that contact the watch, and a magnet to hold it firmly in place.
Huawei has always been better at hardware than software. The Fit is no exception. While I'm mostly impressed with the hardware, I found myself frustrated with the interface.
The interface seems simple in principle. It employs four-way navigation, where you simply swipe up and down to change options, deeper options are to the right, and going left is like the "back button" that always gets you back out to the top level. That is, by far, my favorite type of interface. I honestly think everything should work this way.
Unfortunately, somehow, the Fit never seemed to do what I expected it to. When the animations make it very clear that the next screen you want to access is "to the right", you'd think that you could swipe over to it... right? Nope. The Fit makes you tap to go to the right. How do you get back to the left? A swipe. It makes no sense. It also has a very confusing "home" screen.
We got off to a bad start, the Fit and I. All I wanted when I first powered it on was to see the time. Instead it showed me something that looked more like a running timer. It actually included the time, but it looked like something else. It turned out that it was set to a special running watch face, but that took me a while to figure out and fix.
Also puzzling is that the setup process leaves notifications turned off. I wondered why I wasn't seeing incoming texts on my wrist until I went digging into the settings on the companion app to enable alerts. Even once enabled, I couldn't get them to work, but I'll chalk that up to a bug that expect/hope will be fixed.
Sometimes when you lift your arm, it will just keep showing the time (lighting up, if necessary). But other times, the time will inexplicably disappear when you lift your arm, replaced with a random menu item, like "Training Plan", or the step count. It's extremely frustrating. I found myself having to fidget with the Fit far too often, just to view the time. It's like it was stuck in some kind of demo mode that I couldn't turn off. (I checked and there's no setting for that.)
I was also frustrated when I couldn't figure out how to tell the Fit that I was finished with a run. It took me about 30 seconds to find the "stop" option, which felt like an eternity knowing that the delay was hurting my numbers for that workout. (The problem was partly the interface design, but also the unreliable touch screen.)
At the start of my run, the Fit warned me that I should run with my phone so it could use the phone's GPS for accurate distance measurement. I ignored it so I could test the pedometer-based tracking. It's not great. I ran a route that I know to be exactly 5 km, and the Fit guessed that I ran only 3.7 km. The Fit knew my height and weight from the setup process and was tracking my heart rate, so I think it should have guessed that I was running faster than that. At least now I know why the Fit recommends using a phone for GPS. (I find any phone way too heavy and cumbersome to run with, so that's a non-starter for me.)
While running, it was supposed to vibrate when I reached my max VO2. Instead, it just seemed to vibrate at the end of each mile, which doesn't seem quite as useful. Perhaps that behavior changes as it learns.
The Fit's heart rate monitor works quite well and seems accurate, although I couldn't test its accuracy scientifically. It seems to monitor your heart continuously during a workout and frequently throughout the day. It's impressive that it can take readings so often and have the long battery life that it does.
I only tested the running function, but the Fit includes walking, cycling, treadmill, and swimming modes, as well. The beta version of the companion app doesn't yet support swimming, but that's on its way. The treadmill mode is a clever addition, as it accounts for the fact that your hand might be resting on a bar instead of bobbing up and down.
Unfortunately, those are the only exercises covered. If you're more into hiking, tennis, basketball, kayaking, or any gym activity besides the treadmill, the Fit doesn't have much to offer you.
The companion app seems to cover the basics well enough. The design is slightly chaotic and some functionality is more hidden than it should be, but there is a lot of good data in there, and the sync functions (for other services) are welcome.
In sum, a software update to fix the interface frustrations would make this a decent $130 fitness watch. The hardware, I like. A better backlight would earn a stronger recommendation. Huawei's made a few good choices here, but the frustrating and unreliable interface makes it hard to recommend the current version.
No messages