Review: Jaybird Freedom Bluetooth Headphones
Article Comments
Oct 28, 2016, 11:00 AM by Eric M. Zeman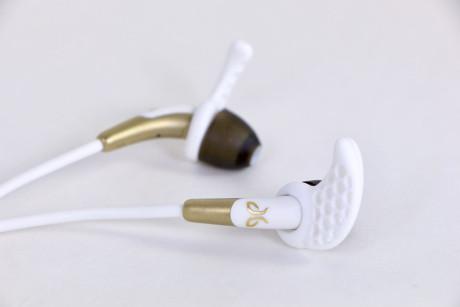 Jaybird Freedom
Jaybird's Freedom headphones demonstrate that it is possible to have good sound, comfortable fit, and plenty of style in a set of Bluetooth buds. These wireless earbuds are more expensive than competing models, but in this case you get more than what you pay for. Here is Phonescoop's in-depth review.
Advertisements article continues below...
Intro
Jaybird's Freedom Bluetooth headphones are premium sport earbuds that boast a small profile, secure fit, and big sound. If you're looking for high-end, in-ear Bluetooth buds for your workouts, the Jaybird Freedom might just fit the bill.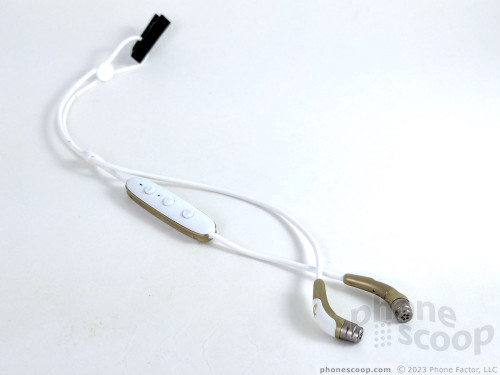 Background
Sport earbuds are typically made from plastics and hardened rubbers in order to ensure durability, protection from sweat, and comfortable, secure fit during vigorous movement. It's not easy to mask these materials and convince people they are anything other than the utilitarian shells that they form. Another reason headphone makers use plastic is because metal can block Bluetooth signals.
Jaybird claims its diminutive, metal-clad Freedom earbuds perform just as well as bulkier, plastic earbuds while maintaining key features such as resistance to sweat and respectable battery life. The Freedoms offer one thing most other sport buds don't: sex appeal. Make no mistake, Jaybird is banking on the sleek profile of its Freedom headphones — just as much as the engineering within — to sell them to music lovers everywhere.
Form Factor
The Freedoms are traditional Bluetooth headphones in that they comprise two earbuds connected by a wire with a control module positioned closer to the right ear. The Freedoms are untraditional in that they are incredibly tiny and have curves that are pleasing to the eye. I rarely look at Bluetooth headphones and think to myself, "Oh, those look cool." I'm much more interested in practical matters such as fit and performance, but the Freedoms do look cool, and that's rather unique in this space.
The Freedoms use injection-molded plastics and a healthy dose of metal to form graceful lines. Our review unit is white with a gold metal chassis (it matches my gold iPhone 7 perfectly), but red, blue, and black versions are available, too.
The buds themselves do not have any buttons or controls for answering calls, as some competing models do. All of the controls are located on the module that hangs just below your right ear. The module's three buttons are easy to tell apart by feel and work well.
The reason so many Bluetooth earbuds are bulky is because they must contain the battery, the radio, physical controls, and often a micro USB port for charging. By moving all of these components to the control module, Jaybird had the freedom (pun intended) to craft the Freedom's small, attractive earbuds. The Freedoms use 6mm drivers, which allowed Jaybird to further shrink the speaker enclosure. (Many other earbuds use 8mm driers, which necessitates larger enclosures.)
The Freedoms are perhaps the most comfortable in-ear Bluetooth headphones I've ever used. The incredibly small size and ample array of gel/foam tips and ear wings (soft rubber fins to latch in your ear) allow you to find a perfect fit. I generally avoid using ear wings if at all possible, but with the Freedoms I strongly recommend you take advantage. Chiefly, the wings will prevent you from jamming the Freedoms too far into your ear canal. The wings also genuinely help the Freedoms stay in place.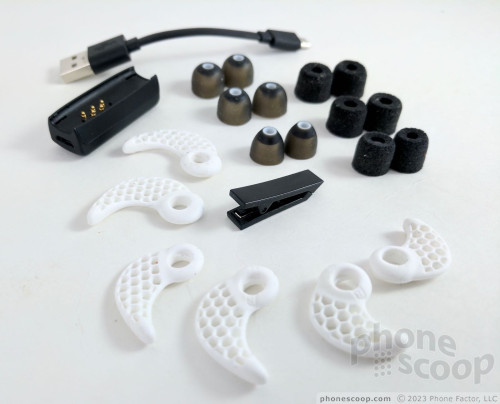 Many plastic earbuds are large and heavy, forcing you to cram them tightly into your ear so they don't fall out during workouts. The Freedoms are slim and light, feel natural, and never fatigued my ears even after hours of listening time. Once you find a good fit, they practically disappear. That's just the way I like it. Jaybird designed the Freedoms so they can be worn in the traditional way with the wires hanging down from your ear, or upside down with the wire draped up and over your ear. The choice is yours, but I prefer the traditional way of wearing them.
Traditional v. Over-the-Ear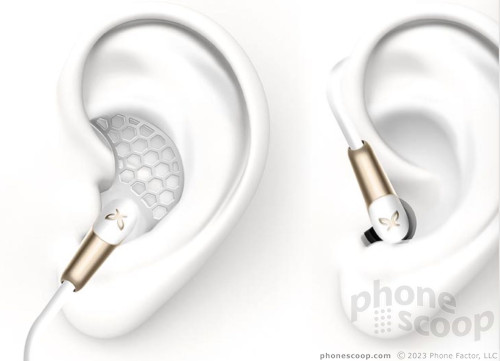 Traditional v. Over-the-Ear
The module is somewhat heavy and prone to bouncing around in a noticeable way — more so than competing models. I could feel it pull just a bit on my right ear as I walked on the treadmill. You can solve this by cinching up the cable with the provided clips and draping it behind your neck rather than allowing the cable to hang down by your chin. When worn this way, I hardly felt the module at all.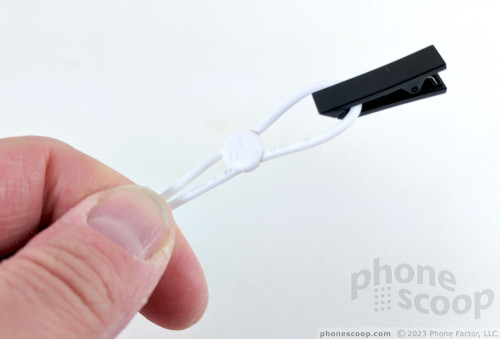 Perhaps my one real complaint about the Freedom's form factor is the way they charge. There is no micro USB port; instead, the control module has a proprietary array of metal contact pins on one side. The control module snaps into a separate charging module, and this charging module is what you plug into a charger. The problem is that the charging module is really, really small, and if you lose it, you're up a creek with no other way to charge the Freedoms. Bottom line: don't lose the charger.
That said, the larger control module and its non-standard charger are totally acceptable trade-offs considering all that you gain in the earbuds themselves.
Performance
Color me impressed. I was not expecting the Freedoms to sound as good as they do. Don't let the small size fool you. They push out some big sound. As with all in-ear headphones, finding a proper fit and seal is important. With foam tips providing a small amount of passive noise insulation, the Freedoms deliver crisp, clean sound that is surprisingly rich. The only niggle I have is with how the Freedoms handle really high frequencies (think cymbals), which were a bit tinny and splashy at times.
The Freedoms rely on the A2DP v1.2 profile with an AAC/SBC codec. They don't support the high-quality aptX codec, but that you wouldn't know that from listening to them. You can use the Freedoms with just about any Android- or iOS-based smartphone or tablet. I tested them with Spotify, YouTube, iTunes, Apple Music, Play Music, and several generic music player apps on an iPhone, Pixel XL, and the Apple Watch. Out of the box, the Freedoms make use of a rather flat EQ curve. I do suggest you fine-tune the Freedoms to get the best-possible sound. Some of the apps I used (Spotify, Play Music) have their own EQ tools, which help the Freedoms to a small degree.
Jaybird has an app that accompanies the Freedom and its other headphones. The app (available to Android and iOS devices) allows you to customize the EQ curve. There are a number of presets (vocals, jazz, pop, rock, etc.), but I had a hard time finding one that I genuinely liked. The app also includes a three-band equalizer (low, mid, high) that you can adjust on your own. This adjustable EQ is a bit of a disaster in usability. I don't know why Jaybird couldn't provide a simple five-band equalizer. Instead, the app's three-band EQ is a weird graph tool that requires patience and discipline to play with. I seriously spent about 20 minutes messing around with the EQ when I should have been able to dial in the curve I prefer in 10 seconds.
The only real benefit of using the Jaybird app over your actual music player's EQ settings is that, once synced, the Freedoms will carry your EQ setting from device to device to device. That means they'll always sound the same no matter what app, phone, or tablet you switch to. That's kind of cool.
So yeah, the Freedoms sound good; in fact they sound better than most.
I was very pleased with the Bluetooth performance. Distance is limited to the standard 33 feet (10 meters), but that's plenty. Jaybird's engineers did a great job with the Bluetooth radio, which never dropped a connection, not once, while I was listening to music. Almost every other competing set of earbuds I've tested dropped the sound for at least a few seconds here or there. Not the Freedoms. That's noteworthy.
The Freedoms support multi-point, which allows you to connect to a phone and tablet/PC at the same time. You can also pair two sets of Freedoms with a single phone via the accompanying app so two people can enjoy the same music at the same time. (I was not able to test this last feature.)
As for the battery, Jaybird says the Freedom's internal 60mAh lithium-polymer battery provides 4 hours of playtime per charge. That's about right; I got 3 hours 50 minutes on a regular basis. That's not enough for a cross-country flight, but it's plenty to cover even a lengthy workout from warm-up to cool-down. The proprietary charging module has its own 125 mAh battery that supplies another 4 hours of listening time. It takes 2.5 hours to charge both the earbuds and module together from empty to full, and a little more than an hour for the module to fully charge the headphones.. Thankfully, a quick 20-minute charge on the module will deliver 1 hour of play time, more than enough for a short workout.
The Freedoms handled even my sweatiest treadmill excursions with aplomb. Jaybird hasn't given them any sort of IP rating, but the Freedoms easily warded off a modest amount of moisture. I would not wear them in the rain.
Discussion
The Jaybird Freedoms are sport Bluetooth headphones that will set you free. Not only are they more comfortable than most other Bluetooth buds I've worn, but they punch out better sound, and will power you through even your longest workouts. In the Freedoms, Jaybird designed an attractive pair of earbuds that should appeal to both style-conscious buyers and workout hounds who want the best. Moreover, the Freedoms deliver Bluetooth performance that often exceeds the competition.
All this style and performance ain't cheap. You can find an acceptable pair of Bluetooth earbuds for about $79 and a good pair in the $99 to $129 range, but the Freedom's upscale design and materials will set you back a cool $149. Given the near-perfect fit, excellent sound, and good looks, I say that's a fair price.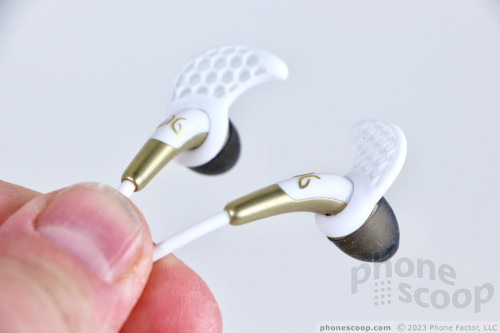 No messages