LeEco Details the LePro3 with Snapdragon 821
Article Comments 11
Oct 19, 2016, 12:58 PM by Eric M. Zeman
updated Oct 19, 2016, 2:58 PM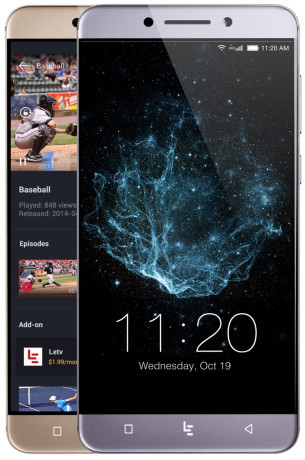 LeEco today announced the LePro3 smartphone, an Android-based flagship that includes the Snapdragon 821 processor and a 4,070mAh battery. LeEco says the large power cell provides 33 hours of talk time or up to 49 hours o media playback. The battery supports Qualcomm's Quick Charge 3.0 for rapid charging, and it can ingest a 33% charge in 20 minutes. Other specs include 4 GB of RAM and 64 GB of storage; 5.5-inch full HD display; stereo speakers with Dolby Atmos; 16-megapixel main camera with 4K video capture and 8-megapixel front camera; and fingerprint sensor. The LePro3 is made from brushed aluminum and boasts 2D, curved glass. It will be available in gray and gold. The LePro3 costs $399. It will be available online from LeMall starting Nov. 2.
LeeCo Phones
The Pro 3's screen may be the same size as the Pixel XL, but its resolution is far lower: 1440 x 2560 VS 1080 x 1920.

As well check out the LTE North American Band Compatibility.
Only one of their phones the LeMax 2 Pro has NA LTE band compatibility with and SD 820 on board as well as a 1440 x 2560 5.7 inch display.
LeeCo gets weird with which phone had what that goes with what.
Plus the no micro expansion SD ports are a bit of a little hassle too.
Just make sure you get a phone with at least 64GB w/4GB RAM.
All of these are valid points. I wonder how many people will buy a Pro 3 without realizing that it's incompatible with their carrier's LTE bands.

LeEco is competing on price; the Pro 3 has twice the storage at $250 less than the Pixel XL, and neit...
(continues)