Review: Jabra Sport Pulse and Sport Coach Headphones
Article Comments
Oct 11, 2016, 8:00 AM by Eric M. Zeman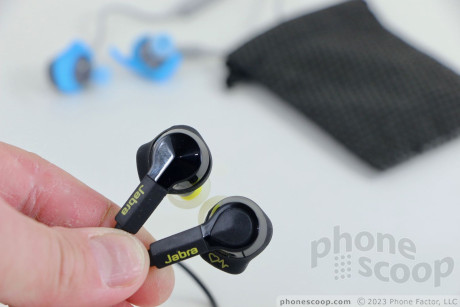 Jabra's Sport series of Bluetooth headphones targets fitness buffs who want music and fitness tracking managed by the same wearable. The Sport Pulse and Sport Coach offer heart-rate monitoring and rep counting, respectively, for runners and crossfit lovers. Here is Phonescoop's in-depth review.
Advertisements article continues below...
Intro
The Jabra Sport Pulse and Sport Coach are Bluetooth headphones meant to give fitness buffs some assistance while they train. The Pulse and Coach share external form factors and other core specs, such as sweat-proof enclosures and snug fits for intense workouts. The Pulse includes a heartrate monitor and targets cardio workouts, while the Coach can count reps and targets crossfit workouts and weightlifting. Together with the Jabra Sport app, the Pulse and Coach are here to help improve your fitness, however you like to get your sweat on.
Background
Bluetooth headphones are not just for listening to music any more. In an oversaturated market for wireless headphones, you need focused products such as the Sport Pulse and Sport Coach that offer something extra. Jabra has several other collections of headphones for business users, and for music lovers, for example.
The Jabra Sport Pulse and Sport Coach land in the middle of Jabra's collection of sport-specific headphones in terms of price and features. The Pulse costs $160 and the Coach is a bit less at $120. Jabra's least-expensive sport headset is the Pace, which costs $100, while the Jabra Elite Sport fully wireless earbuds top the range at $250 (available in November).
The same Jabra Sport Life app accompanies all these headsets to help manage not only the headphones, but your workouts.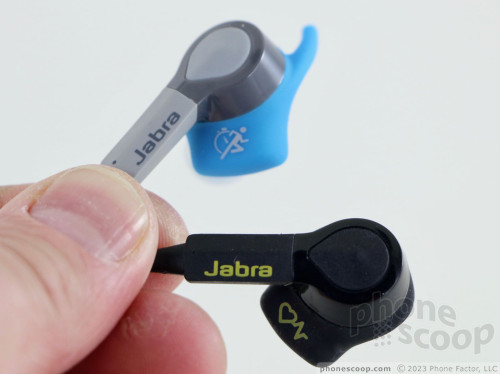 Form Factor
The Jabra Sport Pulse and Sport Coach are what I consider to be mainstream bluetooth headphones. They consist of two in-ear modules connected by a cable. The cable includes a control module near the right earbud for managing volume and playback; one of earbuds has a large, single button for accepting/ending calls. The battery is contained within the other earbud, as is the USB port for charging. This style of headphones is most often worn with the cable draped behind the neck.
The Pulse/Coach each include three earwing sizes, three silicon gel sizes, and three foam tip sizes to allow for the best combination of fit and grip. Use the gels/foam tips to create a tight seal within the ear canal, and then anchor the earwings (rubber hooks) in your auricle (fleshy skin folds above your ear canal) to ensure the headphones won't fall out during exercise.
I was mostly successful in balancing comfort, fit, and grip. Swapping the earwing sets is a bit of a pain, but changing up the gels/tips isn't too much trouble. The foam tips were more apt to help the headphones stay in place, but the gels were more comfortable and created a better seal for sound. It's important to take the time to find what works for you, as fit directly relates to how the Pulse/Coach perform.
The control module is easy to find along the right side of the cable. One side is smooth plastic and holds a small hole for the microphone; the other is rubber and has raised "+", "O", and "-" buttons for controlling playback. I wish the buttons were a bit easier to tell apart when not looking, but travel and feedback are good. I like that the headphones include a little clip so you can cinch up the excess cable behind your head to prevent it from bouncing around. Using the clip is somewhat necessary, as otherwise the kind-of-stiff cable kinks rather easily.
Performance
As far as music playback is concerned, the Pulse/Coach are what I'd call average. The headphones include Bluetooth 4.0 with A2DP v1.2. That's a good base, but neither the Pulse nor the Coach supports the more advanced (and better-sounding) aptX codec. The quality of music hinges on the in-ear seal between the headphones and your ear canal. A loose seal leads to trebly music that sounds unbalanced. A tight seal means better bass response and a more well-rounded sound. Moreover, a tight seal helps deliver 15dB in ambient noise reduction. Moving around — and especially working out — can play havoc with the in-ear seal. I found myself constantly adjusting the right earbud while exercising to reseal it properly. The headphones never fell out of my ear during workouts.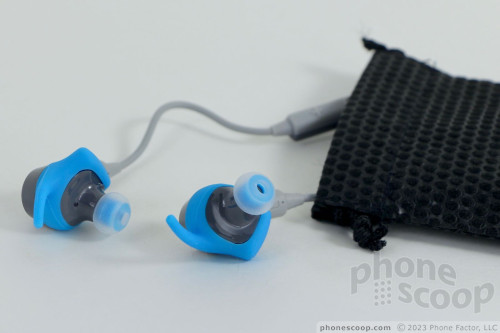 I streamed music from iTunes and Spotify on an iPhone 7 Plus, and via Google Play Music and Spotify on a OnePlus 3. Sound was equivalent between the phones and music services. Despite having their own app, the Pulse/Coach don't offer controls for fine-tuning the sound. That sucks. I used the music apps on the iPhone and OnePlus 3 directly to tweak sound settings. As with most headphones, it takes some effort to dial in the best possible sound. The Pulse/Coach sound pretty crummy if you simply plop them in your ear and go. If you care about how the music sounds at all, spend a few moments with your favorite music app to see what you can work out.
Phone calls, on the other hand, sound fantastic almost all the time. Jabra's legacy has long been in creating high-quality mono headsets for mobile pros, and that heritage is evident in the Pulse/Coach call performance. They sound great, and those I spoke to via the Pulse/Coach said I sounded loud and clear.
The Bluetooth radio connection was not as strong as I'd like. There were a lot of gaps in music playback on both sets of headphones. For example, I'd lose a second or two of sound during music playback once every few minutes. That's a lot of loss. Further, the 10m distance limit is real. The headphones disconnected from my phone consistently every time I walked away. This became irksome when I put my phone down during a workout to use the bathroom and found, upon my return, that I had to reconnect.
I was generally pleased with battery life, given the use-case for these headphones. Jabra claims music playback time is about 5 hours with active heart-rate monitoring and coaching. I got closer to 4.5. That's more than enough time for a workout, or maybe even commuting to/from work, but it's not enough for a plane ride or long car trip. It takes more than two hours to charge the Pulse/Coach from zero to 100%, and the headphones don't include a charging case like some competing models do.
The headphones are rated IP55 for some protection against dirt and water. You can sweat with the Pulse/Coach in your ear, but I'd shy away from using them in heavy rain and definitely do not go swimming with them.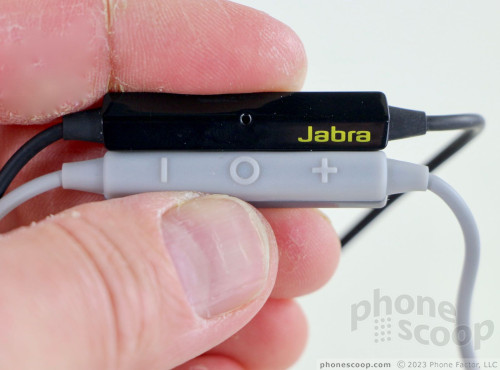 Sport Life App
The Sport Life App is what gives the Pulse and Coach their workout-tracking powers.
The app is rather robust and offers plenty of ways to track your workouts, including walks, runs, bike rides, hiking, skating, skiing, spinning, and cross training. You'll get the best results if you take the time to enter personal data (age, weight, height) and calibrate with the headphones. For example, the Pulse will listen for your base heart rate and then ask you to jump around for a few moments so it can test active data gathering. The process for completing these steps is painless. (For best heart-based results, I'd take the time to go through the lengthier resting-heart-rate calculation.)
As far as actual tracking is concerned, you can set targets for pace/cadence, heart rate zones (intense, fat burn, light, etc.), intervals, distance, duration, and calories. Again, these are all easy to futz with.
In my experience, the Pulse was very accurate in tracking my heart rate. The headphones and app generally matched the data generated by my Apple Watch, for example, when using the iPhone. This in turn allows the app to produce usable results when working out against your VO2 max, and so on.
The Coach also managed to track reps well as I lifted weights. It's not perfect, but when I tested it using some free weights it only mismatched my own rep count once. If you care to spend the time, you can work with the Coach and Sport Life App to create crossfit-style circuits (short jog, weights, burpees, etc). The Coach will count reps audibly as you listen to music.
Bottom line, the Pulse and Coach each do what Jabra they will says as far as tracking your workouts is concerned.
Discussion
The Jabra Sport Pulse and Sport Coach fit the bill if you're in the market for Bluetooth headphones that also include workout features.
The headphones are made well and function fine. They aren't the most comfortable or the best sounding, but they do deliver decent music quality during extreme activity. Bluetooth radio performance could be stronger and more consistent, but battery life is acceptable.
The real benefit to these headphones is derived through the app and its ability to track your pulse and/or count reps. The Pulse is meant mostly for runners and those who value cardio workouts and the Coach is best for those who prefer lifting weights or crossfit. The app is flexible enough to allow for a range of different workouts.
The Jabra Sport Pulse and Sport Coach are best-suited to those looking for an inexpensive way to track workouts while listening to music. If you already have a wearable such as a smartwatch or FitBit-style activity tracker, the value of the Pulse and Coach goes right out the window. Smartwatch owners will be better off finding a high-quality pair of music-only Bluetooth headphones that can also handle some sweat. If you don't have a smartwatch, the Jabra Sport Pulse and Sport Coach are a decent way to add the benefits of wearables to your fitness regime.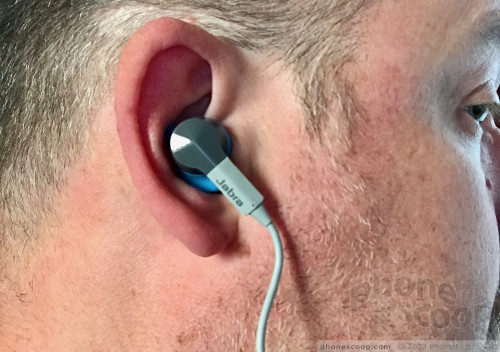 No messages