Review: Lenovo Moto G4 Play
Hardware Software Wrap-Up Comments 2
Lock Screen
The G4 Play carries over the useful Moto Display tool that's available on most Motorola phones. It's a great lock screen that Motorola's competitors copied in earnest just this year.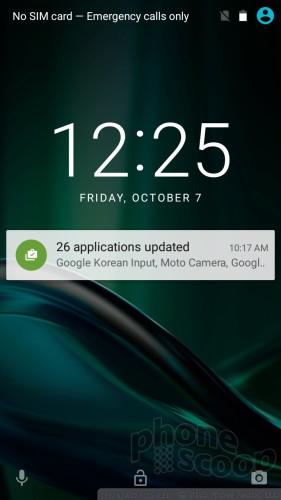 Notifications and other lock screen behaviors are managed from the Moto App. Moto Display can wake the screen regularly with a list of the current notifications, or show important notifications on the lock screen as they arrive, or leave the screen entirely dark. It's up to you. Double tap the screen any time to see the time and notifications in list form.
The G4 Play doesn't have some of the fancy screen-waking gesture features from Motorola's flagship phones (wave or speak to wake), but it doesn't need them. The tap-to-wake and on-again/off-again nature of notifications provide plenty of opportunity to see what's up. Sadly the G4 Play loses the twist-to-launch-camera gesture.
If you press the screen lock button, the display wakes fully to show the clock, wallpaper, and notifications listed below the clock. There are shortcuts to Google voice search and the camera available on this screen.
As far as security goes, the G4 Play supports the trusty PIN, pattern, and password options. (As noted earlier, there's no fingerprint reader.)
Home Screens
The G4 Play ships with Android 6 Marshmallow and that's pretty much it (no overbearing user interface skin). I appreciate that. G4 Play owners can customize the typical stuff, such as wallpapers, widgets, and so on.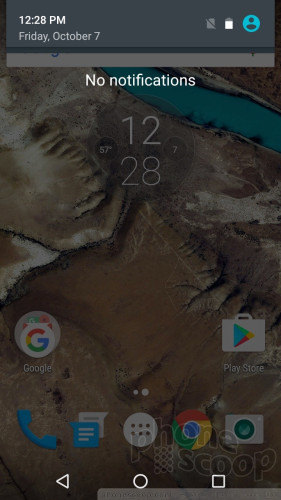 The home screen behaves as expected for a Marshmallow phone. Similarly, the app drawer, notification shade, and settings screens are all stock, and work accordingly. The app drawer casually plops four "suggested apps" at the top. I find these to be helpful from time to time.
The G4 Play ships with the Google Now launcher, but it's not active by default. You have to agree to turn it on (via the Google Search app). The Google Now launcher creates a new home screen panel with alerts and notifications about stuff relevant to you. It's one of my favorite tools from Google.
As for performance, the G4 Play uses a 1.2 GHz Snapdragon 410 processor with 2 GB of RAM. This combination is barely adequate. As noted earlier, Google Maps struggles big time, as do the camera and Play Store apps. Apps take forever to download and install, even over WiFi. I saw some sluggish behavior on the home screens, too, such as transitions and app opening times. The G4 Play isn't awful, but it is noticeably slow.
Camera
The G4 Play relies on the same camera app found in the G4, G4 Plus, and even the pricier Moto Z handsets, but the experience isn't quite the same.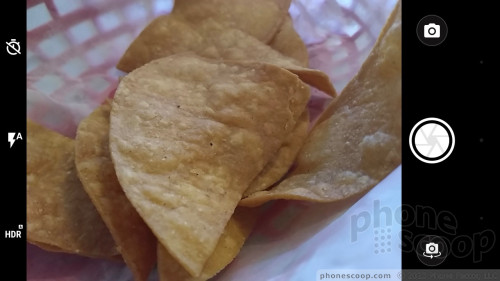 The phone does not have a dedicated physical camera button, and it loses the twist-to-open gesture. That's a bummer. Thank goodness you can open the camera with a double-press of the screen lock button. But unfortunately, this feature is off by default; you have to dive into the settings to turn it on.
The camera interface is spartan and keeps things simple. There are three controls on the left side of the screen (timer, flash, HDR) and three on the right (mode, shutter, front camera). I like that the flash and HDR toggles include an "auto" option.
As for shooting modes, the G4 Play offers photo, video, and, panorama. That's it. You can't have a smaller, less thrilling selection of camera features than this.
The default is always photo mode. Slide your finger up or down to zoom, tap to set focus and exposure. Press the shutter button to take standard pictures, or press-and-hold to capture a burst. Burst performance is pretty slow. Swipe from the left side of the screen to access the settings.
The settings tools are minimal. You can adjust shutter sound, GPS tagging, resolution, and storage location for photos.
The layout makes sense and it's a simple camera to use. My biggest complaint is speed. It simply takes too long to focus and capture pictures. Moreover, I miss features such as slow-motion and timelapse.
Photos/Video
The G4 Play's camera captures 6-megapixel photos by default. You have to switch from 16:9 aspect ratio to 4:3 in order to get the full 8 megapixels it's capable of. The phone takes much better pictures than I was expecting.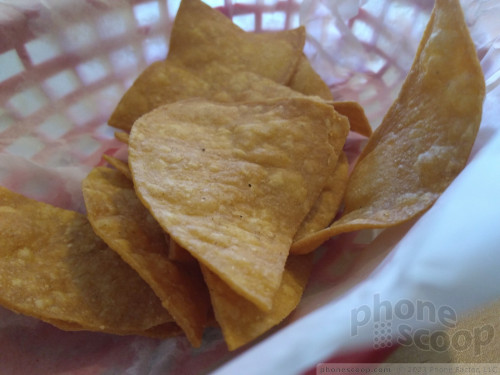 Focus is generally sharp. I rarely saw a soft shot when shooting in bright light. Like most phones, you'll see less-sharp focus in low-light. Exposure was mostly good. The G4 Play managed to keep direct sunlight in control, even when shooting white surfaces (see the wall behind my green bush.) White balance is typically okay, though it sometimes skewed a little yellow. Basically, it does a good job for this class of phone.
The selfie camera snags 5-megapixel images and does a solid job. It delivers results equivalent to the main camera, which is to say focus is good, and exposure/white balance are mostly fine. You can use the beautification tool in selfie mode to remove or obscure skin blemishes, but your mileage will vary. You'll see a lot of grain when using the selfie cam at night, and there is no user-facing flash to help.
The phone shoots up to 1080p HD video and it does well. I was happy with the footage I captured with this phone. White balance is more consistently good when compared to still pictures, and focus/exposure are spot on.
The G4 Play is certainly good enough for everyday photography, but I wouldn't use it for important stuff.
Bloatware
Since the G4 Play is sold online directly to consumers, it is only preloaded with apps from Google and Motorola itself. There is no bloatware from carriers. The phone is limited to just 16 GB of internal storage, of which you have access to about 9 GB. That's not a whole lot, so I'd plan to supplement it with a memory card.