Asus' Zenfone 3 Series Goes On Sale This Month
Article Comments 2
Oct 6, 2016, 8:00 AM by Eric M. Zeman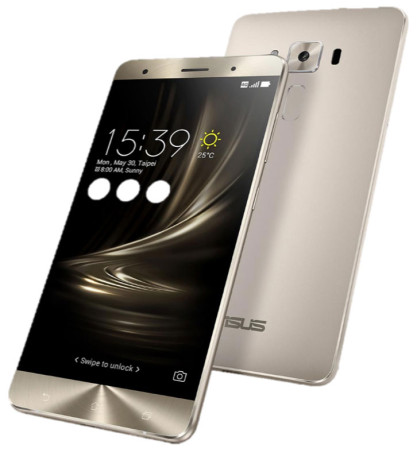 Asus today announced pricing and availability for its Zenfone 3 family of smartphones. The Zenfone 3 Deluxe 5.7 Special Edition, Deluxe 5.7, Deluxe 5.5, and Laser will all be sold unlocked, directly to consumers via Asus' web site. The phones share nearly identical designs, with aluminum unibody chassis, full HD AMOLED displays, rear-mounted fingerprint readers, dual SIM card and memory card support, USB Type-C, Android 6 Marshmallow, and Asus' ZenUI 3.0. The Zenfone 3 Deluxe 5.7 Special Edition is the most significant of the bunch, as it is one of the first devices to ship with the Qualcomm Snapdragon 821 processor aboard with 256 MB of built-in storage. The Deluxe 5.7 Special Edition and Deluxe 5.7 share most other features, including a Sony Exmor 23-megapixel camera with OIS/EIS, but the Deluxe 5.7 uses a Snapdragon 820 processor. The Deluxe 5.5 steps down the display to 5.5 inches, and includes a Snapdragon 625 processor with 4 GB of RAM and a 16-megapixel camera. The Zenfone 3 Laser is the budget-minded member of the family with a Snapdragon 430 processor, 2 GB of RAM, and 13-megapixel camera. The phones support the GSM/LTE networks operated by AT&T, T-Mobile, Cricket Wireless, and MetroPCS. The Zenfone 3 Deluxe 5.7 Special Edition costs $799, the Zenfone 3 Deluxe 5.7 costs $499, and Zenfone 3 Deluxe 5.5 costs $399. These three phones are available for preorder and will ship later this month. The Zenfone 3 Laser costs $199 and is shipping today.
256 MB of built-in storage
Impressive for 30 years ago.
Asus'
Really nice phones.
Little bit high on the bloatware though.
If you need to call their CS for anything, they are the most abysmal over the phone that I have encountered. Reps either do not pick up the phone or are absolutely not people friendly and have no clue at all how to handle anything.