Motorola To Launch HSDPA Phones in Q4
Article Comments 32
Jul 26, 2006, 6:09 PM by (staff)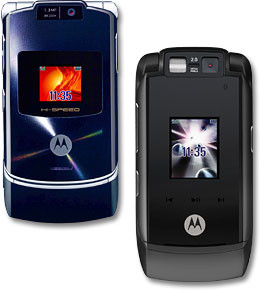 Motorola this week announced two new WCDMA+HSDPA phones. Although initially announced in versions for European networks, executives have repeatedly hinted at US versions. Both phones feature HSDPA at 3.6 Mbps, dual cameras for video calling, QVGA displays, Bluetooth, and microSD memory card slots.
MOTORAZR V3xx: Original RAZR styling and size. 1.3 megapixel camera and stereo Bluetooth.
MOTORAZR V3maxx: Same size as V3xx, but with an all-new design. EDGE data, 2 megapixel camera, and external media keys.
Three additional WCDMA and HSDPA phones are planned for release by the end of the year. At yesterday's analyst meeting, President of Mobile Devices Ron Garriques said "When I look at the five new UMTS HSDPA devices that we're launching into Q4, the significant markets that those are launching into are Europe and the US market."
these look cool, but
they are GSM. hopefully we will get some cdma ones. It will be interesting to see how video calling is implemented. Wonder what it will cost here in the US of A?
Technically, you already have CDMA versions. What's groundbreaking about these phones is that they are equipped with HSDPA and will be the first RAZR phones to have it in the US. The CDMA RAZR variants already have EVDO (broadband of their own).

As...
(continues)
The big question about the V3maxx
Will it break given a slight breeze like all the other Razrs? I really hope the KRZR will be more durable than its predecessors.
For Europe only????
aRGGGH!!! That sucks. Just when I was about to say, now thats what I"m talkin about. Motorola has delivered the goods I wanted but not to the states! Dammit! I know Rich said they 'hinted' at American versions but you know how that goes. I don't have T-Mobile so I can't use these phones.
Did you read the quote at the end?

The hint is pretty strong. He could have only been talking about one of the other three, (still unannounced,) but I have feeling he wasn't.

One way or another, Moto plans to have at least one new HSDPA phone fo...
(continues)
v3xxx dropped
who wants to call the razr upgrade with HSPDA dropped now i mean cmon Cingular doesnt do like VCAST or MOBItV services HSPDA for smartphones=smart HSPDA for normal phones=dumb can i please have the palm lennon now with HSPDA and some HSPDA in Binghamton,NY
i bet cing. will do a mobile itunes implementation like VCAST(maybe they already have 👀 ) and it isn't really important what you can do on regular phones now, it is important that the phones have the technology, so that streaming content can ...
(continues)
Is There More Than One RAZR maxx?
I think you are right, there are some confused reps out there! 😲
When will it end?
🤣 Motorola makes me laugh with each new phone they come out with. All new design on the V3maxx? Hurray! Not really. Sorry, Moto but you need to come out with an all new design not just something thin with a slightly different shape. Anyone else getting tired of all this?
😎
Hell yeah
The moto maxx looks TIGHT. besides all the sweet features.. it friggin GLOWS, how rad is that? however, im sure the price tag will make me throw up in my mouth.
Good ol Moto...
Man, Moto is smart for riding the RAZR wave to the death. I THINK most of the variants are ugly and not worth it,but the biggest thing a company can offer it customers is choice. What ever, just give me a RIZR and I'm cool...
can we get a couple pictures?...........rich, eric
😕
well shut me up and call me stupid. 🙄

nevermind.