Review: Apple Watch Series 2
Article Comments
Sep 27, 2016, 8:00 AM by Eric M. Zeman
Apple's new smartwatch takes a giant leap in the right direction thanks to a faster processor and dramatically improved software. WatchOS 3.0 retools the wearable with a strong focus on fitness. The improved screen, better battery life, and added GPS give the Series 2 just the right mix of features to make it worth using on a daily basis. Here is Phonescoop's in-depth review.
Advertisements article continues below...
Intro
The Apple Watch Series 2 offers a modest amount of hardware refinement for a second-generation device and is a wholly better smartwatch thanks to the arrival of watchOS 3.0. Together, the refreshed timepiece and software make the Apple Watch Series 2 a more complete and usable wearable, especially for fitness buffs.
Background
The first Apple Watch debuted in April 2015 and, though it went on to become the best-selling smartwatch in the market, many found the wearable incomplete and lacking focus. The user interface, controlled by the Digital Crown, drew jeers for failing to meet the "keep it simple, stupid" ideal. Moreover, the battery life wasn't all that great, apps were slow, and, well, a bunch of other things just weren't up to snuff.
The Apple Watch Series 2 rights many of the wrongs that plagued the original. Apple improved key hardware performance pain points, and, in a rare admission of defeat, completely overhauled the user interface to make it simpler to use. Here are our thoughts about Apple's second stab at the smartwatch.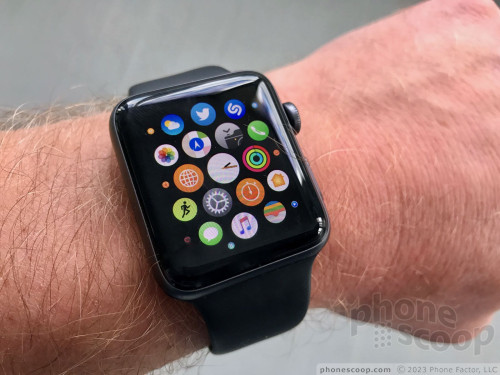 Hardware
In typical Apple fashion, the new Apple Watch looks exactly the same as the first Apple Watch. There's no obvious way to distinguish Series 1 from Series 2. The device is still somewhat thick and has a rectangular face with Digital Crown and control button on the right side. A handful of sensors are placed on the back.
The chassis comes in aluminum, stainless steel, and ceramic, and bands are available in dozens and dozens of styles. You can spend as little as $370 or as much as $1,400 on your new Series 2 watch, depending on the size, materials, and straps you pick. There's plenty of room for customization when first ordering and after the fact thanks to swappable straps. The gold-plated Watch Edition — which cost $10,000 — has been deleted from the lineup.
I tested the 42mm size with an aluminum case and nylon sport band. This configuration cost $399.
I've worn a pretty wide variety of smartwatches over the last two years. The Apple Watch is by far the most comfortable. I can't really say why. I strongly prefer round watch designs, but the Apple Watch Series 2's rectangular design doesn't bother me. The rounded underbelly of the watch is smooth against my wrist and the nylon strap fits snugly without being tight. Everyone's wrist is different, of course, and people will have varying degrees of success finding a good fit. The Series 2 "disappears" on my wrist more so than any other smartwatch. That's a good thing, because I don't want to be reminded it is there every time I move my arm.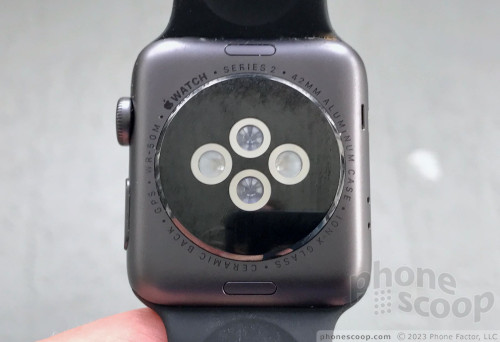 The screen is great. The 42mm case has a second-generation OLED Retina display with 390 by 312 pixels. The Series 2 display is as pixel-rich as any other smartwatch on the market, and at 1000 nits, it's crazy bright. I can easily see and interact with the screen under direct sunlight. Contrast is amazing, allowing for deep blacks and rich colors. Viewing angles are decent.
The physical action of the Digital Crown is very good. A quick press of the Crown wakes the screen and a long press opens Siri, which will listen for spoken requests/commands. The Crown spins easily. Rotating the crown zooms in on the app screen so you can actually see what they are, and it also allows you to scroll up and down within certain apps. The side button wakes the screen with a quick press. A second press opens the new Dock, and a long press of the dock button brings up the SOS dialog box. These physical controls work very well. Pressing them creates well-defined feedback. I love that you can take screenshots on the watch by pressing both buttons at the same time.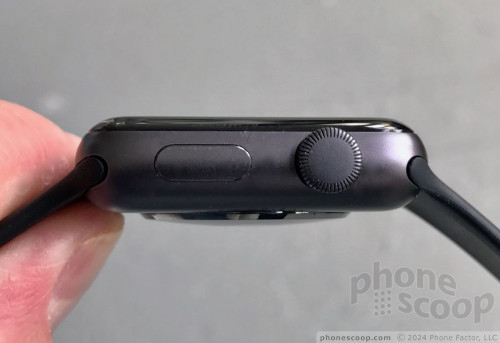 The Apple Watch Series 2 looks and acts like a techy piece of gear more so than a classic timepiece, but it functions well as a watch. It isn't ugly, and it's comfortable to wear. I think the Huawei Watch from last year looked better overall, but the Series 2 fits right in with Apple's current design language.
Software
There are two components to the software: First, every iPhone now has the Apple Watch app for setting up and managing the Apple Watch. This app is simple enough to use, as far as I'm concerned. Not only is it easier to decipher, it offers far more control over the Apple Watch than the corresponding Android Wear app does on Android devices.
On your iPhone, the Watch app helps you dial in faces and customize them; sync apps to the wearable; manage complications, notifications, and the app layout; as well as control each individual app that's installed on the watch. The tools are extensive and easy to use.
More importantly, watchOS 3.0 is on board the Series 2. Where the original platform relied too much on the messy jumble of app icons and spinning the Digital Crown, the new operating system has a cleaner app platform, dock, notifications, and other UI tools for managing information. It's by no means perfect, but it's much better than it used to be. I like how notifications drop down from above just as on the iPhone, and secondary screens/actions can be called upon by swiping up. A long press on certain apps calls up even more tools and options. These actions mirror those of the iPhone itself and bring a cohesive feel to the phone + watch experience.
It's now much easier to change watch faces, by simply swiping left and right. Watch faces themselves are fully customizable and include up to four "complications" (widgets) for accessing weather, activity, or other data.
The Glance tools are gone and the Dock is in their place. A quick press of the side button opens the Dock, which holds your eight most recently used apps. You can keep apps in the dock or dismiss them. It is a solid multitasking tool and you can even pin core apps to the Dock so they are always available.
WatchOS 3.0 really pushes the "activity" agenda. It's everywhere you look. The watch can and will constantly remind you to stand up, to breathe (in a meditative way, to calm the mind), and to be more active if you're falling behind on your daily goals. I do wish you could prioritize some of the activities over others. For example, I care more about my step count than I do how often I've stood each hour. It would be nice to have control over what three activities are given prominence in the colorful activity monitor.
You can install and use third-party fitness apps, too, which can record data and then share it with the phone-bound Apple Health app. In other words, you can choose to at least partially ignore Apple's activity tracking tools in favor of another. Apple has done a good job with this third-party app integration. This gives people more freedom to consume the data however they wish.
(The original Apple Watch and the Apple Watch Series 1 device also gain access to WatchOS 3.0.)
Performance
After a full week of testing, I'd say the Apple Watch battery performed on par with Android equivalents. I put the watch on around 8am each morning and took it off around midnight. At bedtime the watch still had 35% to 45% battery left, which is really quite decent. That's with eyeballing notifications all day, checking fitness stats, testing various apps, and more. Most Android Wear devices I've tested fall into that same range with similar usage. The Series 2 will be close to dead by the following morning, however, which means you have to charge it each night. On days I used the watch intensely, it was apt to go into low power mode just before bedtime.
Apple says the Series 2 is "swim proof." Technically, it is water resistant to 50 meters, or about 200 feet. That's quite a dive. I didn't get to go swimming while wearing the watch, but I did dunk my arm in the river near my house and left the watch on whilst washing my hands, taking showers, and so on. No problems. The Series 2 is totally able to handle getting wet. Apple says the watch can be used in pools no problem (chlorine not an issue), but it doesn't say anything about swimming in salt water.
The Bluetooth and GPS radios both work wonderfully. The initial Bluetooth pairing process with the iPhone could not be any simpler. Moreover, the Series 2 maintains a good Bluetooth connection to the iPhone at much greater distances than I've seen from competing smartwatches. Apps may now be running on the device locally, but, when needed, the Series 2 is still really quick to push data from the watch to the phone and vice versa.
The GPS radio helps in two distinct uses: logging workouts and emergencies. With respect to the former, the Series 2 is amazingly accurate. I've walked the same route around my town for years and the Apple Watch nailed the distances down to the hundredth of a mile. The darned thing actually knew which side of the sidewalk I traversed, let alone which side of the street. As for emergencies, the Series 2's SOS function (long press of the side button) can reach out to designated emergency contacts with your location. Given the accuracy of workout logging, the Series 2 will let people know exactly where you are when necessary. That's important.
Apps now run wholly on the watch itself. In general, they are quick to open and responsive. Every now and then they need to grab data from the phone and you'll notice a small delay. The improved processor in the Series 2 really helps here, as does Apple's decision to move apps from the phone to the watch. Apple said it was targeting a two second window for app response time and it definitely nailed that. I never found myself tapping my toes or drumming my fingers waiting for watch apps to open.
Discussion
I've used Android Wear watches for the last two years chiefly to manage notifications, send some short replies, scout ahead through my calendar, and, yes, track fitness to some degree. The Apple Watch excels at fitness tasks and is very good at the rest.
The Apple Watch Series 2 is a fine piece of hardware, even if I prefer round devices with slightly bigger screens. I found the device to be comfortable to wear and I often forgot I had it on. The screen is bright and colorful, battery life is certainly good enough when compared to other smart watches, and GPS tracking for workouts is incredibly accurate and helpful. I'm not a big swimmer, but the Apple Watch Series 2's ability to withstand punishing amounts of water exposure is sure to make many happy.
Apple did a fine job in reimagining the user interface and software of the Apple Watch. I'm happy that the app menu has been deprioritized in favor of the more useful Dock. Clock faces are now more fun to interact with, and offer lots of opportunity for customization. The interface is also more cohesive with iOS 10, which helps improve usability.
Perhaps most importantly, the fast second-generation processor makes for a far smoother and more enjoyable user experience.
iPhone owners can choose smartwatches from Pebble or even Android Wear if they want, but the Apple Watch Series 2 is by far the best option for iOS 10 users. It's certainly a pricey wearable, but the added features when compared to dedicated fitness devices are worth the extra cost in my opinion.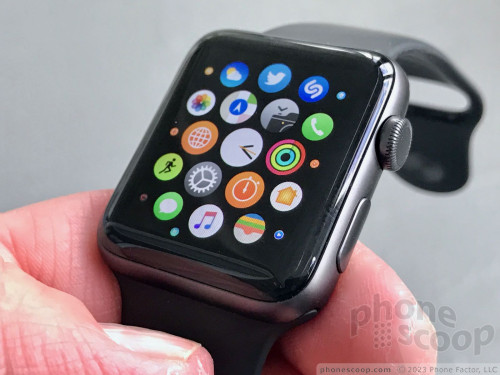 No messages