Hands On with Blu's Life One X2
Article Comments
Sep 23, 2016, 10:46 AM by Rich Brome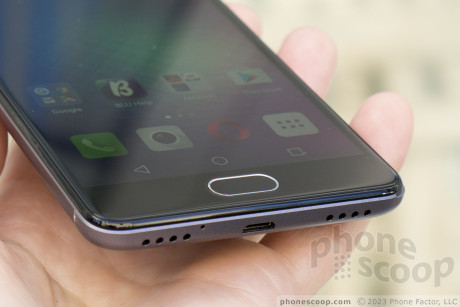 Blu has a new Android phone offering desirable specs like a fingerprint reader, 5.2-inch, full-HD screen, 16-megapixel camera, fast charging, and memory card slot, all for under $200 unlocked. We spent a little time with it. Read on for our impressions.
The Life One X2 represents an attempt by Blu to bring premium features and design down to the lowest possible price. The premium here is curved-edge glass on the front, a metal back, full-HD display, a fingerprint reader, 16-megapixel camera, and fast charging. It technically delivers on all of those, but with a few compromises.
The front of the Life One X2 sports a 5.2-inch, full-HD display. That's the sweet spot in both size and resolution these days. It's a decent display; not amazing, but quite good for the price range.
The glass is billed as "curved glass", by which of course they mean a rounded edge. It's not quite as rounded as it is most other phones. So while it is very comfortable to hold and swipe, it's not a notable design element from a distance. The selfie flash is quite visible at the top. The large fingerprint reader has a shallow-but-sharp rim that makes it easy to find by feel.
The back and sides form one shell that pops off to access the card slots. There are two micro-SIM slots plus a separate memory card slot. Sadly, the battery is not removable. It's all too easy to put the shell on imperfectly, leaving gaps that aren't obvious by sight, but hurt the feel of the phone.
The shell includes the side keys, which work very well.
The metal back isn't actually all metal, and it may not feel like metal at all, to some. The very top and bottom of the shell are plastic, presumably to accommodate the antenna design. The main part is metal, but a relatively thin, cheap type of metal; I'm guessing magnesium. It feels much better than plastic and has a nice matte finish, but no one will mistake it for the high-grade aluminum used in more premium phones. The shiny bands between the metal and plastic aren't fit together perfectly, although this isn't a place you'll touch the phone often.
Oddly, Blu is using a micro-USB connector here, despite launching phones with the newer USB Type-C at the start of the year.
The phone does have fast charging thanks to Qualcomm Quick Charge 3.0 in its Snapdragon 430 processor. The 430 is not a high-end chip, but it is a very new chip, so it should be notably faster than previous 400-series chips.
Crucially, the Life One X2 comes in two versions: one with 16 GB of storage and 2 GB of RAM, and a step-up version with 64 GB of storage and 4 GB of RAM. Definitely spring for the step-up version. These days, 2 GB is a low amount of RAM that limits performance, while 4 GB is excellent. 16 GB would be enough storage (considering there's a memory card slot) except that Blu's software is a space hog, so you really want that 64 GB of storage as well.
In a few very brief tests, the 16-megapixel camera performed well enough. Blu advertises the phone as having "PDAF laser focus". It almost certainly does not have laser focus. It may have PDAF, but the focusing seems typical of this class of phone, including a small bit of back-and-forth "hunting" when focusing, even in good light. Don't expect super-fast focusing you'd find on a flagship phone with PDAF.
HDR shots are above-average for this class of phone; that's something many cheaper phones do poorly. The camera interface is the same one Blu is putting on most of its phones this year; it's decent.
The rest of the interface is mostly standard Android. The few tweaks include an app list grouped alphabetically, enlarged icons in Quick Settings, and custom app icons. The Life One X2 does not have the more involved custom interface seen on Blu's Vivo series.
The Life One X2 has crucial low-band LTE (band 12) support that many other Blu phones lack. If you're looking at similar models in Blu's (huge) lineup, that's a good reason to narrow your focus on this one.
Overall, this looks like a decent phone for the price.
The 64/4 GB model I'd recommend is just $200 outright. (Blu is running a 10% discount on pre-orders through Sept. 23 that brings it down to $180.) That's a great price for a phone with this screen and camera, plus the extras like fingerprint reader.
No messages