MWC 2008
Part 1 Part 2 Part 3 Part 4 Part 5 Comments 32
Samsung TouchWiz & F480 Modu Motorola
We were a bit surprised to see that Motorola only announced some low-end phones for emerging markets at Mobile World Congress. No high-end phones at all, and one of the phones announced was just an upgrade of an existing model. Motorola must really be having issues for it to make so poor a showing at one of the biggest mobile events of the year. Here's what it showed.
Z6w
The Z6w is an update to the Z6 slider series and adds Wi-Fi. Aside from that, it is the same in most other respects.
Advertisements article continues below...
The phone Motorola had on hand was a prototype, and not a final build. There were two contacts on the back as if the phone was meant to be slid into a charging dock rather than plugged in. When we asked about the contacts, Motorola did not have an answer for what their function was. Also, the Wi-Fi turned on and off, but we were not shown any demos of it connecting to a network.
Like the other Z6 models, it is comfortable to hold, and the slide mechanism worked well.
W161 / W181
These two bar-style phones are meant for emerging markets. They are simple and offer almost no features at all. They are thin, small, and very pocketable. Holding them in your hand, they have almost no weight to them at all. Each has a 2.5mm headset jack on the left side, and an on-board FM radio. The back of the phones has a cross-hatched pattern to them, giving them a little bit of grip.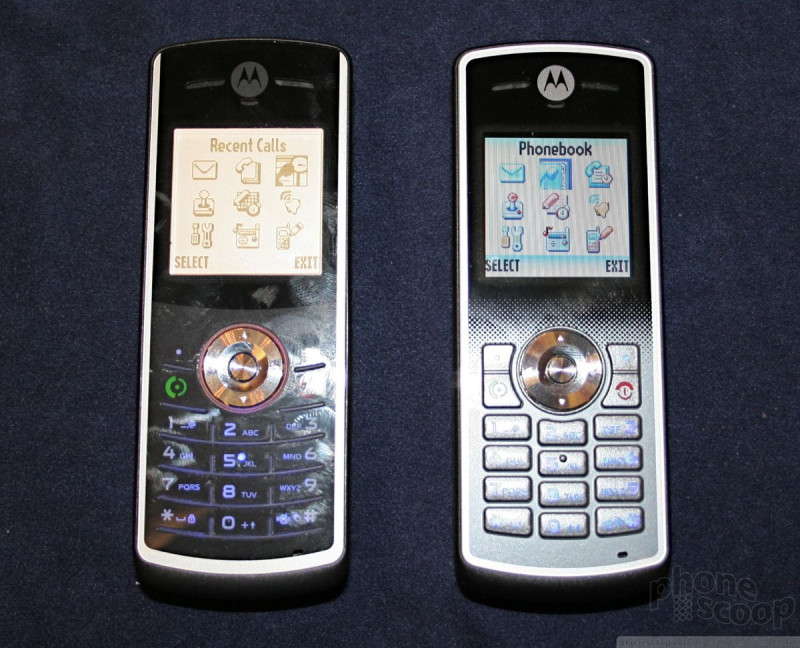 The W161 has real buttons for the keypad and navigational controls. They are small, but easy to find and have good feedback. I found the d-pad and softkeys to be a little to small, but they worked without issue.
The W181 has a RAZR-esque keypad that is flat and has ridges separating the rows of keys. All the buttons had good travel and feedback, though they did feel a little bit on the cheap side.
Each had the most basic of user interfaces, consisting of a simple grid with 9 icons for the phones' applications and settings. The W161 has a color screen, but the W181 has a black and white screen. Both of them have extended battery life, with standby time stretching to three weeks.