Review: OnePlus 3
Article Comments 5
Sep 13, 2016, 11:00 AM by Eric M. Zeman
The OnePlus 3 boasts top-level specs and performance, but is more affordable than you might think. Those interested in exploring the unlocked Android market will find a lot to like in the OnePlus 3. Here is our full review.
Advertisements article continues below...
Hardware
Is It Your Type?
The OnePlus 3 is a phone for people who want freedom: freedom from carriers, freedom from bloatware, and freedom to customize. This unlocked Android handset falls into the "affordable flagship" class of devices, meaning it has premium build and specs, but costs significantly less than class leaders from Samsung, LG, HTC, and others. The OnePlus 3 delivers a lot of bang for the buck and deserves your consideration.
Body
OnePlus is a Chinese company that has been pushing into the U.S. slowly over the last few years. The OnePlus 3 — its third-generation flagship handset — is the company's most attractive and powerful offering yet. The 3 is also the most "available" handset from OnePlus, as U.S. consumers can buy it easily online if they wish.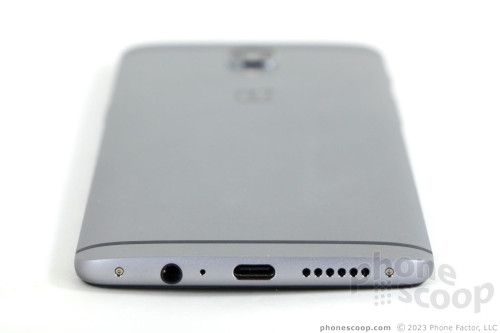 I'm not going to say OnePlus copied the design of the iPhone 6 Plus or HTC 10, but the 3 strongly resembles both these phones. It has a simple, direct, metal-and-glass appearance. It was milled from a single block of aluminum and has antenna lines that run side-to-side across the back. The metal chassis forms the rear and side surfaces of the phone, with 2.5D glass on front. The 3 comes in graphite or gold. I could write these same sentences about the 6 Plus and 10. It's a good design, but far from an original one.
The 3 is svelte. It's about the same dimensions as the Alcatel Idol 4S and ZTE Axon 7, against which it competes directly. The phone is tall and wide, but is also incredibly slim and relatively light. With a 5.5-inch screen, it is definitely in phablet territory and often requires two hands to use. I had a hard time reaching the upper portions of the display with my thumb, even if I changed my grasp and stretched my hand. OnePlus curved the back panel near the side edges, which helps push the phone a bit deeper into your palm. The phone's thin profile helps when it comes time to put the phone in your pocket. I had no trouble slipping it into jeans, slacks, or shorts.
You can't ask for better materials or build quality. The metal chassis feels strong and solid, despite how little the phone weighs. The glass is curved right where it meets the chamfered aluminum side edges. The phone's design flows all the way around, making it clear OnePlus took pains to assemble the phone carefully.
Like most modern phones, the display consumes the lion's share of the 3's front surface. Slim bezels run along the side edges, with thicker bands of black glass above and below the screen. A fingerprint sensor is the only button/control below the display. It can double as a home key. The reader is indented slightly, which makes it easier to find with your thumb. The 3 uses on-screen buttons to control the user interface.
The 3 has one of the most useful buttons I've seen on a phone in some time. On the left edge, near the top, you'll find a three-position switch. This switch sets the ringer profiles: totally silent, vibrate, all sounds/alerts. This is a great way to quickly change the setting of your phone without requiring you to unlock it or even pull it out of your pocket. The switch has a ribbed texture and generous profile, and the three positions are easy to detect as you move the switch back and forth. OnePlus stuck the volume toggle below this switch. The metal toggle is thin, but has a good profile and decent travel and feedback.
OnePlus did a good job with the lock button on the right edge. It has an excellent profile and just about perfect travel and feedback. The SIM tray is above the screen lock button. The phone supports one or two SIM cards for separate accounts, but doesn't support memory cards. The 3.5mm headphone jack, USB Type-C port, and speaker are all tucked into the bottom edge. Note that USB-C is gaining in popularity, but still less common than micro-USB.
The rear panel is mostly flat, but tapers slightly where the panel approaches the side edges. There are two black antenna lines, one near the top and a second near the bottom. The camera module is perched close to the top edge. It protrudes quite a bit from the rear surface, and has a nice chrome rim to help it stand out. The LED flash is just below the camera.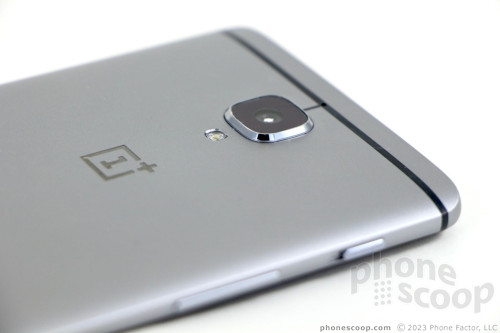 The unibody metal chassis means the battery is sealed up inside nice and tight. The phone doesn't support wireless charging, but it does include rapid wired charging.
In sum, the OnePlus 3 is an excellent handset on par with devices from brand-name competitors that cost much more.
Screen
The display is one spec where the OnePlus 3 trails the Alcatel Idol 4S and ZTE Axon 7. It measures 5.5 inches across the diagonal and sticks with 1080p full HD, rather than quad HD. If you're not interested in using your phone for VR, the OnePlus 3 still manages to hold its own. The 3 has plenty of pixels for browsing the web, watching videos, and viewing Instagram imagery. I found everything was sharp enough. The phone uses what OnePlus calls Optic AMOLED screen technology, which is in turn protected by a slab of Gorilla Glass 4. The display is plenty bright, offers rich colors and contrast, and puts out enough light for easy outdoor use. Viewing angles are quite good; there's a bit of brightness drop, but no blue shift. The OnePlus 3 may not have as many pixels as its competitors, but the experience isn't lacking.
Signal
OnePlus sells the 3 unlocked. It includes support for LTE Bands 2, 4, 5, 12, and 30, which means it is fully compatible with AT&T and T-Mobile's 4G networks, as well as their subsidiaries', Cricket and MetroPCS. Support for AT&T's band 30 is unusual among unlocked phones, and should help with 4G LTE data speeds and coverage.
I tested the 3 on both AT&T and T-Mobile and was generally impressed. The phone connected to both networks without trouble and held onto 4G most of the time. I did see the 3 drop to HSPA 3G a bit more often than carrier-branded devices under the same conditions, but it was never for long and didn't impact performance in an obvious way. The device was always able to make calls and hold onto them at highway speeds. I didn't suffer any dropped or missed calls while testing the device. Data speeds were solid. The phone was able to handle streaming from YouTube and Spotify via LTE with no problem, and was always quick to load content from Facebook and Instagram.
Sound
The OnePlus 3 suffices as a voice phone. Call quality is acceptable through the earpiece with little-to-no distortion, but the phone doesn't pump out enough volume. I was able to hear calls in my quiet home, a stationary car, and an empty mall with no issue, but it's nearly impossible to hold a conversation in a noisy coffee shop, moving car, or any other space with lots of background noise. Clarity could be better; voices often sound like they're fighting their way through a wet sock. People I spoke to through the 3 said I sounded far, far away.
The speakerphone delivers clarity that's on par with the earpiece. It also comes up weak as far as volume is concerned. The speakerphone is downright quiet even when set all the way up. You need to be in a quiet space to use the speakerphone effectively.
The Alcatel Idol 4S and ZTE Axon 7 have powerful stereo speakers that are not only far louder, but offer a fuller range of sound, too.
Ringers and alerts are loud enough, and the vibrate alert delivers a powerful jolt.
Battery
OnePlus gave the 3 what has become the standard-size battery for a device in this class: 3,000 mAh. If you need all-day power, the OnePlus 3 has you covered in spades. I found the battery consistently pushed through 1.5 days without breaking a sweat. That means from breakfast one day through lunch the second day. I was sure to run a wide variety of apps with all the radios on and screen brightness set to about 60%. We can thank the 1080p resolution a bit here, (as more pixels would take more power to illuminate.) The OnePlus 3 offers more than enough battery life for average users.
The device includes the basic battery saver tool from Google. You can turn this on whenever you want, or have it come on automatically when the battery reaches 15% or 5%. It reduces screen brightness, cycles back the processor, reduces notifications, and so on.
The 3 includes what OnePlus calls Dash Power. It is a variant of Qualcomm's QuickCharge technology. OnePlus claims a 30-minute charge will replenish over 60% of the 3's battery, allowing for more than 7 hours of HD video playback. It recharges very quickly. The phone doesn't support wireless charging.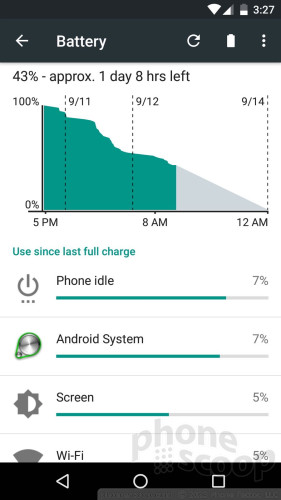 Bluetooth, GPC, NFC, WiFi
All of the 3's secondary radios did well enough. The Bluetooth radio paired with headphones and speakers easily enough, but it wouldn't talk to my car at all. Calls pushed to mono headsets were decent, if quiet. Music sounded pretty good through several different sets of Bluetooth speakers. The phone was able to pair with other phones and PCs for file transfers when necessary.
Cars use a distinct Bluetooth mode known as HFP. (Headsets use HSP and music speakers use A2DP.) HFP seems to be broken on our OnePlus 3.
NFC is aboard and I found it helpful when pairing with some accessories. The NFC radio can also be put to use with Android Pay for mobile (tap) payments if you wish.
The GPS radio worked flawlessly. The phone was able to locate me in a blink and accuracy was about 20 feet. The OnePlus 3 has more than enough accuracy and juice to power Google Maps, which was particularly helpful when I needed help finding my way around Berlin.
The WiFi radio didn't give me any cause for concern.
Software
Lock Screen
The 3 includes a wide selection of options for managing the lock screen and notifications.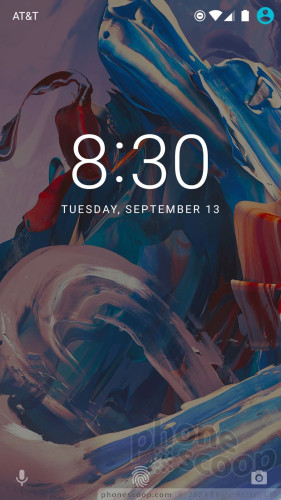 First, you can set the Ambient Display to on or off. OnePlus' Ambient Display, like many others, wakes the screen with simple notifications when messages or emails arrive. The screen is on for perhaps three seconds before it blinks off again. Missed the notification? Wave your hand over the screen to see the simple notification again, or double-tap the screen to fully wake the lock screen.
The full lock screen includes the time, date, and list of notifications. You can get rid of notifications one at a time or en masse. Double-tapping a notification opens the associated app, such as email or Facebook Messenger. As always, you can define which apps are allowed to push notifications to the lock screen, as well as how much information is shared on the lock screen. The notification screen also includes shortcuts to the phone and camera apps. You cannot customize these shortcuts.
As far as security goes, the 3 includes PIN, pattern, password, and fingerprint. The fingerprint reader works flawlessly. I was able to set up several fingers and the phone recognized them each quickly and accurately. The fingerprint reader is top notch.
Remember the profile switcher I mentioned? It's called the Alert Slider, and is meant to help control notifications that would vibrate, make noise, or both. As noted, it's easy to set the phone to fully silent (even alarms) or full volume for everything. There are menu settings that allow users to specify just which apps fall into which profiles and what sort of sound/vibrate patterns they are allowed to use. This is incredibly useful.
Last, you can customize the LED indicator light to blink specific colors for specific types of messages.
Menus
All of OnePlus' handsets run "OxygenOS", which is really just a skin for Android. The OnePlus 3 runs Android 6 at its core and the phone includes the Google Play Store and all the apps therein. Anyone familiar with Android will know exactly how to use the OnePlus 3. In fact, the device offers a near-to-stock Android experience. OxygenOS does, however, add a wide range of extra tools for tweaking how the OnePlus 3 operates.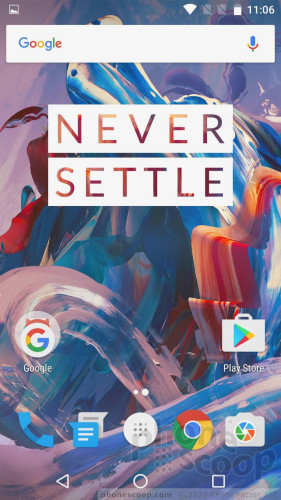 Out of the box, the phone has two home screen panels up and running with a third, called the Shelf, off to the left. The home screen panels function as they would on any other Marshmallow handset. That means they accommodate wallpapers, shortcuts, widgets, and so on. The Shelf is its own story.
The Shelf is a customizable space where you'll find what matters most or what you use most. By default, it shows the local weather, a shortcut for writing a note, and several app suggestions that change over time. You can also add in your favorite contacts and a couple of app widgets. It's more like the suggested apps/search tool in iOS 10 than Google Now. Honestly, I have no use for it and thankfully you can turn it off completely if you want.
OxygenOS relies on Android's standard full app menu, Quick Settings shade, and settings menu. This is good news, since they function as you'd expect, which is very well.
Then there are the extras. First, dark mode. You can set the OnePlus 3 to switch to Dark Mode, which is meant for use at night. Dark Mode changes what are normally white screens to black, and black text to white. It primarily impacts menus and other system screens; it does not change apps. I like that you can adjust the accent colors.
Second, you may customize the status bar. OxygenOS allows you to choose which app icons are displayed in the status bar and which are not. Third, you can adjust the software buttons so they run back-home-switch, or switch-home-back (if you're used to the Samsung arrangement.) Even better, you can assign actions for long-presses of these buttons (voice search, open last app, recent apps, etc.) Fourth, the fingerprint reader doubles as a home button if you want, or not. When it is active as a home button, you can customize long press and double-tap actions. Fifth, there are plenty of gestures, such as drawing an "O" on the lockscreen to open the camera, or drawing a "V" to turn on the flashlight. You can also launch playlists and even go forward and backward tracks.
These extras are not only neat, but also useful. They help make the OnePlus 3 a more personal device that responds to more intimate input.
OnePlus' "OxygenOS" doesn't seem to impact performance at all. The 3 has a Qualcomm Snapdragon 820 processor with 6 GB of RAM, which is about as good as it gets. You can't ask for more, especially in such a modestly-priced smartphone. This handset does everything lickety split.
Camera
There are multiple ways to launch the camera; it's up to you to pick which works the best. For example, you can set the camera to launch when you double-press the screen lock button or double-tap the fingerprint sensor. You can open the camera from the lock screen, or with a long-press of the back, home, or recent apps buttons. I favor a double-press of the screen lock button. Whichever way you choose, the camera opens in about 1 second.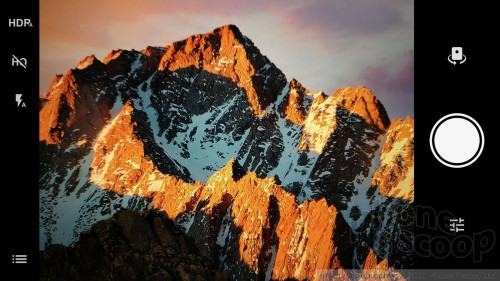 The camera app is rather simple and I appreciate that. You'll see controls sprinkled down the left and ride sides of the viewfinder: on the left are toggles for HDR, RAW, and the flash, while on the right are buttons for the selfie cam, shutter button, and timer/grid controls. I like that the HDR and flash functions both include an "auto" option; even better, the camera warns you ahead of time when it will use HDR or fire the flash, as you point and shoot.
Swipe the screen up or down to switch between still and video modes. Other modes are accessed by swiping the screen to the right. Those modes include: time-lapse, slow motion, auto, video, manual, and panorama. Swipe the screen to the left to see your most recent shot.
The shooting modes behave as you'd expect them to are are fairly simple to use. When in manual mode, you can set exposure (up to 30 seconds), focus, white balance, and ISO. Easy-to-decipher dials help you select what's best, and the screen previews the type of exposure you may get with those settings.
If there's anything about the camera I dislike, it is the speed of the UI. The OnePlus 3 is very quick to snap pictures; that's not the problem. The issue is moving from mode-to-mode, or adjusting settings, and so on. The app pauses for an instant, as if it needs to consider what to do before reacting to your input. The top-end processor can't be at fault here, so it has to be the software.
Photos/Video
The OnePlus 3 has a 16-megapixel sensor with both optical and electronic image stabilization, and phase detection autofocus. The camera boasts an aperture of f/2.0, and those 16 million pixels are each 1.12 microns in size. OnePlus will also try to sell you in its Dynamic De-Noise technology to get rid of grain. Does all this techno mumbo-jumbo truly lead to better images? Mostly.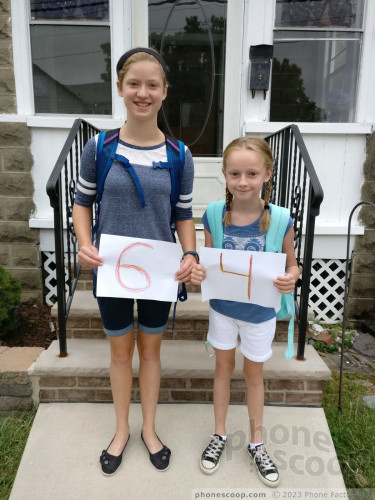 I was generally pleased with the quality of shots I captured through the OnePlus 3. Core aspects — including focus, exposure, and white balance — were on point most of the time. I took most of the images below just before sunset. That's a challenging time of day, and the OnePlus 3 had to balance out scenes with incredibly bright areas and dramatically dark areas. The phone did a commendable job in that respect, and did so without grain or other noise that might ruin similar shots. Does the OnePlus 3 camera compare to the Galaxy S7 or iPhone 7? No, but it does better than the Idol 4S and lands on equal footing with the Axon 7.
The 8-megapixel selfie camera does well, too. It doesn't have quite so much technology backing it up, but you can see that it managed to capture details in the dark foliage behind me without totally blowing out my white t-shirt. That's not easy. Curiously, there is no self-beautification software; nor is there a user-facing flash of any kind.
The phone shoots video at resolutions up to 4K. I think most people will be more than satisfied with the 1080p full HD resolution video they capture. The phone handles focus, exposure, and color very well, with minimal grain.
The OnePlus 3 is a fine camera for this class of phone. It can serve as most people's main, everday imaging and video device.
Wrap-Up
OnePlus managed to create a compelling handset in the 3. The phone covers all the necessary bases to be deemed a flagship, and yet it doesn't even come close to flagship pricing.
The unibody chassis is well-designed and attractive, even if a bit familiar. The phone is glued together tightly, giving it an air of strength. It's big, but the 3 is still easy to carry around and use. The screen isn't the absolute best for this class of device, but it's certainly good enough. I wasn't enamoured with call quality and speaker volume, but data performance is solid and battery life is beyond excellent. Rapid charging more than makes up for the sealed-in battery. The 3 ships with a generous 64 GB of storage, but some may complain about the lack of memory card support. The fingerprint sensor is as quick and accurate as any I've tested. Some might be concerned about the lack of in-car Bluetooth.
Don't be put off by OnePlus' so-called OxygenOS. The phone practically runs stock Android and, in fact, is more customizable than many of its competitors thanks to a litany of options like Active Display, Shelf, and Dark Mode. The camera app is solid and the phone's imaging sensors deliver fine photographs and videos.
As far as value is concerned, it's hard to beat the OnePlus 3. The phone is available online, unlocked for $399. That's the same price as the Alcatel Idol 4S, ZTE Axon 7, and Huawei Honor 8 — and hundreds less than iPhone or Galaxy S.
The OnePlus 3 is an excellent option that should excite those seeking freedom from carriers and the boring, me-too handsets lining the shelves of electronics stores.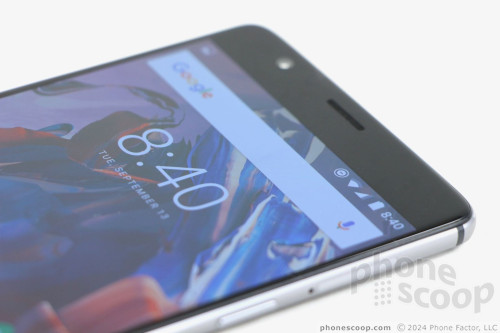 ZTE and Alcatel
Both have the OP beat in each category.
What I Ordered
Not that the OP isn't a great unit, but it didn't meet my needs. Why? Simple!!! The ZTE Axon 7 is pretty well one- on- one with the OP, but the Axon 7 leaves the OP in the dust when it comes to the speakers . Not that this is my only concern, but along with a 5.5" to 5.7" screen, it's at the top of the list. My current phone is a Alcatel Idol 3 5.5". I buy my unlocked phones outright ...
Very nice phone
I just picked this up direct from the website, took about 3 weeks but worth it. Phone is very fast. I use Verizon for voice and T mobile for data. Works pretty good. Sometimes it will jump around on Tmobile from 4G to LTE and back. Verizon on this device is 3G only. This is a good combination for me because Verizon data in West Michigan can be mud and Tmobile is solid. Verizon is work, Tmobile is personal. Now I can carry 1 phone finally. Can't beat the price, trying to convince the wife to dump the Note 7 before it combusts. She is on tmobile with jump on demand which is fine but 11 months of leasing pays for the OnePlus 3. If you ask me it is the current golden nugget for price and performance.
Are the Sims Dual Active?
This is an important feature to some but it seems no one ever mentions it. Are both sims active at once, receiving calls and texts on both, or do you have to switch Active SIM and Standby SIM in the UI? Can both slots access LTE Data or just one slot, as is much more common?

That's what I want in a phone, support for Both a Tmo and ATT sim that can Both get LTE data, even if you have to switch the active data connection manually. Tmo is much faster in some areas and ATT in others, so I want to be able to switch active data on the fly.

To me that is even more important than being able to receive calls on both lines.
You can sort of use both at the same time. The phone's software allows you to select which SIM is prioritized for data, calls, and SMS. You can choose one SIM for calls and SMS, and the other for data, or any combination of the three.