Review: OnePlus 3
Hardware Software Wrap-Up Comments 5
Lock Screen
The 3 includes a wide selection of options for managing the lock screen and notifications.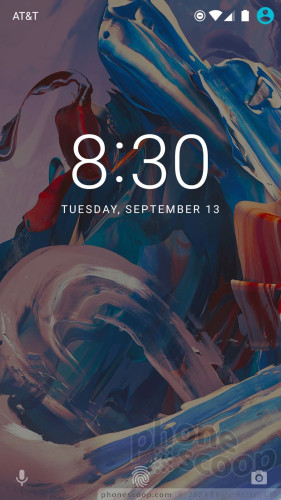 First, you can set the Ambient Display to on or off. OnePlus' Ambient Display, like many others, wakes the screen with simple notifications when messages or emails arrive. The screen is on for perhaps three seconds before it blinks off again. Missed the notification? Wave your hand over the screen to see the simple notification again, or double-tap the screen to fully wake the lock screen.
Advertisements article continues below...
The full lock screen includes the time, date, and list of notifications. You can get rid of notifications one at a time or en masse. Double-tapping a notification opens the associated app, such as email or Facebook Messenger. As always, you can define which apps are allowed to push notifications to the lock screen, as well as how much information is shared on the lock screen. The notification screen also includes shortcuts to the phone and camera apps. You cannot customize these shortcuts.
As far as security goes, the 3 includes PIN, pattern, password, and fingerprint. The fingerprint reader works flawlessly. I was able to set up several fingers and the phone recognized them each quickly and accurately. The fingerprint reader is top notch.
Remember the profile switcher I mentioned? It's called the Alert Slider, and is meant to help control notifications that would vibrate, make noise, or both. As noted, it's easy to set the phone to fully silent (even alarms) or full volume for everything. There are menu settings that allow users to specify just which apps fall into which profiles and what sort of sound/vibrate patterns they are allowed to use. This is incredibly useful.
Last, you can customize the LED indicator light to blink specific colors for specific types of messages.
Menus
All of OnePlus' handsets run "OxygenOS", which is really just a skin for Android. The OnePlus 3 runs Android 6 at its core and the phone includes the Google Play Store and all the apps therein. Anyone familiar with Android will know exactly how to use the OnePlus 3. In fact, the device offers a near-to-stock Android experience. OxygenOS does, however, add a wide range of extra tools for tweaking how the OnePlus 3 operates.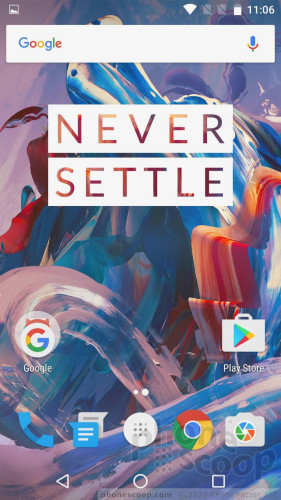 Out of the box, the phone has two home screen panels up and running with a third, called the Shelf, off to the left. The home screen panels function as they would on any other Marshmallow handset. That means they accommodate wallpapers, shortcuts, widgets, and so on. The Shelf is its own story.
The Shelf is a customizable space where you'll find what matters most or what you use most. By default, it shows the local weather, a shortcut for writing a note, and several app suggestions that change over time. You can also add in your favorite contacts and a couple of app widgets. It's more like the suggested apps/search tool in iOS 10 than Google Now. Honestly, I have no use for it and thankfully you can turn it off completely if you want.
OxygenOS relies on Android's standard full app menu, Quick Settings shade, and settings menu. This is good news, since they function as you'd expect, which is very well.
Then there are the extras. First, dark mode. You can set the OnePlus 3 to switch to Dark Mode, which is meant for use at night. Dark Mode changes what are normally white screens to black, and black text to white. It primarily impacts menus and other system screens; it does not change apps. I like that you can adjust the accent colors.
Second, you may customize the status bar. OxygenOS allows you to choose which app icons are displayed in the status bar and which are not. Third, you can adjust the software buttons so they run back-home-switch, or switch-home-back (if you're used to the Samsung arrangement.) Even better, you can assign actions for long-presses of these buttons (voice search, open last app, recent apps, etc.) Fourth, the fingerprint reader doubles as a home button if you want, or not. When it is active as a home button, you can customize long press and double-tap actions. Fifth, there are plenty of gestures, such as drawing an "O" on the lockscreen to open the camera, or drawing a "V" to turn on the flashlight. You can also launch playlists and even go forward and backward tracks.
These extras are not only neat, but also useful. They help make the OnePlus 3 a more personal device that responds to more intimate input.
OnePlus' "OxygenOS" doesn't seem to impact performance at all. The 3 has a Qualcomm Snapdragon 820 processor with 6 GB of RAM, which is about as good as it gets. You can't ask for more, especially in such a modestly-priced smartphone. This handset does everything lickety split.
Camera
There are multiple ways to launch the camera; it's up to you to pick which works the best. For example, you can set the camera to launch when you double-press the screen lock button or double-tap the fingerprint sensor. You can open the camera from the lock screen, or with a long-press of the back, home, or recent apps buttons. I favor a double-press of the screen lock button. Whichever way you choose, the camera opens in about 1 second.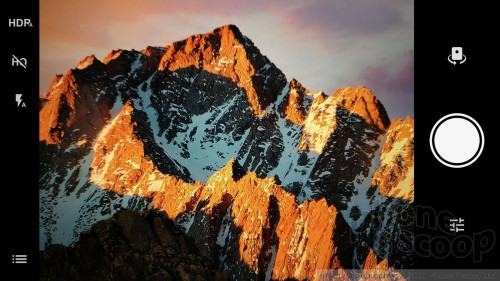 The camera app is rather simple and I appreciate that. You'll see controls sprinkled down the left and ride sides of the viewfinder: on the left are toggles for HDR, RAW, and the flash, while on the right are buttons for the selfie cam, shutter button, and timer/grid controls. I like that the HDR and flash functions both include an "auto" option; even better, the camera warns you ahead of time when it will use HDR or fire the flash, as you point and shoot.
Swipe the screen up or down to switch between still and video modes. Other modes are accessed by swiping the screen to the right. Those modes include: time-lapse, slow motion, auto, video, manual, and panorama. Swipe the screen to the left to see your most recent shot.
The shooting modes behave as you'd expect them to are are fairly simple to use. When in manual mode, you can set exposure (up to 30 seconds), focus, white balance, and ISO. Easy-to-decipher dials help you select what's best, and the screen previews the type of exposure you may get with those settings.
If there's anything about the camera I dislike, it is the speed of the UI. The OnePlus 3 is very quick to snap pictures; that's not the problem. The issue is moving from mode-to-mode, or adjusting settings, and so on. The app pauses for an instant, as if it needs to consider what to do before reacting to your input. The top-end processor can't be at fault here, so it has to be the software.
Photos/Video
The OnePlus 3 has a 16-megapixel sensor with both optical and electronic image stabilization, and phase detection autofocus. The camera boasts an aperture of f/2.0, and those 16 million pixels are each 1.12 microns in size. OnePlus will also try to sell you in its Dynamic De-Noise technology to get rid of grain. Does all this techno mumbo-jumbo truly lead to better images? Mostly.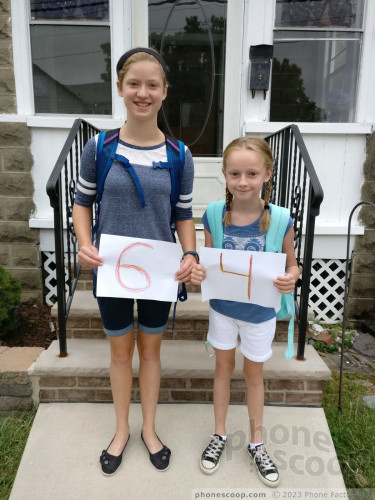 I was generally pleased with the quality of shots I captured through the OnePlus 3. Core aspects — including focus, exposure, and white balance — were on point most of the time. I took most of the images below just before sunset. That's a challenging time of day, and the OnePlus 3 had to balance out scenes with incredibly bright areas and dramatically dark areas. The phone did a commendable job in that respect, and did so without grain or other noise that might ruin similar shots. Does the OnePlus 3 camera compare to the Galaxy S7 or iPhone 7? No, but it does better than the Idol 4S and lands on equal footing with the Axon 7.
The 8-megapixel selfie camera does well, too. It doesn't have quite so much technology backing it up, but you can see that it managed to capture details in the dark foliage behind me without totally blowing out my white t-shirt. That's not easy. Curiously, there is no self-beautification software; nor is there a user-facing flash of any kind.
The phone shoots video at resolutions up to 4K. I think most people will be more than satisfied with the 1080p full HD resolution video they capture. The phone handles focus, exposure, and color very well, with minimal grain.
The OnePlus 3 is a fine camera for this class of phone. It can serve as most people's main, everday imaging and video device.