Apple Watch Series 2 Is Waterproof, Adds GPS
Article Comments 2
Sep 7, 2016, 12:42 PM by Eric M. Zeman @zeman_e
updated Sep 7, 2016, 2:13 PM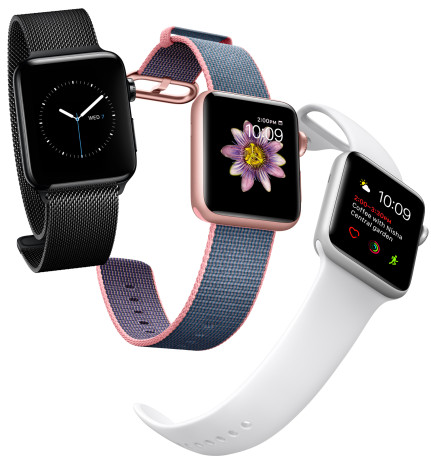 Apple today revealed the Apple Watch Series 2, a new version of its wearable. The Watch will ship with watchOS 3.0, which adds a number of new features. For example, text recognition for finger-drawn text, new animations within messaging, and an SOS function that can alert family/friends in an emergency. The device itself is waterproof, which Apple says can handle depths up to 50 meters and repeated use in the water for those who swim daily. Apple developed new fitness software for swimming workouts to accompany its new waterproof status. It can calculate time, distance, calories burned, and more during swim workouts. The device runs Apple's second-generation System-in-a-Package. It has a dual-core processor and new GPU for better performance. The refreshed display is now two times brighter than before at 1,000 nits. Apple added GPS to the watch to better track runs and walks. The wearable will be sold in stainless steel, aluminum, and ceramic finishes. Apple partnered with Hermes again for custom straps, and also with Nike for the Nike+ variant with colorful nylon band. The device meets Apple's environmental standards for sustainability. The Watch Series 2 and Nike+ models will start at $369. The ceramic model starts at $1,269. The wearable will continue to be sold in 38m and 42mm sizes. Apple has replaced the processor in the original model with the new SiP and is now calling it Apple Watch Series 1. The Series 1 will start at $269. The wearables will be available for preorder September 9, with watchOS 3.0 landing September 13m and the device reaching stores September 16.
*Not waterproof
Water resistant not waterproof. If Apple were to say waterproof then if there's ever any water damage than Apple itself would be liable for that.

"Built-in GPS. Water resistance to 50 meters.1 A new lightning-fast dual-core processor. And a display that's two times brighter than before. Full of features that help you stay active, motivated, and connected, Apple Watch Series 2 is designed for all the ways you move."
I believe the idea behind it is to encourage active lifestyle. So when swimming you can monitor your workout which like other watches do not require anything more than 50m.