Review: SanDisk iXpand Drive for iPhone
Article Comments
Aug 3, 2016, 3:15 PM by Eric M. Zeman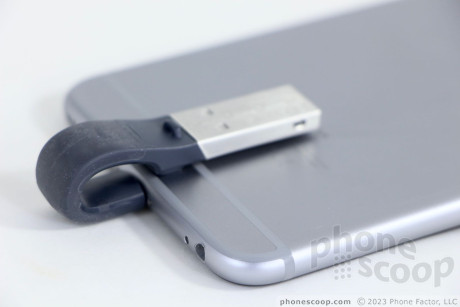 SanDisk is pitching its iXpand Drive as a quick and easy way to backup your iPhone's photos and other files. It also plays media content so you can keep music and movies from hogging up precious room on your device. Here is Phonescoop's review.
Advertisements article continues below...
Intro
The SanDisk iXpand is a USB Flash drive that plugs into an iPhone's Lightning port to help manage storage in a more direct way that doesn't rely on cloud services or wireless connections.
Background
Local storage on smartphones is often limited. That statement applies doubly so to Apple's iPhone, as the iPhone has a finite amount of storage that cannot be supplemented with memory cards. (Most Android devices support memory cards.) The majority of iPhones shipped by Apple the last few years have 16 GB of storage. That's enough for the operating system, some apps, files, photos, and perhaps a playlist or two, but it limits how many large games and how much video you can store on the iPhone itself. Apple charges an exorbitant extra amount for phones with more storage.
Cloud services from Apple, Google, Microsoft, and Amazon promise to resolve the content storage issue, but uploading to the cloud is often slow and cumbersome, not to mention dependent on a wireless connection. SanDisk thinks the iXpand, which plugs directly into the iPhone, is a faster and easier way to free up storage on your smartphone.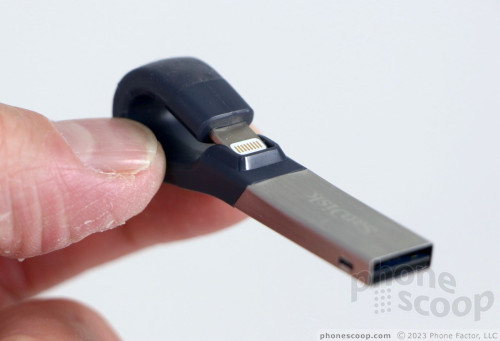 Dongle
The iXpand Flash Drive could not be simpler to use from a hardware perspective. It resembles most Flash drives in that it has an exposed USB connector at one end, but is unique thanks to the wrap-around design. The Lightning connector curls up like a scorpion's tail, coiled and ready for action. I appreciate the spartan design, as it leaves no question about how the device should be used: USB port goes into computer; Lightning port goes into iPhone. That's it. There are no tricky maneuvers needed to make it work.
The drive is compatible with all Lightning port-equipped iPhones, (from the 5 to the 6s Plus,) as long as they are running iOS 8.2 and up. The USB port on the other end supports the USB 3.0 spec for the fastest-possible data transfers when plugged into PCs. The flexible Lightning connector means it can accommodate most cases, which is crucial. The bulk of the iXpand wraps under and behind the iPhone when plugged in, meaning it's mostly out of the way. It's small, light, and easy to keep in a backpack or briefcase. That also makes it easy to misplace or lose. (It does have a super tiny lanyard hole in case you want to tether it to something.)
SanDisk App
Once connected to your iPhone, the iXpand prompts you to download the iXpand Drive app from the iTunes App Store (free).
The app is where all the magic takes place. When you first insert the iXpand dongle and launch the iXpand Drive app, the duo will catalog every file on your iPhone, starting with photos, and back them up to the iXpand. It doesn't move files, it copies them. The initial backup may take a while, depending on how much capacity your iPhone has and how many photos and other files are on board. For example, it took about 10 minutes to transfer 1200 photos.
The iXpand backs up photos and videos automatically every time you plug the iXpand in and launch the app. Moreover, you can ensure the iXpand sees and backs up photos associated with social networks, such as Facebook and Instagram. Specifically, it will backup the photos you've shared to Facebook/Instagram from that phone it will not backup your entire Instagram account. You can elect to delete the phone-based photos if you want, which can free up storage space, but there are some limitations.
The iXpand app takes an all or nothing approach. I'd like to delete just my videos, for example, which take up more space than photos, but the app doesn't support that level of granularity.
Interestingly, the iXpand app includes a media player (based on VLC). You can, for example, transfer music or movies from your PC to the iXpand and play them directly from the iXpand drive while it's connected to your phone, in the app. This is a great way to watch movies, as it allows you to keep the file off the iPhone entirely. The app supports .WMV, .AVI, .MKV, .MP4, .MOV video formats, but DRM-protected content (aka, anything you've purchased from the iTunes Store) cannot be played. That's a pretty big limitation, however understandable. Moreover, the app was unable to play the audio of the movie files (.MKV) I tested, another major bummer. Music files I stored on the iXpand played no problem.
Beyond these issues, the app is incredibly unstable. It hangs often, crashes occasionally, and prone to fits of random music playback. (Seriously, my iPhone spontaneously began blasting music from the iXpand app in the middle of the night.)
Discussion
I appreciate what SanDisk is trying to do with the iXpand, but I find the execution somewhat lacking. The USB thumb drive itself is totally fine; The app is the problem.
The iXpand Drive app does a decent job at one task: backing up photos from the iPhone to the drive. It bungles just about everything else. I wish the app allowed you to control more finely which files are backed up and which are not. I also wish it was more stable and able to do the things SanDisk claims, such as playback .MKV files.
Then there's the matter of cost. The 128 GB variant costs $90, while the 64 GB and 32 GB versions cost $60 and $40, respectively. These prices are reasonable enough, but many cloud services offer storage for free. Google Photos, for example, will automatically backup every photo on your iPhone for free.
Bottom line: I would not recommend the iXpand as a sole backup product; rather, I would consider using it as a secondary backup device to supplement online services. Perhaps the most obvious use would be for vacations, especially when headed out of the U.S. where data costs extra and WiFi access can be inconsistent. I envision travelers backing up their iPhone photos to the iXpand each night, with plans to do a full online backup upon their return.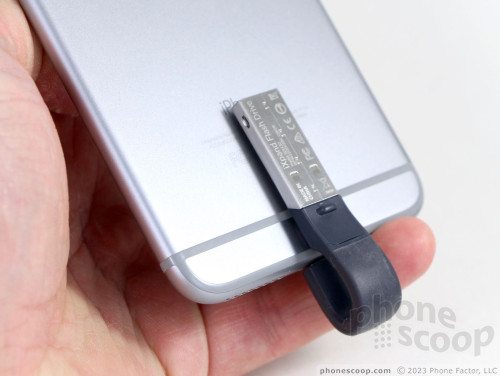 No messages