Google Keyboard for Android Gains One-Handed Typing
Article Comments 1
Jul 14, 2016, 7:44 AM by Eric M. Zeman @zeman_e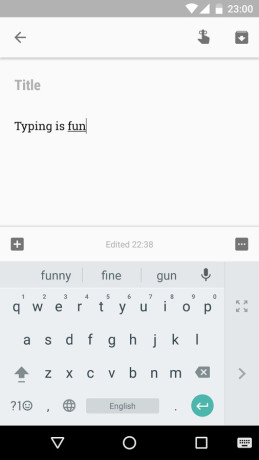 Google has updated its Google Keyboard application for Android devices to version 5.1. The improved keyboard now allows users to move the cursor by sliding their finger across the space bar. Other new actions include the ability to delete entire words by sliding left from the delete key, and remove learned or dictionary words by long pressing suggestions. New settings options make it possible to add key borders or symbol hints. Phablet owners will be happy to learn the keyboard now has a one-handed mode for typing on large phones. Last, the keyboard adds gesture typing for a number of new languages, including Afrikaans, Armenian, Azerbaijani, Belarusian, Bulgarian, Catalan, Estonian, Galician, Georgian, Hungarian, Icelandic, Indonesian, Kazakh, Kyrgyz, Macedonian, Malay, Persian, Slovak, Swahili, Tagalog, Ukrainian, Uzbek, and Vietnamese. Google Keyboard 5.1 is free to download from the Google Play Store.
more info at Google Play Store »
Number row?
Still not here? we need a dedicated number row on top, please!