Review: Samsung Galaxy J7 for Boost Mobile
Hardware Software Wrap-Up Comments 5
Jul 8, 2016, 3:10 PM by Eric M. Zeman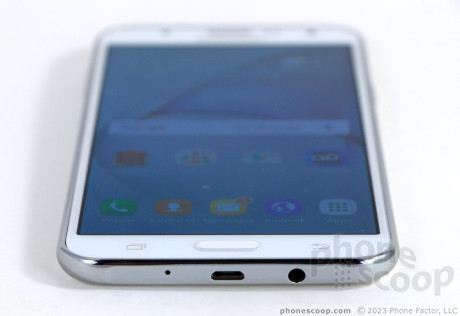 Samsung's mid-range Galaxy J7 finds solid footing among Boost Mobile's smartphone roster. This Android handset brings a lot to the table with a 5.5-inch screen, 13-megapixel camera, and Android 6 Marshmallow. Here is Phonescoop's full review.
Advertisements article continues below...
Is It Your Type?
The Galaxy J7 for Boost Mobile is a classic mid-range handset from Samsung. The J7's looks resemble those of Samsung's high-end phones, but the J7 is far more affordable. If you're in the market for a solid performer that's a cut above the rest — and won't break the bank — the Galaxy J7 should be on your list.
Body
The Galaxy J7 is larger, more powerful, and more attractive than the Galaxy J3, which is also sold by Boost Mobile. The J7 relies heavily on Samsung's tried-and-true industrial design, which means a thin slab with rounded corners and plenty of chrome accents. It's not made of metal and glass, but it looks like it is. Some might even mistake the J7 for a Galaxy S.
Our review unit has white coloring around the screen and a white rear panel. The two are attached to a shiny chrome-colored frame. The frame is polycarbonate, despite its resemblance to aluminum. The rear panel has a matte texture, but there is something in the paint that adds depth to the panel's appearance. Samsung could easily have slapped a glossy rear shell on the J7, but gave it a wee bit of personality instead.
The phone's size lands in phablet territory thanks to the large 5.5-inch display adorning the J7's face. It's slender, but big enough that those with small hands may find it too big. I didn't have any trouble using it. The weight is very nice, so I never encountered hand fatigue even after holding it for about an hour straight. It fits in pockets, but like any phablet your mileage will vary based on the pants or shorts you prefer.
If you've ever played with or used a Galaxy S6 or S7, the J7 won't feel as nice. The J7 is made of plastics. At the same time, it feels much better to use than the cheap plastics that make up the J3. In other words, it's what we expect from a mid-range handset. The rear shell has a pleasing, if subtle, texture that I rather like, while the frame is super smooth. The J7 isn't going to bowl anyone over, but it isn't going to disappoint, either.
A rim surrounds the screen and will help protect it when placed face down. Rims can often be sharp or otherwise irritating, but that's not the case here. Samsung kept the bezels to a minimum. The user-facing camera has its own LED flash. Below the display are Samsung's typical buttons. The home button is a flattened circle with a chrome rim. I'd call the profile and travel/feedback close to perfect. It's a bummer there's no fingerprint reader. Two capacitive keys flank the home button: app switcher on the left and back on the right. These buttons work well.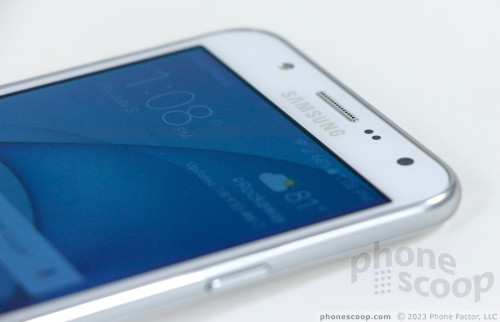 Samsung could have done a little better with the volume toggle, which is positioned at the top of the left edge. It's too easy to press the button near the middle, which can turn the volume up-then-down or down-then-up. A weird double-click takes place that immediately counteracts whichever action was first. I've never encountered such an odd button. The screen lock button, on the right side, is too small for my tastes, but it works well enough. The headphone jack and the micro USB port are tucked into the bottom edge.
The camera module is perched on the back with an LED flash to the left and two thin openings for the speakerphone to the right. The camera sticks out noticeably from the rear and has a reflective chrome rim. A notch on one side of the back panel helps in its removal. The panel feels pretty danged flimsy when not hugging the phone's rear. As with many Samsung phones, the battery is removable, and in fact must be pulled in order to access the SIM card. The memory card slot is stacked on top of the SIM card slot, but can be accessed with the battery in place.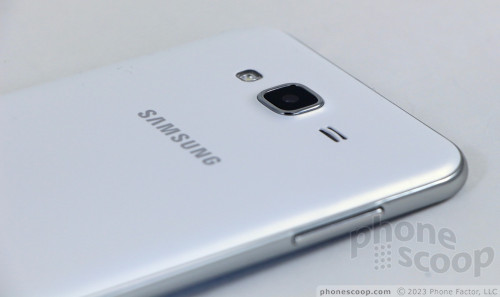 Samsung did a commendable job in designing and building this mid-ranger. The hardware isn't perfect, but it will be good enough for most people.
Screen
A 5.5-inch, 720p HD display covers most of the Galaxy J7's pretty face. A screen this big would benefit from more pixels. The pixel density comes in at about 267ppi, which is fairly low these days. I was able to see individual pixels from time to time, a rarity on what's technically a high-definition display. What the J7's screen lacks in resolution, it makes up for in sheer luminosity. The AMOLED surface is brilliantly bright. You can use this phone outside on a sunny day with absolutely no problem. Viewing angles are excellent; the display shows no blue shift, nor drop in brightness.
Signal
The Galaxy J7 connects to Sprint's LTE network just fine. (Boost is a Sprint brand.) The phone remained connected to 4G the entire time I tested the phone; it did not drop down to 3G at all. More simply put, the J7 performs a little above average when compared to other phones on Sprint's network. The phone connected calls on the first dial each and every time, it never dropped any calls, and it never sent calls straight to voicemail. Data speeds were quite good. The phone was quick to stream YouTube videos and Spotify playlists over LTE. Browsing speeds are excellent and even app downloads were painless. Poor signal strength had almost no impact on the J7's network performance.
Sound
Do you make a lot of calls? The Galaxy J7 has your back. I was pleased with call quality through the earpiece, which delivers good volume and clarity. The J7 produces enough volume so calls can be heard in coffee shops, diners, malls, the car, and other not-so-quiet places. Voices come through free of distortion and have a pleasant tone to them. You should be able to make calls with the J7 in most environments with abandon. People I spoke to through the J7 said I sounded "very good."
Call quality via the speakerphone is decent, but I've heard better. Volume is just shy of where I want it to be for calls in the car or anywhere else outside of my home or office. Clarity suffers from a small amount of distortion, but it's not a deal-breaker by any stretch.
Ringtones and other bleeps and bloops nearly always got my attention. The vibrate alert is good and strong.
Battery
The J7 has a respectable 3,000 mAh battery, which is larger than that of the J3 and equal to that of Samsung's flagship, the Galaxy S7. Over the course of a week of testing, the J7 consistently pushed from breakfast to bedtime with power to spare. As noted above, the phone was always on LTE 4G and I kept the GPS, Bluetooth, and WiFi radios on at all times. I streamed Spotify to a Bluetooth speaker for two hours and the battery barely budged 3%. The J7 required more than 30 hours of heavy use to kill the battery completely, which means most people should be pleased with its performance. We can probably thank the 720p screen (with its fewer pixels to manage) for the solid battery life.
If that's not enough battery life for you, feel free to take advantage of the Power Saver and Ultra Power Saver modes baked in by Samsung. The former reigns in the processor a bit, dims the screen, and tames notifications. The latter locks down everything but the phone and messaging apps. Basically, Ultra Power Saver dials the J7 back to what phones were like in 2002.
Bluetooth, GPS, NFC, WiFi
If I can stream Spotify via WiFi to a Bluetooth speaker that NFC helped me pair with, you can assume the secondary radios all work well.
Truly, the Bluetooth radio deserves top marks. Pairing was easy with all manner of devices and call quality via dedicated headsets and my car's hands-free system were very, very good. Music sounded excellent through a Bluetooth speaker.
I put the NFC radio to use in helping pair some of these devices, so I know it works. The NFC function can work with Android Pay, but not Samsung Pay (which Samsung is still reserving for its flagship phones.)
The GPS radio performed quickly and accurately, which is all I ask from modern phones. The radio pinpointed me in just a few seconds and to within about 15 feet. The Galaxy J7 functioned very well as a navigation tool, even in the northwest sticks of NJ where cell phone signals often go to die.
The WiFi was reliable and speedy.
nothing but issues
I am a Boost dealer and I got this phone right after it launched with Boost. I've had it for about 4 months and I am about to send it in for the 3rd time. The sound goes in and out and it sounds like its on speaker phone. Its not just a minor issue its bad enough that every person I speak to comments on it.. Not sure why Samsung wont just replace it but if they cant fix it this time I will be going back to my LG permanently.