Review: Sony Xperia X - Unlocked
Hardware Software Wrap-Up Comments
Lock Screen
The Xperia X has a few useful tools for managing the lock screen. First and foremost, take the time to activate the tap-to-wake function. You can find it in Settings->Display. When enabled, a double tap will wake the screen. If you've chosen to protect your phone with a lock of some sort, you'll be able to see the basic lock screen and notifications. If you don't lock your phone (you should), double tapping bypasses the lock screen and brings you to the home screen.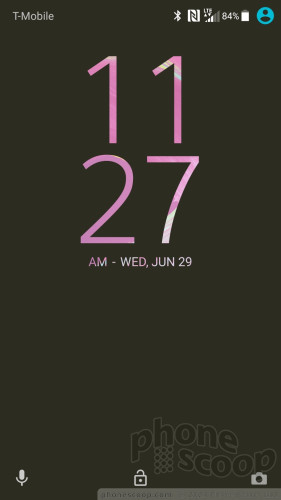 The lock screen itself includes the standard stuff: clock, notifications, and shortcuts to the phone and camera apps. I really appreciate that Sony allows you to select from a standard digital clock, an analog clock, or the Sony stylized clock for the lock screen. All three are readable. As always, you can choose how much notification is viewable from the home screen.
Security options include none, pattern, password, or PIN. (Again, no fingerprints on this model.)
Home Screens
The Xperia X runs Android 6 Marshmallow with Sony's usual tweaks.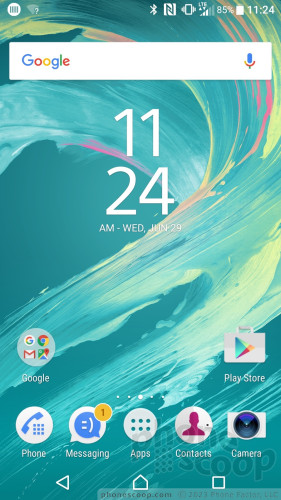 The Xperia X ships with five active home screen panels, three of which are jammed with apps and widgets. Press-and-hold one of the home screen panels to bring up the home screen control panel, which lets you easily adjust widgets, apps, wallpapers, themes, and general settings. The Quick Settings panel is the stock Android version, but Sony allows users to customize which toggles appear in the panel. More customization is always a good thing.
The app drawer is arranged in pages that you swipe left and right. Users can elect to view apps in custom order, most used, alphabetically, or by date. A search tool is always available in the app drawer, which is nice. Sony also allows users to disable — but not delete — about half of the pre-installed apps. (Disabling apps deletes user data and makes them inactive, but the core is still there.) The app drawer supports folders, too.
The settings tools behave as the stock Android tools do, but have been skinned with Sony's fonts and icons. I appreciate the dash of color. The one major difference to my eyes are the inclusion of themes. These bundle together similar color palettes for the home screen, app drawer, and other aspects of the user interface. Sony offers a few themes of its own, but Xperia X owners can design their own. Neat.
As far as performance goes, the Xperia X rates average. It relies on the Qualcomm Snapdragon 650 processor with 3 GB of RAM. The phone performed well while I used it. It never felt bogged down or slow, screen transitions were smooth, and apps opened in a jiffy. The processor provides enough oomph.
Camera
The quickest way to launch the camera is to press the dedicated camera button. The camera app opens quickly whether the phone is on or locked. The camera app — which is carried over from last year's Z series — is powerful and easy to figure out.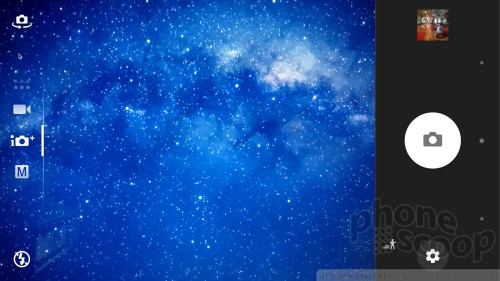 By default, the Xperia X relies on Sony's Superior Auto shooting mode. The other basic modes include manual and video. There's also an entire folder of fun, alternate modes for generating more interesting results.
The left side of the screen is reserved for toggles to the different modes in addition to controls for the flash and user facing camera. Swipe the screen up or down to jump from mode to mode.
Superior Auto generally succeeds in determining what the subject is and adjusting automatically to get the best shot. For example, I aimed the Xperia X at my laptop's keyboard and it switched to Macro. It also switched to Sport when it noticed I was moving the camera around a lot, and to Document when I held it close to some business cards. Superior Auto does allow you to adjust basic camera options, such as geotagging, review length, the timer, resolution, and more.
Manual Mode gives control freaks what they need to be truly creative. It allows you to set white balance, ISO, brightness, and color, and it also offers a number of scenes (gourmet food, soft skin, landscape, HDR, night, foot, party, beach, fireworks, etc.) I found it simple to dial in different scenes when using Manual Mode, and you can still let the camera take care of exposure, focus, and so on if you want.
There are 11 other shooting modes lumped into the Fun category, and you can download more if you wish. Those extra modes include: Panorama, 4K Video; Timeshift Video (high frame rate for slow-motion results); Sound Photo (takes photos with background sounds); Multi Camera (use both cameras at the same time); Face In (use both cameras to put your face in either photos or videos); AR Effect (take photos with virtual scenes and characters); Creative Effect (select effects - i.e., filters - for artistic photos and videos); Timeshift Burst (takes a quick burst before you press the shutter button to increase likelihood of getting good shot); and Style Portrait (for tweaking those selfies).
Each of these individual modes works fairly well, but takes some practice before you'll get good shots. I like that Sony included a quick, simple tutorial to help you learn each of the modes. The selection can be somewhat overwhelming.
The Xperia X can also detect smiles, and has four different settings for the flash, including fill-flash. Fill-flash helps take photos when you have a light background and a dark foreground and you want to make the foreground pop a little bit.
Everything about the camera is fast. It focuses quickly, and shoots/saves images quickly. I've always liked Sony's camera app. It could probably have a slightly cleaner UI, but, really, you can't ask for much more.
Photos/Video
Sony's Xperia X takes very good photos. The camera's default setting is (oddly) 8 megapixels in a 16:9 aspect ratio. You have to adjust it to access the full 23-megapixels in the 4:3 aspect ratio. Using the Superior Auto mode, I was very pleased with how the Xperia X captured focus, exposure, and white balance. The majority of the shots I took were good, if not very good. Only a handful were really off. I noticed some grain here and there in low-light shots, but for the most part was impressed.
Selfie lovers will be very pleased with the 13-megapixel user-facing camera. It captures images that are mostly sharp and properly exposed. The majority of pictures are free of grain, too, which is something that often plagues selfie cams.
The phone shoots video up to 1080p HD resolution. The video I shot with the Xperia X was generally impressive in terms of focus, exposure, and color.
I'd say you can use the Xperia X as an everyday camera and video camera without regrets. Few phones will perform better, especially at the Xperia X's price point.
Sony Stuff
A basic selection of Sony's apps are on board. The most important is the PlayStation app, which let users hook into their PlayStation accounts for gaming, watching videos, streaming music, and networking with friends. Some of the other extras include TrackID, Sketch, Movie Creator, Xperia Lounge, FM radio, and Lifelog for managing and interacting with media content. Many of these can be disabled, but not deleted. The X has 32 GB of internal storage, of which about 20 GB is available to end users. It's a good thing the phone accepts microSD cards up to 200 GB.