Innovative Keyboard Case is Both Wireless and Battery-Free
Article Comments
Jun 22, 2016, 5:20 PM by Rich Brome @rbrome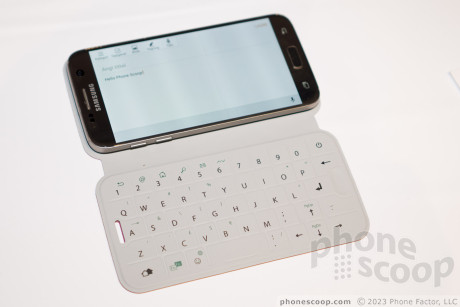 One2Touch has a new keyboard case for Android phones called SlimType that uses NFC technology in a unique way to connect to a phone. Most keyboard cases have a battery or physical connector that adds bulk. The SlimType, however, draws power from the phone using NFC, and also uses NFC to communicate with the phone, eliminating the need for a Bluetooth radio. The standard SlimType model is no thicker than a typical leather flip case. The current model is optimized for the Samsung Galaxy S6 and S7, but can work with some other Android phones with NFC. A larger model adds a rigid kickstand. An even larger non-case model provides a full-size keyboard. The standard model is available now from Amazon for $40. Read on for our hands-on impressions and more about the clever technology behind it.
AD article continues below...
The technology behind SlimType is unique and interesting. It's a bit of a hack to the way NFC is designed to work.
One of the key things NFC is designed for is interacting with passive tags. For example, say you tap your phone against a small NFC sticker. That sticker has a chip that needs power, but it doesn't have a battery of its own. So it draws the tiny bit of power it needs from your phone, using induction. NFC is designed for this.
SlimType takes advantage of that to draw its power from the phone using the same technique.
NFC is also designed for quick taps, not continuous operation. One2Touch has figured out a way to trick the phone into staying connected.
There's a third "hack" that powers SlimType. Since NFC is designed for quick taps, there's nothing in the standard that supports text input. (Unlike Bluetooth, which does specifically have a profile for keyboards.) By extension, Android doesn't support NFC text input devices. So SlimType requires that you install its keyboard software (replacing Google's — or your phone maker's — on-screen keyboard.)
While the technology is terribly clever, the product itself is, unfortunately, disappointing.
The SlimType is actually impressively slim, attractive, seems well-made, and functions fine for what it is.
The problem is that it's just not a practical concept. There's no way to hold it comfortably — or steadily — in your hands. You can lay it on a table, but the standard model doesn't have a kickstand. The model with a kickstand is thick and clunky. Kickstand aside, a screen-size touch keyboard just doesn't offer much benefit over the on-screen keyboard. It's not big enough to use two hands, and there's no easy way to use your thumbs. And the SlimType keyboard is barely bigger than the on-screen keyboard, especially the landscape on-screen keyboard. Furthermore, it's a touch keyboard, so you don't get the tactile feedback of real physical keys.
There is a model that has full-size tactile keys you can use with two hands, but it's a bulky separate accessory, not a slim flip case.
I really want to like this product, mostly because the technology is so clever. But it's just not something I can recommend. I hope someone comes up with a better use for these patents.
No messages